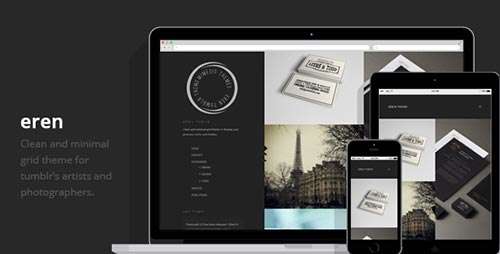 Designer Ledger – A web design blog for designers by designers
This article will showcase 10 of the best premium responsive Tumblr themes you will find on the internet.
Tumblr is a microblogging platform and social networking website that allows users to post text, images, links, videos, audios, and quotes to their tumblelog. Users can follow other users' blogs, as well as make their blogs private. Most of the options are available through dashboard where user can start posting. It also display the other Tumblr blogs user is following. As the blogging is increasing and hundred's of Tumblr blogs created every day, the requirement for Tumblr themes also increased.
You can find many Tumblr themes over the internet but here we selected some of the best Tumblr themes designed with premium quality. We hope you'll like the collection. If you any other high quality premium themes for Tumblr, kindly share with us in the comments below. We believe that this amazing collection of themes will surely inspire you to switch to Tumblr themes in style.
If you like this article, you might be interested in other article on 27 Simple Tumblr Themes for Inspiration.
Eren – Minimal Portfolio Theme For Tumblr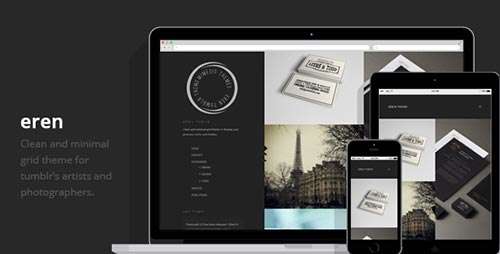 Eren is a responsive and minimal grid theme, ideal to display your pictures, works and medias. It features a customizable sidebar and all post types.
Eren – Minimal Portfolio Theme For Tumblr
Artista – Tumblr Themes
Artista, a single column theme perfect for photographers to showcase high resolution images and for writers to write long texts.
Triplex Theme
Triplex, a full-screen width grid layout. The perfect theme for people who want to share their work with tumblr.
Moveone – Business Responsive Tumblr Theme
Moveone is a Business Responsive Tumblr Theme. This theme is a combination of the previous tumblr theme we've ever made. We make it easy for you to customize this theme with a complete guide that we include. This theme is suitable for you who have a business startup, services, or just a small business. This theme has a smart theme options to allow you to manage content.
Moveone – Business Responsive Tumblr Theme
Atmosphere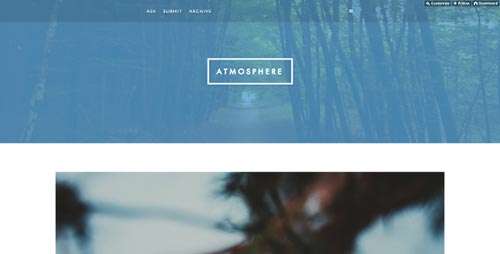 Are you a photographer or a writer? or maybe a blogger who wants their visitors to focus on the content? If so, Atmosphere is the perfect theme for you! A clean and modern design that fits all screens, big posts and high quality. Atmosphere is the right choice.
Focus – A Minimalistic Tumblr Theme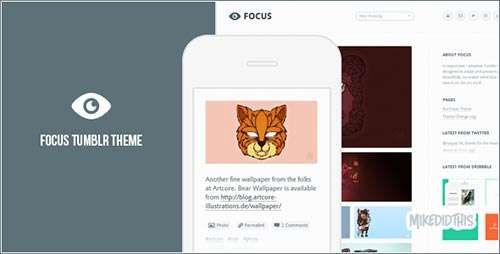 Focus is a minimalistic and adaptive Tumblr theme aimed at presenting your content, to any device, without clutter. Easy to change colours and background images as well as support for Disqus, Flickr, Twitter, Dribbble and Google Analytics. This Tumblr theme gives a tailored view to each device (Android, iPhone, iPad, Desktop, etc) that visits it and only serves the content that is required, helping to speed up delivery of your site.
Focus – A Minimalistic Tumblr Theme
POPCASE
POPCASE is a Tumblr theme with 3 column layouts and unlimited color scheme control, suitable for displaying your artworks and articles.
Pop Gallery Tumblr Theme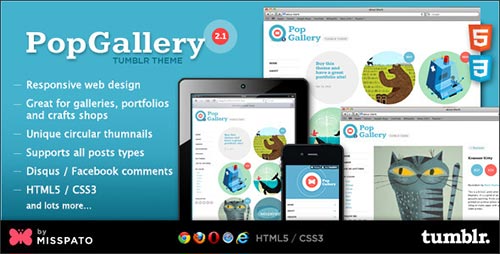 Pop Gallery is a Tumblr theme for visual portfolios, galleries, handcrafts shops, with the unique possibility to present distinct thumbnails for new, sold and reserved items. It has a beautiful and clean design with circular thumbnails.
Incorporated – Tumblr Theme
Incorporated is a grid-based tumblr theme which have 2 post sizes option including sorting, iphone theme, single column option, caption on hover and many others. Control your posts using Tumblr's built in tags system.
FLAT – Responsive Business Tumblr Theme
FLAT is a minimal & clean multipurpose business theme for blogging system – Tumblr. You can easily change the overall view of the theme – you can show or hide theme elements: image slider, featured icon boxes, module with text with button, product box (long text + image), team, testimonials, clients logos, twitter feed widget. You can also change colors for most of theme elements! For best start, we've prepared a well documented user guide file. Variety of custom options makes it a flexible theme – corporate blog, portfolio, design studio website etc. FLAT supports following post types: text, photo, photoset, audio, video, quote, AMA, chat and link.