Presently they have more than 20,000 themes and a large portion of them are WordPress themes.
Presently I wish to focus upon their Cherry themes which run on the Cherry Framework for WordPress. Check it here
This Cherry is a framework for WordPress which can be downloaded and installed for free.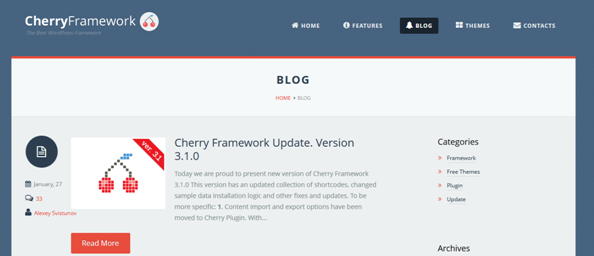 In case you are wondering what a framework is let me explain. Developers who code themes for WordPress would know that some themes have some common code at heart. There is some code that is basic to many different themes and thus is repeated when coding new themes.
A WordPress framework comes with this basic code already written. Then you can run this framework as the base for your new themes. The new themes that run on this basic framework are called child themes.
Template Monster currently hosts more than 300 child themes for the Cherry Framework.
Blends in within the dashboard
The Cherry Framework blends seamlessly with the entire WordPress dashboard. A user who logs in can have one personal dashboard experience. It will look like a typical WordPress admin panel but with a new category headed "Cherry Options". This new category is well designed and brings a better overview on WordPress themes, Framework updates, import/export and template customization options, support and documentation.
The image below shows the screenshot of how this Cherry Framework will sit with the WordPress dashboard.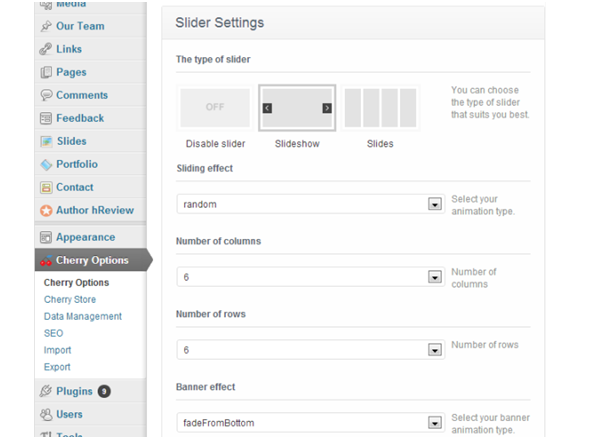 Tons of elements
Cherry lets you enjoy more than a hundred options which are integrated within the framework. You can adjust the theme appearance, change the text size and font, insert your logo, etc.
More than 80 comfy shortcodes are available which will easily let you embed media and images. To satisfy your requirements they have added a very useful widget set into the framework along with the standard set.
Customer support
The developers of Cherry care for you and your website and they guarantee a 24/7 support. If in any untoward event you want to ask a question or face a problem you can get in touch with the customer support team of Cherry and they will quickly resolve your issue completely free.
You can also contact the Template Monster support theme for help and support.
SEO friendly
SEO or Search Engine Optimization refers to the techniques that website owners employ in order to make their sites rank better in search engines. Cherry comes with many in built search engine friendly tools that will help you achieve that.
You are provided with an excellent SEO support. This includes Custom Permalinks Settings, Optimize Titles for SEO, Image optimization, Breadcrumbs, related posts. This will help you spoon feed search engines and make them well informed and updated about the contents of your website.
The Cherry Framework and its child themes are worth trying out. Go and use them and let me know what you think in the comments below.
Free Online Resources For Developers, Designers and Photographers @Smashing Hub