This is part of a series of posts that compare WordPress other platforms like Wix or Squarespace. These are closed-source services, so you don't actually have full control over your website. This is a deal-breaker for some people who will prefer open-source WordPress alternatives such as Joomla and Drupal.
In this post, I will give you a detailed comparison of Drupal with WordPress.
Drupal and WordPress: A Brief Introduction
WordPress has been around for about two decades. It is a completely free and open-source content management system that you can use to build all kinds of websites. WordPress is the most popular platform for creating websites.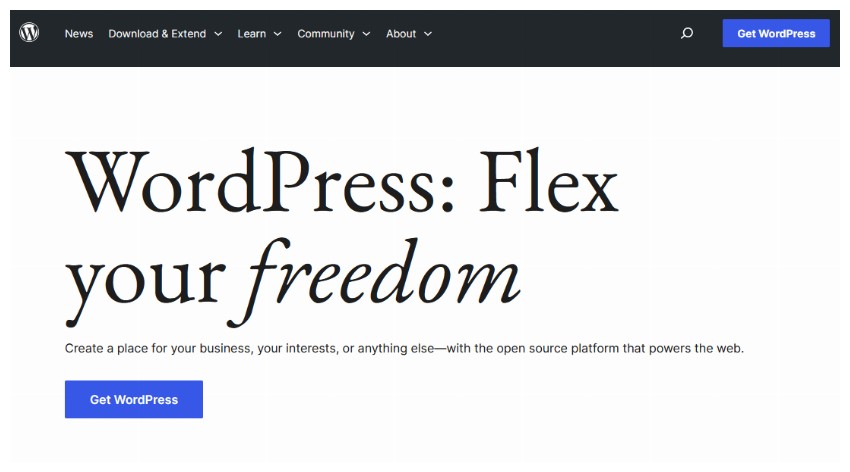 There are two different versions of WordPress: the open-source project at WordPress.org and the WordPress.com version which will host your WordPress website for you. In this post, we will be comparing Drupal with the open-source version.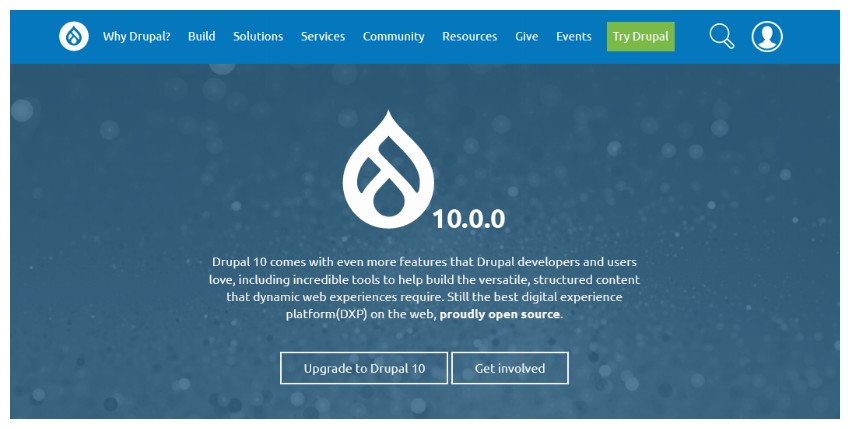 It will probably be hard for you to believe but Drupal has been around for even longer than WordPress. Yes, that's right. Drupal was created in 2000 and became an open source project in 2001. Drupal might not be as popular as WordPress when it comes to sheer numbers. However, it still powers around 2% of all the sites on web.
In short, both Drupal and WordPress are free and open-source CMS platforms that were written in PHP.
Drupal vs WordPress: Ease of Use
You can download installation files for both WordPress and Drupal from their respective sites. These files can be extracted and installed locally as long as your system comes with Apache, MySQL and PHP support, or has programs like MAMP or XAMPP. The installation process is similar on both platforms where you set up a database and then follow instructions shown on installation screens.
You can also install Drupal using Composer which is actually the recommended installation method but not very beginner friendly.
Now let's talk about ease of use. Drupal has historically been harder to use compared to WordPress. The user interface has always pretty bland and it is difficult to navigate around in the back-end when figuring out how to set up your website as a beginner.
With basic knowledge of web development, you can be ready to go with a basic WordPress website in around a day. This is not the case with Drupal where you will have to spend significant amount of time in learning about the platform.
Lack of intuitive interface and some common CMS features was a big hurdle for new users. However, things have improved significantly in newer versions of Drupal and they are only going to get better.
However, when it comes to ease of use WordPress still a clear winner. Ease of use is one of the major reasons why WordPress is much more popular compared to Drupal.
Winner: WordPress is still easier to use and more beginner-friendly, but Drupal is improving all the time.
Drupal vs WordPress: Content Management
Not all blogs and websites have the same content management needs. A simple blog about photography or gardening might only have a couple of content writers, while larger organizations will have dedicated teams with tens or hundreds of people who manage the website content.
Content management is one area where Drupal shines over WordPress. Drupal has a much more powerful access control system where you can create new roles and assign permissions to them using the built-in capabilities of the platform. Compare this to WordPress which only comes with 5 built-in user roles.
Similarly, you have more flexibility when it comes to creating custom content types and using taxonomies in Drupal. The built-in support for creating multilingual websites is also icing on cake. WordPress requires you to use third-party plugins in order to access the same set of features.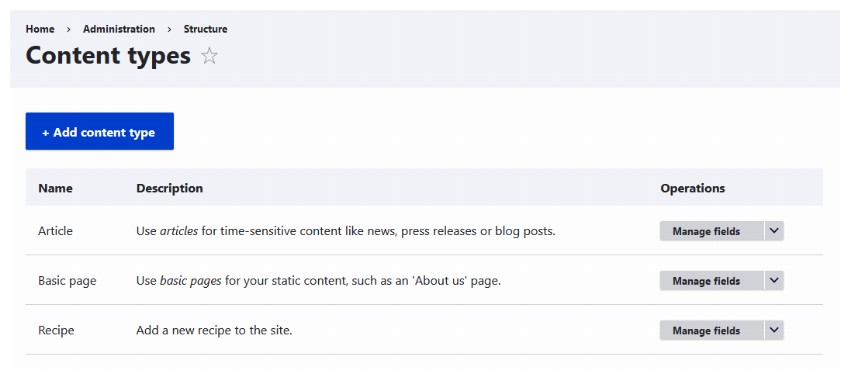 How does all that help you? Let's say you are creating a college website or some other forum where a lot of users will publish content. Using Drupal would be a better choice here because you can create multiple custom post types and assign roles as you like to different users.
Drupal is a lot better than WordPress when it comes to creating and managing content on large websites. The more complicated the content, the more obvious Drupal becomes as the platform of choice.
Winner: Drupal has more powerful tools for managing content at scale.
Drupal vs WordPress: Design Options
Everyone wants their website to stand out from the competition in the hopes of getting more clients or higher revenue. One easy way to do that is with themes. A theme is basically a bunch of files usually created by a developer to define how the content of a website is presented to users.
Both WordPress and Drupal are popular CMS platforms so quite a few developers create themes for them. This means that you can easily find some free or paid themes for use with your websites. Since the platforms are open-source, you can also create your own custom themes from scratch or hire someone else to do so.
The official WordPress theme repository has over 10,000 free themes while Drupal offers around 3000 themes. However, the number of available themes in Drupal drops to 68 when you set the compatibility to the latest version Drupal 10. The theme choices will improve as time passes by.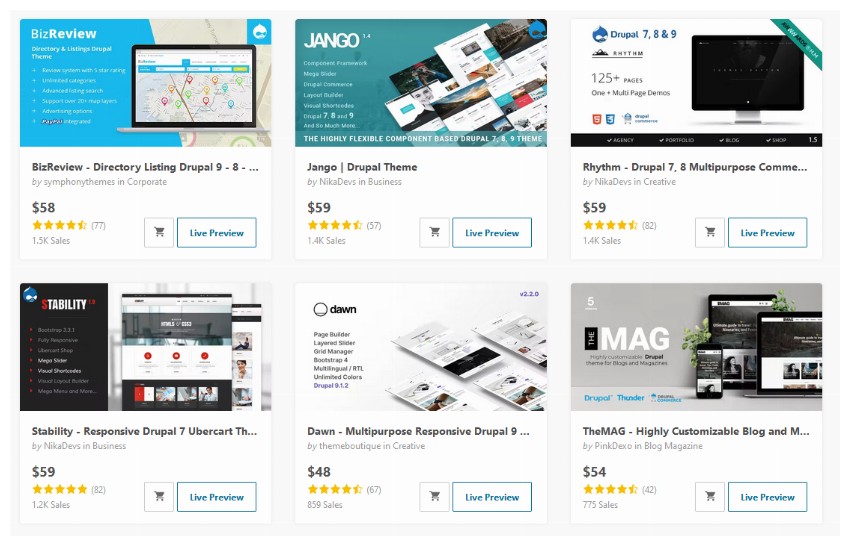 There are many marketplaces like Themeforest which offer premium themes for both WordPress and Drupal. They are responsive and very sophisticated making them ideal for use in production websites.
Winner: WordPress wins this round due to availability of more themes for you to use with your websites.
Drupal vs WordPress: Extending Functionality
No CMS platform can provide you all the features that you might want in your website. The easiest way to extend the functionality of your website in WordPress is to install plugins. The same concept exists in Drupal ecosystem but these files are called modules.
Again, both WordPress and Drupal have a large repository of plugins/modules on their official websites. WordPress offers around 60,000 different plugins while Drupal has over 32,000 modules. You can also filter the modules in Drupal based on your installed version. This does take the number of available plugins down to 3,100+ for Drupal 10.
It is evident that WordPress offers many more plugins when compared to Drupal making it a better alternative if you plan to extend the core functionality.
I would like to clarify that Drupal isn't far behind when it comes to the ability to extend website capabilities. It does have quite a few very capable plugins. For example, let's say you want to create an eCommerce website using Drupal. You could use the specially developed open-source Drupal Commerce framework along with a variety of eCommerce modules.
Drupal vs WordPress: Maintenance and Cost
Proper upkeep of a website is just as important as creating a website if not more. Both WordPress and Drupal release updates on a regular basis to add new features and patch security vulnerabilities. Any plugins or modules that you might have installed also need to be updated and tested for full compatibility with the rest of the website.
Updating Drupal has been a pain since forever. It is a difficult and time-consuming process which can occasionally get expensive. On the other hand, updating WordPress is a lot easier, faster and beginner-friendly. Drupal has taken some steps to make the update process easier. However, it still has a long way to go before it becomes as capable as WordPress.
Availability of free themes, plugins and modules keeps the cost of development relatively down for regular websites created using either Drupal or WordPress. However, using Drupal means that you will have to spend relatively larger amount of money on developers because you won't be able to handle many things on your own.
Winner: WordPress will be easier and cheaper to maintain in the long run.
Conclusions
Both Drupal and WordPress are excellent CMS platforms for you to create websites. They have their own strengths and weaknesses.
| Criteria | Winner |
| --- | --- |
| Ease of Use | WordPress |
| Content Management | Drupal |
| Design Options | WordPress |
| Extending Functionality | WordPress |
| Maintenance and Cost | WordPress |
WordPress has been developed with ease of use in mind and it delivers in this respect. You can get up and running faster with WordPress as long as you are not creating over-complicated websites. Drupal is more suited for complicated projects where the content goes beyond regular blog posts.