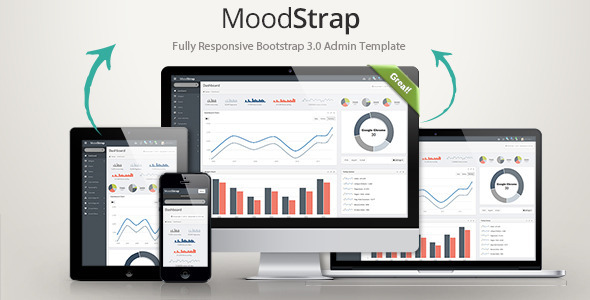 If you're a web developer, then you must have created at least once some HTML admin templates for your clients. To make things a lot easier for you and to save you some precious time, we searched the web for some ready-made HTML admin templates for you to use in your next projects. These are all professional HTML admin templates, with lots of cool features and premium designs. Enjoy!
Neon is flat admin template for multi-purpose usage built with the latest version of Bootstrap 3. It contains more than 100 HTML files which offer you great variety of layout options and resources.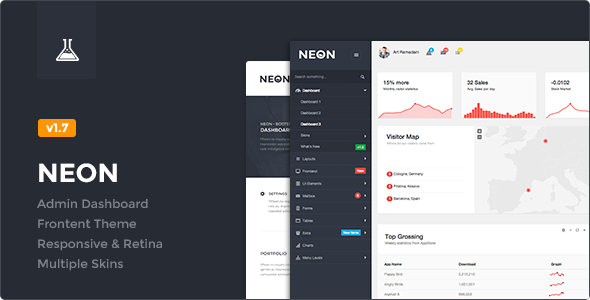 MoodStrap is a highly optimized for usability through various applications as admin panel, built with Bootstrap 3.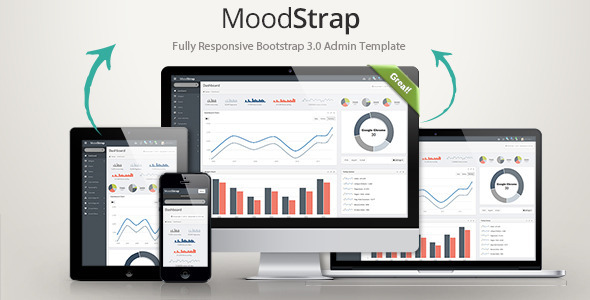 Flatron is a responsive HTML admin template and web app. It's based on Bootstrap 3 and has over 80 HTML/CSS pages.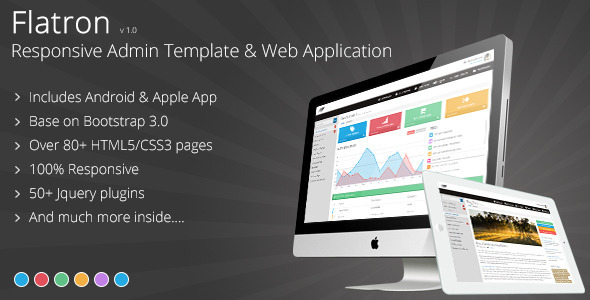 Proton is a fully responsive mobile first Admin Template based on Twitter Bootstrap 3.1.0. It features a highly flexible multi-column content structure built using the best HTML5 and CSS3, while also staying compatible down to Internet Explorer 8.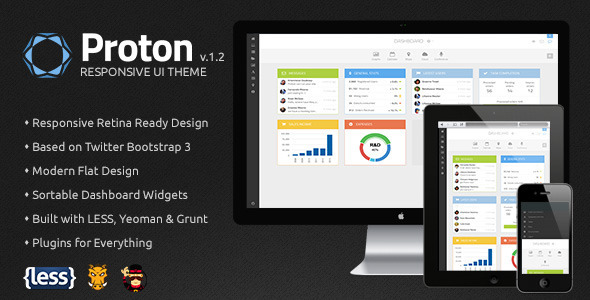 Avant is a beautifully coded fully featured admin panel theme ready to be implemented in the back end of your application, as an intranet theme, or your next web application!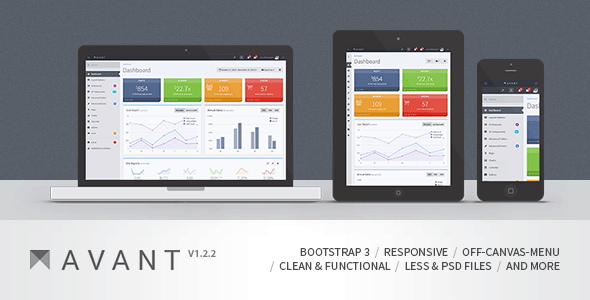 "Thin Admin" is the brand new, cutting-edge, super flexible, totally responsive Administration Theme based on Bootstrap 3 Framework. Be it on smart phones, tablets or computer desktops, it will perfectly adapt to all your electronic devices.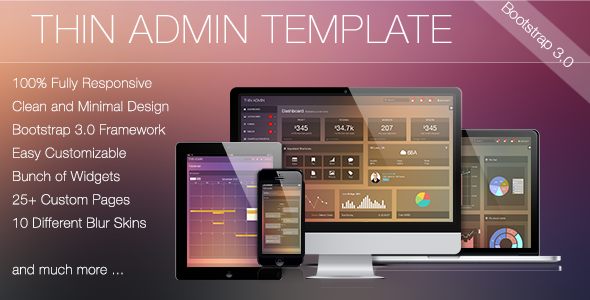 AvocadoPanel is a responsive admin template powered with Twitter Bootstrap Framework for admin and backend applications. AvocadoPanel comes with a huge collection of plugins and UI components and it works in all major web browsers, tablets and phones.
Quick Admin is a fully responsive HTML template, perfect for anyone looking to start a backend system with a modern interface.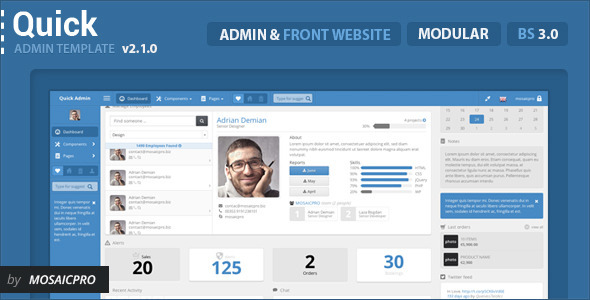 Sangoma is a modern flat Bootstrap template for any backend, user interface or administration, both for desktop and mobile users.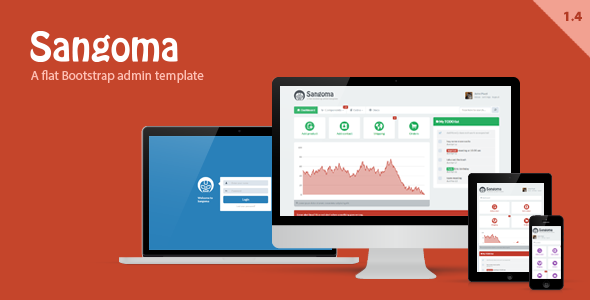 Smashing admin template has unlimited colors, clean design elements, 400+ glyphicons and it is fully responsive and mobile friendly.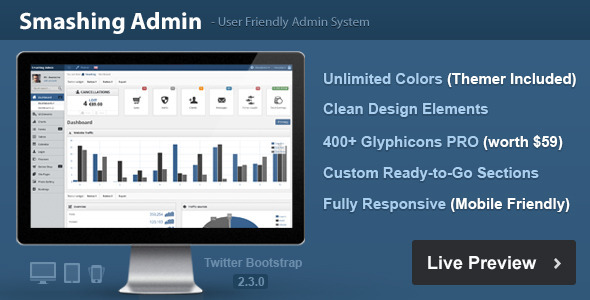 Air admin template is fully responsive, has unlimited color options, fixed and fluid layout and jQuery plugins and charts.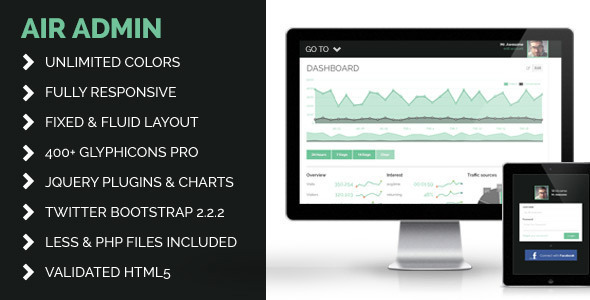 Photon UI is new premium responsive admin panel theme based on Twitter Bootstrap, available in both dark and light color scheme.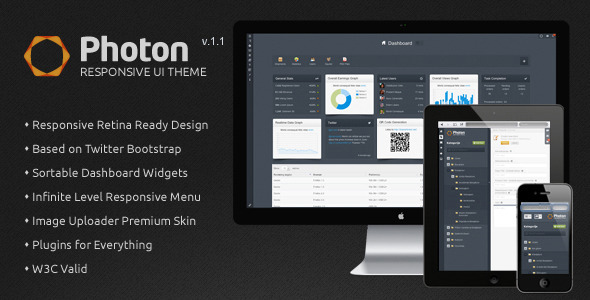 Scale is a fully responsive web app and admin dashboard template, based on Bootstrap 3 and it has 8 color palettes.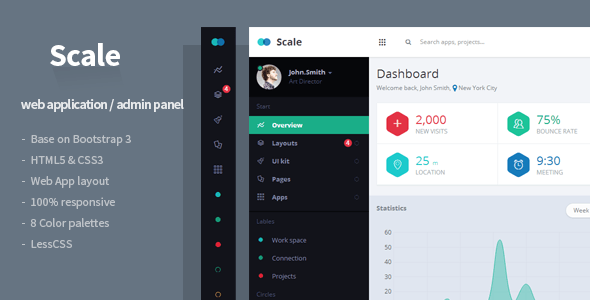 This Admin is the first of its kind when it comes to useful 'Components'. It has included many useful plugins and widgets for easy access and usage.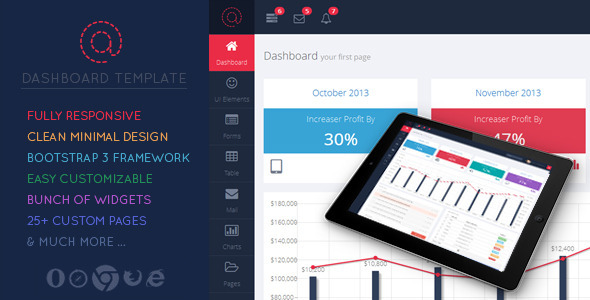 ProUI is a responsive and full featured Admin and Front end Template powered by the popular Bootstrap 3 framework. ProUI is a professional, modern, complete and flexible Admin and Front end template that can be used to build all kind of projects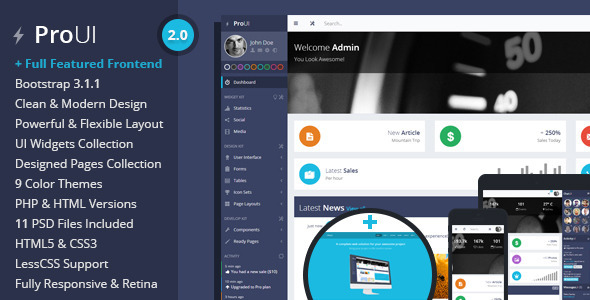 Business Admin Template is a responsive admin template compatible with Twitter Bootstrap 3.1. It has a huge collection of Widgets, Buttons, Forms, Tables, Charts and ready to go Pages will most likely cover all of your interface requirements.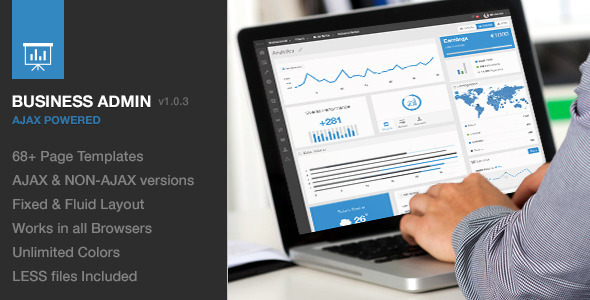 Stardom is an expansive and well structured Admin UI Template that was built on Twitters Bootstrap 3. Each page was built with using a modular approach so that each component could easily be plugged into another page, design, or style.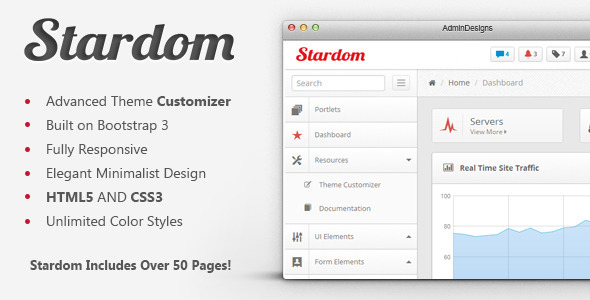 Odin is a great admin panel built with Bootstrap 3. It has 12 color themes and interactive charts! It is also retina ready and fully responsive.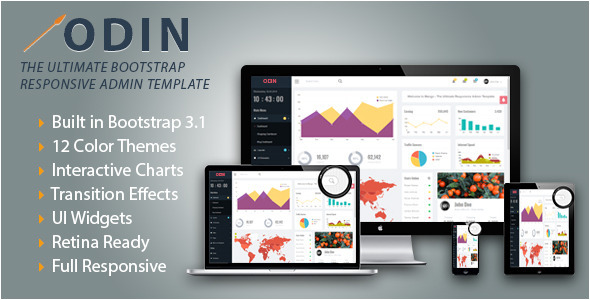 Minimal is fully based on HTML5 + SASS standards. Is fully responsive and clean on every device. Minimal works on every modern browser, any device and any screen size.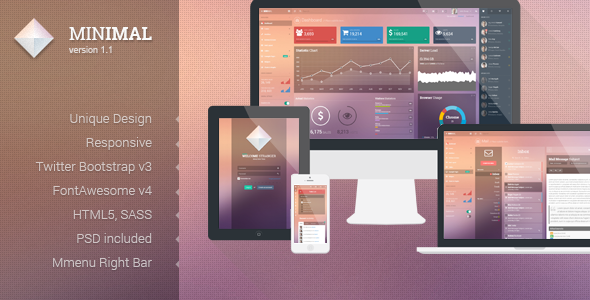 "Square" is a fully responsive admin web App built with AngularJS. It use Sass CSS which makes it easy to modify.