Are you looking to save us time and use Instagram more efficiently and effectively? Incorporating Instagram scripts and widgets is the easiest way to automate routine functions, download images and videos from Instagram, and do tasks like creating e-postcards from Instagram photos. Instagram bots help build and engage with followers.
Do You Need an Instagram Script or Bot?
Would you answer "yes" to any one of these questions?
Do you find it time-consuming juggling between Instagram, Facebook & Twitter?
Do you find it difficult in tracking when you need to put out content or if you've already put content out?
Do you hate logging in and out of different platforms to post for different clients?
Do you hate having to post on Instagram manually?
Would you like an easy tool to help engage with your followers?
CodeCanyon offers different types of Instagram scripts and bots, ranging from automation tools, to downloaders. 
The Best PHP Instagram Scripts & Bots on CodeCanyon
CodeCanyon offers over 300 PHP high-quality social media scripts and bots, which you can purchase and use forever with free updates.
Some of the benefits of these PHP scripts and bots include:
automatic image resizing
autopost and Instagram post scheduling
manage multiple social networks
multiple image uploads
get insights for published posts and reply to comments
autoreply based on  phrases or words
payment gateways integrated
Here are some of the best selling PHP scripts and bots on CodeCanyon.
Automation Tools and Bots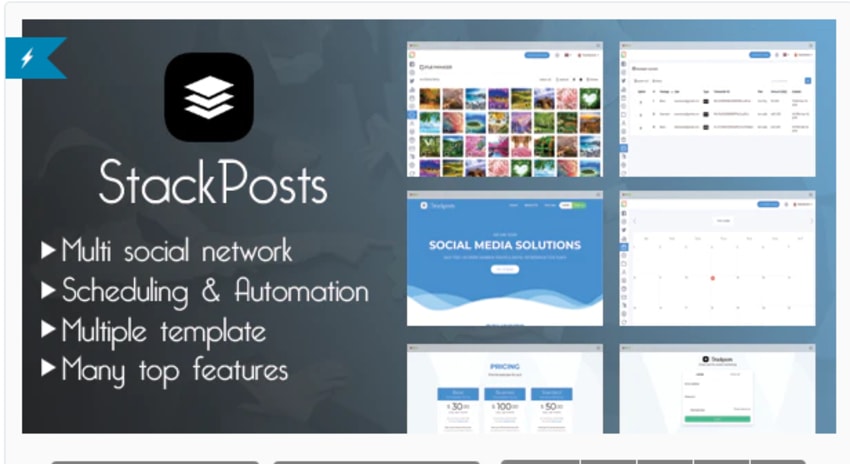 Stackposts is a social media marketing tool that helps you to easily auto post, schedule Instagram posts along with Facebook, Twitter, and much more! It also can manage multiple social networks, schedule posts, increase your traffic, and engage your audiences. Just upload the media you want to post, type up your caption, and use the handy calendar to decide when you'd like your post to go out.
Features include but not limited to:
multiple social networks
automatic media resize  to match Instagram's aspect ratios 
scheduling and automation
responsibly responsive
analytics performance of your posts
file manager
subscription module
multi-language and automatic timezone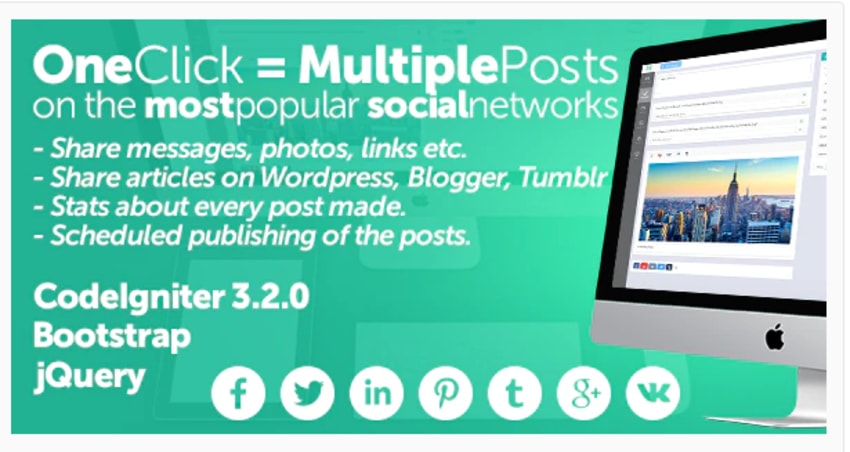 Midrub lets you schedule posts for selected dates within seconds. It also helps you obtain valuable insights such as the most popular hashtags and creates ads based on that information. 
You can also obtain insights for published posts,  moderate and reply to comments for connected accounts. It also lets you view the history of your content, such as scheduled, drafts, and published posts. If you wish to generate reports for published posts, you can do that as well.
Midrub also provides the following Instagram bots:
Instavy–this bot allows you to find new friends on Instagram.
Inlike– this bot allows you to find new photos on Instagram based on hashtags.
Dmitas–this bot that allows you to follow back all your new followers and send a private message.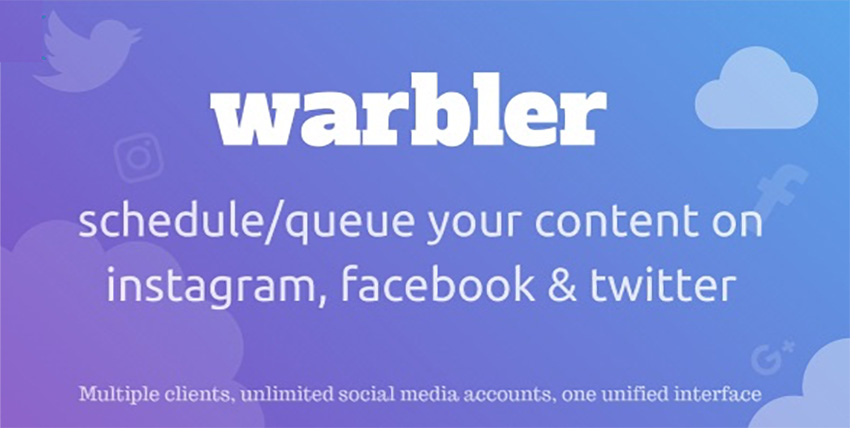 Warbler is the best Instagram script to save time over posting content manually. Warbler allows you to schedule and automatically post your photos on specified times of the day. It also helps in collecting valuable information about posts likes, shares, etc.
Other features include:
very easy to install
content scheduling
manage unlimited accounts and clients
queue content without scheduling
post multiple photos a once
DM Pilot is an automation tool and bot that lets you publish or schedule any content from your browser. DM Pilot also offers a web-based direct messenger where you can chat with your customers, send messages, attachments, posts, stories, and emoji's all form the browser.
Some notable features of this script include:
unlimited Instagram accounts 
automatically welcomes followers by sending a warm welcome message
automatically detect un-follows
integration with Paypal and Stripe payments
supports stories, gallery video posts
acontrol panel that shows a full summary of your accounts, messages, and Instagram statistics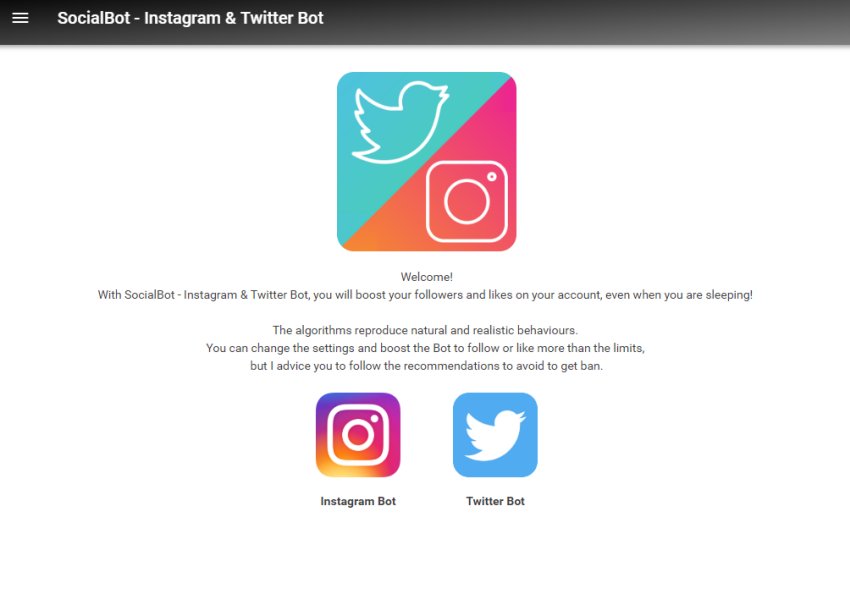 Social Bot is a great Instagram and Twitter bot script for increasing your followers and popularity. This bot will create activity on your account, interacting with other users, and liking and commenting on pictures. The script is easy to set up and can start to increase the number of your followers right away.
easy to use, easy to configure
works with multiple accounts at the same time
two-factor authentication enabled
auto detect when you are blocked by Instagram, and waits a few hours before the next action
Instagram Downloader Scripts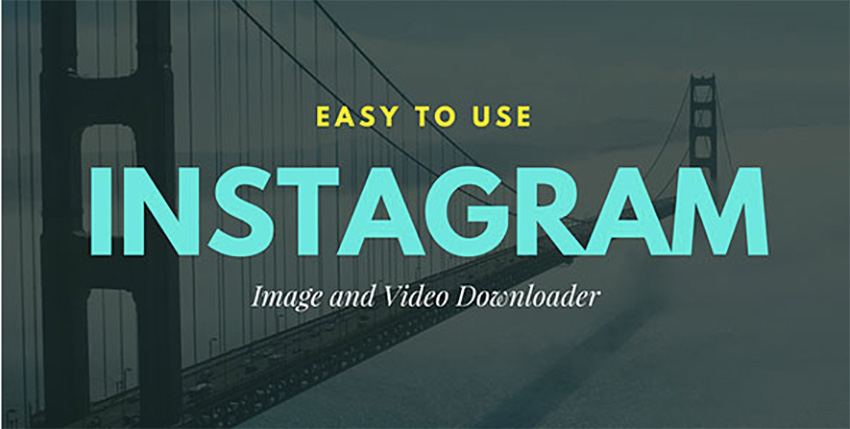 Even with permission from the copyright holder, downloading images from Instagram is neither easy nor straightforward—that is, until Instagram Downloader Script arrived on the scene. 
With one click, this simple, lightweight script allows you to download photos and videos to your hard drive for use in an online exhibition, a feature on a website, or for whatever other purposes you've gained permission to use the image.
Imagine you are on the Instagram feed, and a photo or video captures your attention, and you want to save the video or photo or offline. How do you do that? 
With this downloader script, you don't even need to use the Instagram API to download photos or videos. Just install the script and it will provide a download button and a share option after download.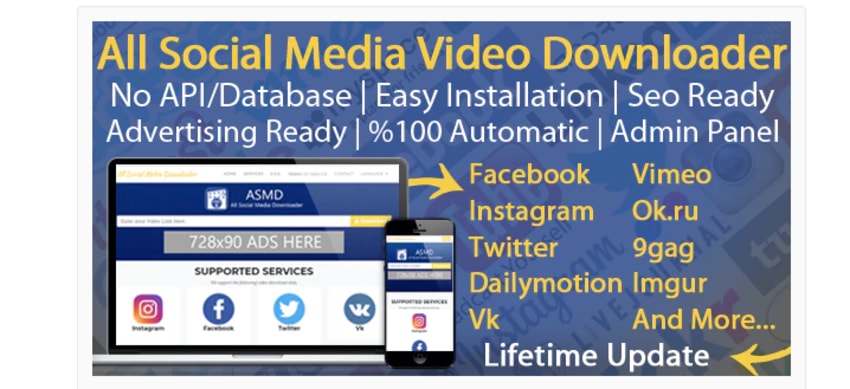 All Social Media Photo & Video Downloader allows you to download photos and videos on Instagram as well as other supported video platforms such as Instagram, Twitter, and Facebook. It is simple to use and does not require an API or database. It also supports multiple languages, and you can add or remove any language through the panel.
Other features include:
Google Analytics integration
social media sharing
language editing
Other Instagram Scripts
Instagram allows only one link from your Instagram account, which can be very frustrating if you want to take advantage of a large following to promote different services you offer or if you're going to share content on several sites. 
BioLink provides a workaround to this problem. Users register and create an account on your website—powered by the BioLink script—where they can add as many links to relevant sites as they want. They can then add their custom profile URL from this site to their Instagram bio, guaranteeing that when a visitor clicks on the link, they will be guided to the webpage containing multiple links.
BioLink also allows you to get day to day analytics of your posts and integrates with Google Analytics.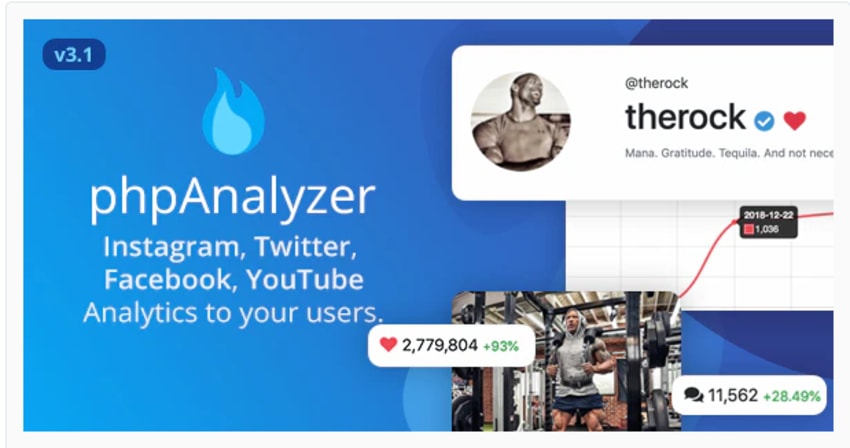 phpAnalyzer is a social tracking tool that gives you the ability to track Instagram, Twitter, YouTube, and Facebook accounts. It then generates professional audits such as day by day tracking, engagement rates, top posts, hashtags, mentions, and many more. It also comes integrated with a payment system where users can purchase Instagram audits.
It also can make future projections based on previous daily averages!
Other features include:
an Instagram tracker that lets you track your followers, following and upload counts
email reports
responsive design
Stripe and Paypal payments
Free WordPress Instagram Plugins
The premium PHP scripts above offer great features and the most flexibility, but you can also take advantage of free WordPress plugins and widgets for Instagram if you are on a budget.

Blog2Social can auto-post, cross-promote, schedule, and automatically share your blog posts to Instagram and other social networks.
It automatically creates posts for your content and auto-posts at the best times hence saving time and pain of manual sharing.
NextScripts automatically publishes posts from your WordPress blog to your Instagram account. The process is automated; write a new post, and it will be published to the configured social network.  
WP Instagram is a simple yet effective plugin and widget that lets you post from WordPress to Instagram as well as display your Instagram feed on your WordPress site. You can manage multiple Instagram accounts at once and post multiple photos or products at once.
You can also post videos as well. It also does auto-resizing for you hence ensuring your photos and videos are optimized for Instagram lets you post video posts and 
Wrapping Up
Managing social media accounts is not an easy task, But with these Instagram PHP scripts, all the posting, tracking, and managing are done automatically. If you are still on edge, here are some of the tasks they can do and help you save time.
liking and commenting on your Instagram account.
hiding or deleting unwanted comments
auto-post feature automatically adds photos, story photos, videos in your account feed.
some have payment gateways integrated; hence followers or users from Instagram can purchase products or services
helps you send automatic messages to your followers
The Best PHP Scripts on CodeCanyon
Explore thousands of the best and most useful PHP scripts ever created on CodeCanyon. With a low-cost one time payment, you can purchase these high-quality WordPress themes and improve your website experience for you and your visitors.
Here are a few of the best-selling and up-and-coming PHP scripts available on CodeCanyon for 2020.