When it comes to advertising your business, websites are the best way to do it. But if you want to have control over your website and to be able to customize it, WordPress might be best for you. I bet you're also looking for easy to use WordPress themes that run smoothly.
You think such themes are hard to come by? Maybe not. There are lots of designers that create excellent themes you can choose from. To help you get an idea of the great variety of themes you can find, here's a list of the best 20 WordPress themes providers.
1. Meanthemes

If you're looking for the right mix of passion, talent and experience (by the bucketload) then Meanthemes is the perfect choice for you. This team has been around for more than 10 years, pride themselves with working with WordPress ever since it was just a blog and their portfolio speaks for itself.
It doesn't matter if you're a small business just starting out or if you're an established enterprise, this team will surely be able to meet your every need. Meanthemes (despite their name) are very dedicated to creating the best possible relationship with their clients. They want you to be completely satisfied with their work and willing to collaborate in the future. What's more, they've use the WordPress Settings API to create the options panel framework within their themes, all in the effort of making your life as easy as possible. Because, really that's what they aim for: quality work, delivered with flawless precision. In addition, each purchased theme comes with an amazing support system dedicated to answering all your needs as fast as possible (48h or less). But, honestly, don't just take our word for it, go to their home page right now as take a look for yourself.
2. SoloStream

Limited time offer – 37 themes for just $ 79, coupon code "141258″
You've definitely seen some of the best themes put out by SoloStream by now even if you haven't realized. They have quite some extensive experience with designing elegant, cross-browser compatible and search engine optimized themes. Their Silver membership starts off at $ 99 and comes with full theme support, more than 30 amazing themes to choose from and access to future themes. And trust us when we say, you're getting your money's worth. SoloStream has one of the best support forums you'll ever find and the team keeps full documentation and constantly updates their video tutorials with all the information you might need.
You can tell that SoloStream are invested and dedicated to creating themes that meet their clients needs while being easy to use at the same time. Their themes cover a wide variety of needs for small or large companies. SoloStream has always managed to keep put out fresh, competitive themes and promise to continue doing so.
3. WPZOOM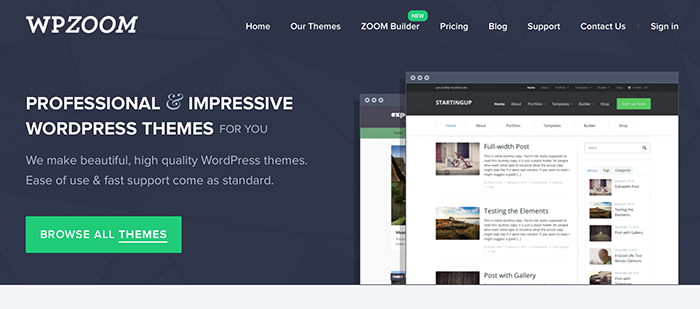 With one of the largest galleries of WordPress themes, WPZOOM offers a wide selection of over 55 beautifully designed themes that are not only eye-catching but also highly functional and easy to use. Most of them are optimized to be responsive on any sort of device which is a great thing with the constant flow of tech innovation. The team provides almost real-time support for their customers. When browsing through their gallery, you can have a glimpse of how the themes work by trying the Live Demos the team offers, so you can decide which template fits your requirements best. Whether you're choosing a business, an ecommerce or a magazine theme, you will not be disappointed, as the team pays great attention to details and the design looks great and the layout is very well organized. Besides, the themes also work very fast, so speed is a plus. So make haste and start browsing!
4. Shape5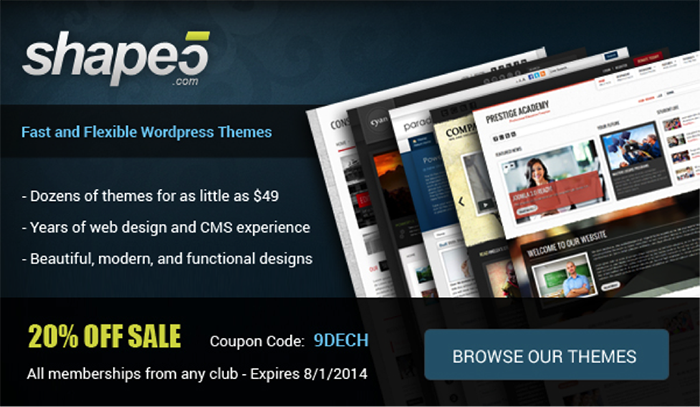 Shape5 themes are all about aesthetics. The creative team offers you a great variety of themes with stunning visual designs. Whether you want a website for your hobby or for your business, you'll certainly find a wide range of themes to choose from, such as: crafts, sports, travel, photography, church, ecommerce, medical or political. Fun and entertaining or serious and well-organized, all themes look great and are really easy to use. Highly functional and flexible you can shape them to meet your needs and upgrade them when a new version becomes available on Shape5. So, go ahead and check out their gallery!
5. TeslaThemes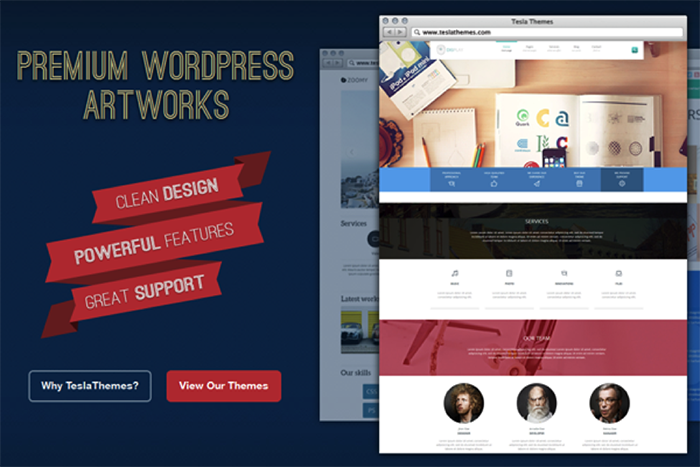 You've surely heard about TeslaThemes and their amazing themes that are perfect for websites of any category of clients from bloggers, to developers and business owners. The team over at TeslaThemes want to make your experience as pleasant as possible, so they offer extensive documentation and dedicated support for all their premium themes and much more. Go online to their website right now and you can receive a 20% discount off your purchase by entering the code "TESLAPROMO".
6. Skywarrior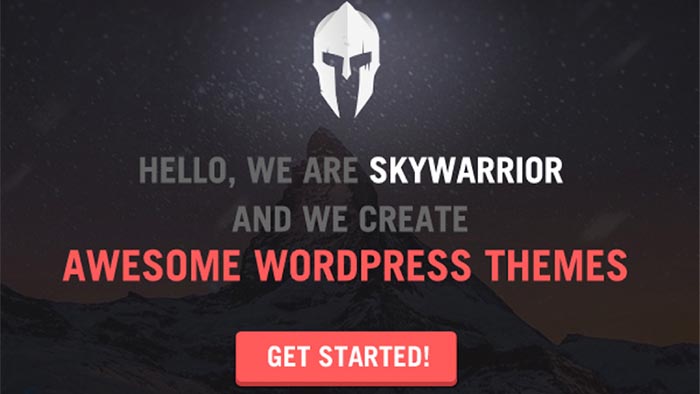 If you're part of the ever growing gaming and fantasy online society, you're most likely a fan of SkywarriorThemes without knowing it. The team has some of the most amazing themes currently in use by game clan websites or even bloggers and they're just starting. However, it's possible that you've come across some of their handy work on social reach websites as well, as they've managed to put out some amazing themes in this category as well.
7. ThemeIsle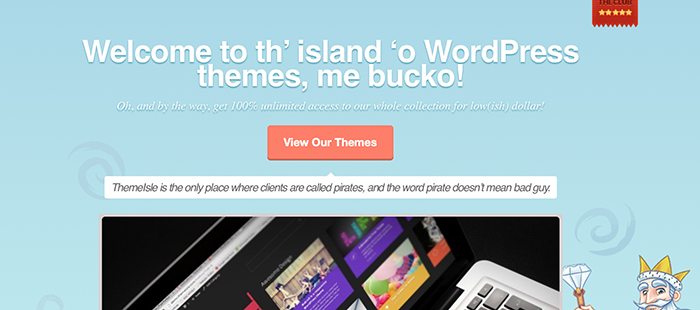 If you're looking for an original and unique theme, Themeisle might be able to help you with that. They create themes for blogs, businesses or magazines, so you can take your pick. All of them have great visual design and are also flexible and customizable as well as responsive. The team also has a variety of free themes you can choose from. Besides, if you're not content with your purchase, they have a no-questions-asked money back guarantee.
8. ProteusThemes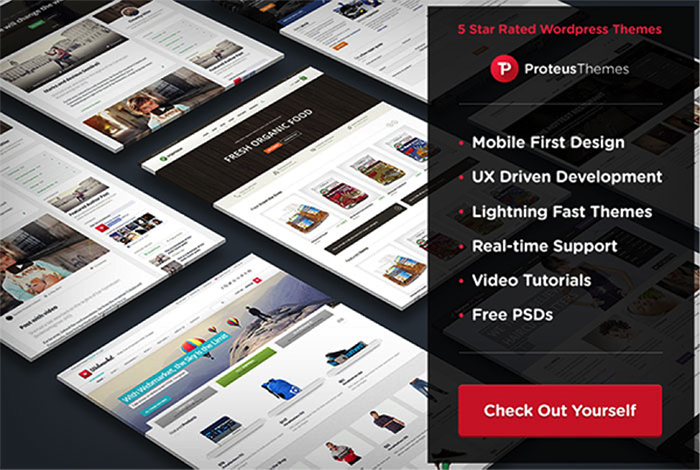 The ProteusThemes group designs very nice looking templates that catch the eye and also help the user customize them to better fit his requirements. The themes are responsive and flexible, meaning they run smoothly on any device. Each theme is especially designed for a specific niche, with appropriate details, as opposed to multipurpose themes that don't meet certain specific requirements. So, if you're looking for a professionally designed theme to fit your business, you should try ProteusThemes.
9. MintThemes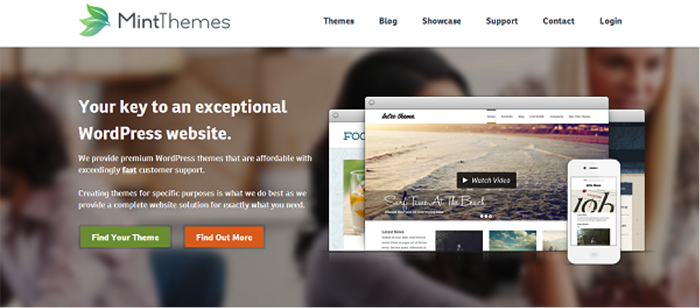 Check out Mintthemes if you're looking for the perfect mix of simplicity and freshness. The team has made 13 themes by now and each and every one of them stands out through its beautiful design and user friendly appearance. And the themes aren't the only thing that's friendly at Mintthemes, the team is also eager to help you with one of the best support services money can buy.
10.  PixFlow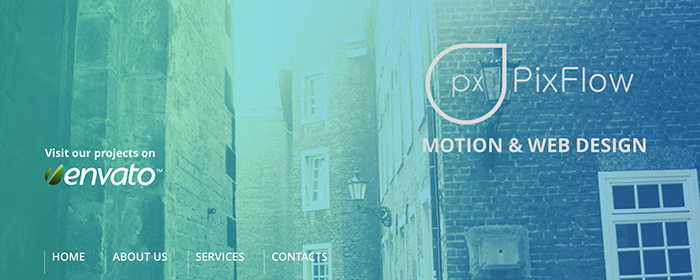 Here are some of the things that PixFlow do brilliantly: elegant, beautiful designs, flawless functionality, user oriented layouts and amazing graphics. Not convinced? Well, add to the list a team of talented, open minded developers, video tutorials and full support for every theme purchased, SEO optimization and you'd have to be crazy to overlook them.
11.  Kubasto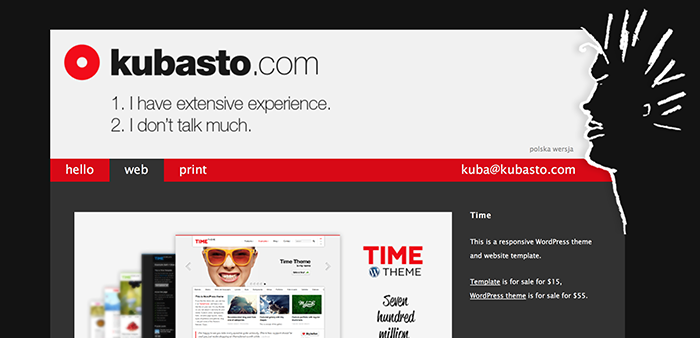 Kubasto gives the impression of a serious group of professionals that focus on their work as designers. They provide very nice looking themes that are also very well organized. Some of them are responsive, which means they are optimized to properly function on any sort of device. If you're looking for original and well-designed themes, Kubasto.com is the place to go.
12.  InkThemes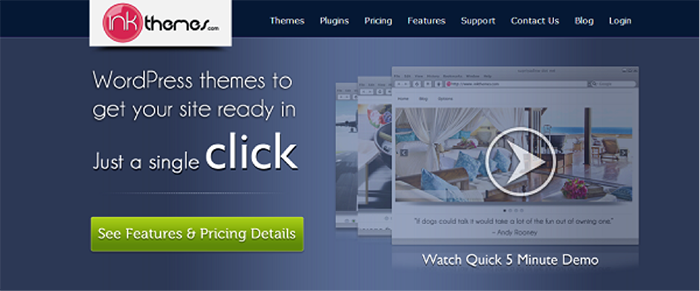 Inkthemes offers a great support service for their customers both through their support forum and through video tutorials that can help you better understand how a WordPress theme works. The templates designed by the Inkthemes group are responsive, very easy to install and also provide the client a great visual experience.
13.  Pixel Union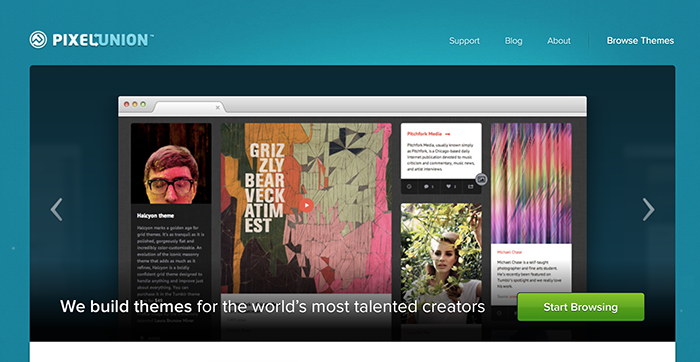 Pixel Union is a team of professionals that design original themes aimed at a creative group of customers. The visual design is their best selling point, but the themes are also easy to use and very flexible so they can be customized to meet the user's requirements. Moreover, the team will help you with any information you need.
14.  Hogash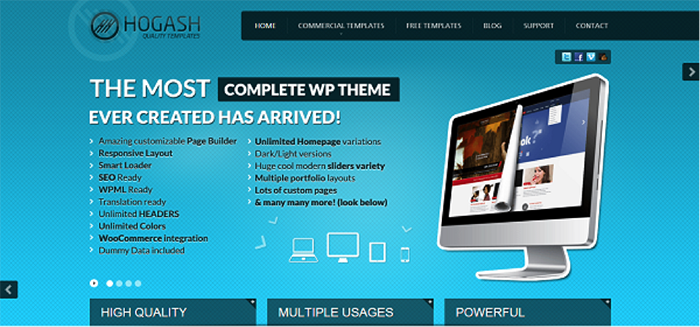 Hogash has managed to create some of the most complete themes you can find. Their products are well rounded and offer a wealth of features like cross browser compatibility, high responsiveness, increased flexibility and much, much more. With a starting price of only $ 55/theme, we'd say it's quite a bargain.
15.  QodeInteractive

If you're looking for interactive and animated designs for your website, Qodeinteractive are your best choice. The themes they offer are memorable and aptly display your content in an attractive way. Their team of professionals is ready to create themes that will cater to your every need and make your website amazing.
16.  Ait-themes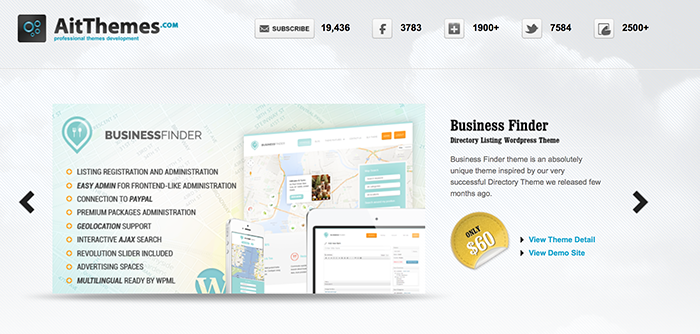 Here's something great about Ait-themes, they give you the chance to take a look at the themes before choosing the one that suits you best. Whether you're looking for a funny theme or a more business-like one, Ait-themes provides a great variety from which you can choose. So, start browsing!
17.  Obox Themes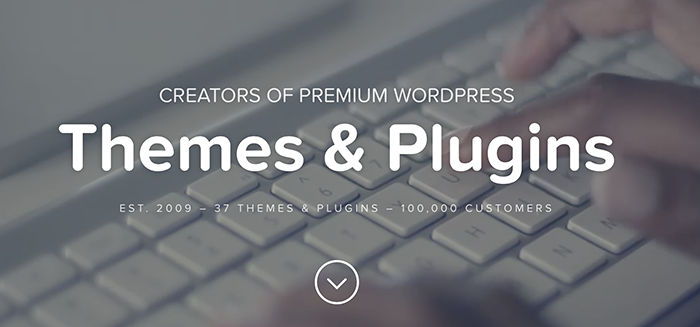 If what you're looking for is a theme that will effortlessly mix functionality with user friendly design, Obox has exactly what you need. The team is ready and willing to put out some of the easiest themes to use available at the moment and provide you with anything else you might need to get them up and running. Their price starts at $ 79/theme and this includes full customer support in less than 24 hours.
18.  Themes Awesome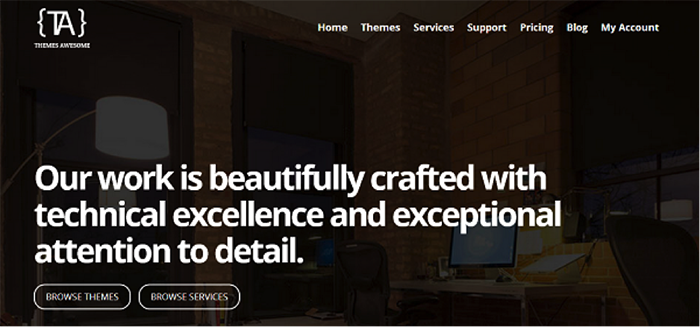 Themes Awesome provides about 14 beautifully designed themes. Their numbers are constantly expanding and, each month, new themes are released. Besides being visually appealing, the themes are also responsive and easy to use. You can see a preview of each theme before deciding on the one that suits you best. Also, support is provided by the team.
19.  Designova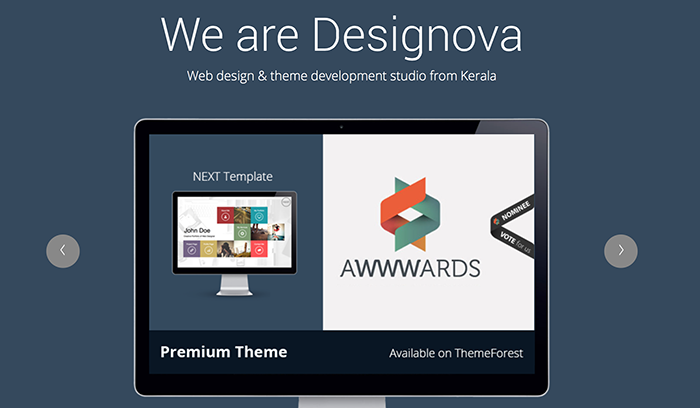 The team at Designova creates WordPress themes with stunning designs that work smoothly. Their themes are creative, responsive and flexible because they manage to always keep up with the trends. Designova regularly update their themes and they have a great customer support policy. The Designova themes can be found at themeforest.net.
20.  ShopitPress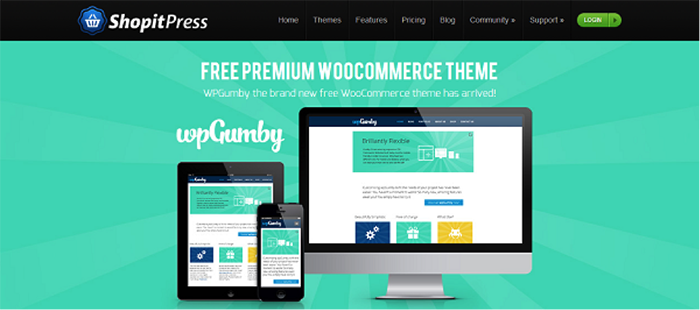 ShopitPress believes in their motto "Find the theme that suit your needs." The team consistently put out themes that integrate eCommerce features, don amazing designs, remain extremely easy to use and offer you almost full control over the look of your website. Still not convinced? How about their starting price is $ 59/theme and it comes with 1 years' worth of support and updates plus unlimited access du documentation and support forum?