Black Friday is a super time to take advantage of bargains in household items and consumer electronics. But what about bargains for web designers?
As it turns out, web designers haven't been left out of the picture. You can see from this selection of design aids, UI kits, stock photos, and WP themes. There is, in fact, something here for just about everyone.
The driving force behind Black Friday is to get shoppers into the stores. It's not much different with online stores. But web designers often benefit by looking where they haven't looked before.
Especially when bargains on high-quality products are the rule, as is the case with these Black Friday specials.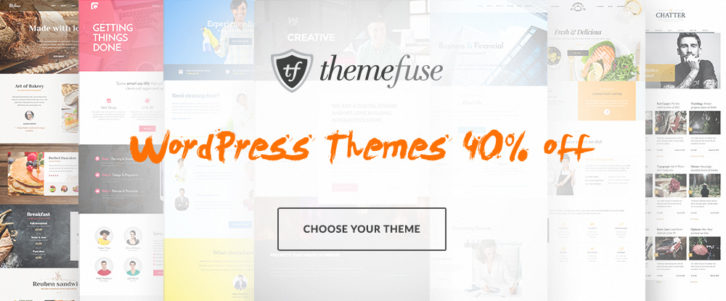 ThemeFuse has a selection of over 30 high-quality WordPress themes to choose from. On Black Friday only, any of these themes can be yours at a 40% discount. These themes are exactly what designers and developers look for when they are called upon to create original websites for their clients; and called upon to do so on short notice.
These themes cover all the common website types, including presentation websites, blogs, e-commerce websites, and portfolios. Theme topics range from business, children, and automotive, to travel, food, health & beauty and everything in between. Their flagship theme is called The Core, a multi-purpose WP theme that comes with more than 20 demos already created that can be imported with 1 click.
You can test drive any of these WP themes before you purchase. This includes the Black Friday discounts. Just be sure to make the purchases you want before the deadline has passed. You'll like what you see in the original and creative theme designs, and you'll appreciate how easy they are to use.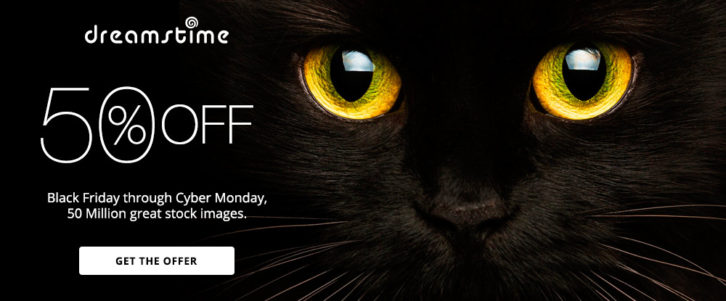 Millions of stock photos and videos at a 50% discount may be difficult to imagine, but that is what Dreamstime is offering on Black Friday, and through Cyber Monday. Dreamstime's inventory is highly organized.
The Smart Advanced Search system guarantees that it won't take you any time at all to drill down to your favorite subcategories and topics, and pick out a few choice images at a bargain price. You have 20,000 RF images that you can download for free along the way.
Dreamstime draws upon professional contributors who add thousands of fresh files every day. Once you've sampled what this stock photo resource offers, you'll be tempted to become a regular customer.
You can be assured that quality will never be an issue, since Dreamstime has been a media provider to 95% of the Fortune 500 companies.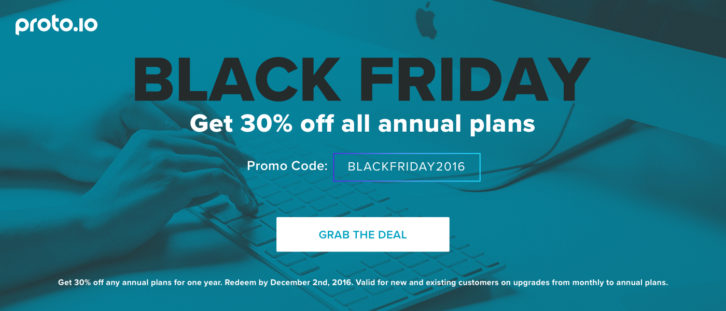 Proto.io is regarded throughout the web design community as an industry-leading prototyping platform for designers representing all experience levels.
Black Friday through December 2 has been set aside as an opportunity for you to purchase an annual subscription to this premium design tool at a 30% discount. The promo code is BLACKFRIDAY2016. This Black Friday special is available to both new and existing customers.
Design teams and freelancers alike work with Proto.io to enhance the workflows of their design processes from the wireframe and mockup phases through to user testing their high-fidelity, interactive prototypes. Proto.io is extremely easy to use. No coding skills or special technical skills are required on your part.
Here is your chance to purchase a premium design tool at a special Black Friday price. Start with a free trial and then upgrade using their promo code until December 2.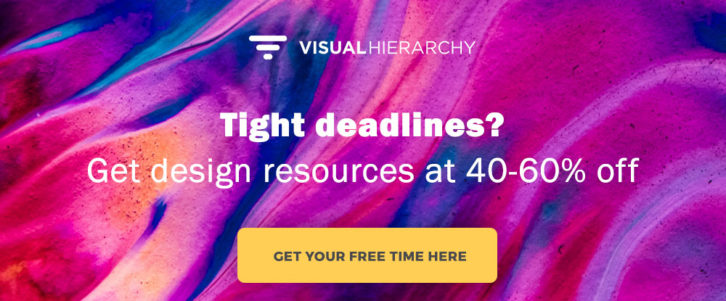 Web designers have for a long time looked upon Visual Hierarchy as a source for purchasing high quality design tools. On Black Friday, you can join many of these same designers in choosing VH's top selling products and other useful items at up to 60% off the regular price!
VH is also a marketplace where web designers and developers can sell their own products, so you are always assured of finding items that are not found anywhere else. Black Friday is your chance to purchase anything from UI Kits to fonts and mockups at bargain prices.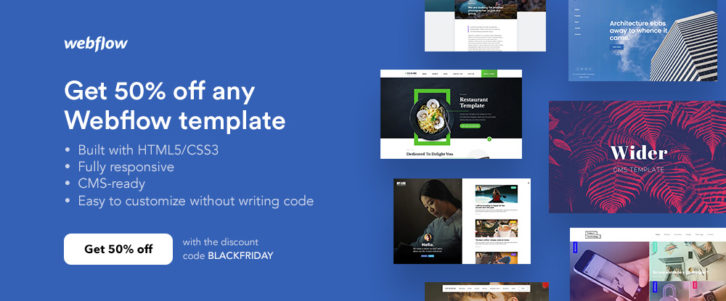 Webflow is offering its fully responsive, CMS-ready website templates, at a 50% discount on Black Friday only. All you have to do is to use the discount code BLACKFRIDAY at the checkout.
You'll find a host of website topics to choose from among the more than 100 Webflow templates, including templates for blogs and portfolios.
These templates, which feature standards-compliant HTML5, CSS3, and JavaScript, are completely customizable, and you can make them production-ready without having to write a single line of code.
Each of these templates also features pre-built, dynamic CMS collections, or you can add your own structures. 50% off on quality items like these is always a bargain.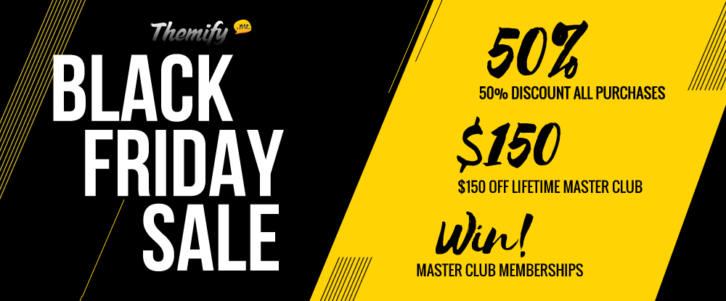 Themify is celebrating Black Friday through Cyber Monday in a big way. Promo code BLACKFRIDAY opens the door to a 50% discount on all Club memberships, WordPress themes, and plugins. There will also be a drawing in which 10 Master Club memberships will be given away for free.
Although the 50% discount does not apply, if you elect to join the Lifetime Master Club, with all its benefits, you can do so for only $249; a savings of $150. Use promo code BLACKFRIDAYLIFE to take advantage of this special offer.
Yep, these are some great deals!
There are Black Friday bargains here for new and old customers alike. This is an excellent chance for you to buy high-quality stock photos or other media items at half price. Or quality WordPress themes or website theme templates at large discounts.
If any of the businesses offering these promotions are new to you, give them a closer look. You might just decide to opt for something newer and better that what you're using now; and at a bargain price.
0 Comments