What is your website made of? Text, graphics and—images. They might be called your frenemies: they do a good job making your website attractive, but sometimes they require a lot of processing. Аnd they can be quite finicky about displaying correctly on any device. Whether you're an eсommerce shop, an illustrator, a photographer, or any other proud owner of bunches of pictures, we want to help you boost your business and save time and money by just optimizing your content with a few clicks.
In this article, we'll tell you how to automate your media handling, get independent of developers, protect your website from overloading, and get maximum page views. We'll also cover what an image CDN is and how you can use its huge helping hand to achieve those goals. So, get ready to breathe new life into your business with the help of image optimization.
Contents:
– More Images Equals Higher Traffic Costs. How So?
– How to Cut Traffic Costs and Save Images? Optimize.
– Real Case: How Automated Optimization Saves 86% More Money.
– Conclusion: Handling Loads of Images Is Easy and Cheap.
More Images Equals Higher Traffic Costs. How So?
Whatever the business you might be in, your website certainly has at least one image. It first comes all alone and seems to be pretty innocent and attractive. But the more pictures you have and the more beautiful your website becomes, the more money these innocent creatures take from your pocket on their maintenance, and the more useless they make your attempts to attract traffic.
Say Mary has an ecommerce shop that sells design decorations. Visuals are very important for Mary, so she adds more and more photographs to her website. She also launches a carefully planned and pricey ad campaign. But instead of getting profit, she gets problems.
Here's what might happen with a website if it has many images:
1. The website crashes more often because of the traffic overload.
2. The website speed significantly slows down.
3. The website doesn't display properly on mobile phones or other compact devices because the images are struggling to adapt.
If you were to tackle this problem, you might consider boosting the storage space for the images, paying for more bandwidth, and hiring a team of developers to keep track of them and ensure adaptive image delivery on every device. That means spending huge sums of money and taking away precious time from other tasks like marketing and product development.
But what if there was another more viable solution?
How to Cut Traffic Costs and Save Images? Optimize
The short answer is: optimize your content delivery. Basically, it goes like this: you optimize content delivery → it boosts the load speed of your page → you reduce the bounce rate → it brings down the traffic costs. Voilà!
That might sound a bit simple, but one thing you should do to measure the effectiveness of this method is to calculate your traffic costs accurately. Let's go through it step by step.
1. Beware of the Bounce Rate
The bounce rate is one of the basic metrics in Google Analytics. In simple words, it's the % of people who visit your website and land on a page, but go away without navigating to any other pages. If you decrease the bounce rate, you'll decrease your traffic costs. Let's get back to Mary to see how that works.
Before Mary started counting bounce rate, she used to spend $500 to attract traffic of 1,000 visitors a day. When she counted her traffic cost per visitor, she thought that $0.50 looked just fine. But when Mary checked the bounce rate, she realized that 90% of her visitors were just bouncing without even looking at the content. So, the actual number of people who were even potentially considering buying her products was 100, not 1,000. That means the real cost per visitor was $5, not $0.50.
The good news for Mary is that if she reduces the bounce rate by, say, 10%, making it 80% total, her traffic cost per visitor will drop to $2.50, since it will bring the number of actual visitors from 100 to 200.
2. Optimize Images to Reduce the Bounce Rate
The chance that a visitor will bounce gets higher as the loading time of your page increases. So, to reduce the bounce rate, make your website work quicker. This is where images come in, because the more images you have, the more resources it takes the website to process them, and as a result, the load time goes up. Here's how you can help it.
Use a CDN for image hosting
A CDN ensures fast content delivery across the globe and provides hosting independence. When they're hosted on a content delivery network, your images appear more quickly, because they're hosted on multiple servers worldwide. They're also automatically adapted for different devices, so you don't have to make sure they're delivered the right way. According to the statistics gathered by Uploadcare, an image CDN can significantly boost several performance metrics:
Apply further content optimization tools
Going further with optimization will increase your website performance even more and boost conversions. There are a bunch of tools that make your images look better and load faster, like smart cropping, compression, size adjustment, and lazy loading. And modern technologies allow you to do all that automatically, without engaging a whole team of developers. That makes it much easier and more cost-effective to improve your business metrics. For example, just a few-step optimization boosted the performance of the well-known Shopify website by 6 times.
Optimizing images also boosts your UX. The faster your page loads, the smoother the user experience is, and the bigger your conversion rates are. Research by Uploadcare determined 4 key directions of image optimization that can make your page load speeds skyrocket and significantly improve UX.
Real Case: How Automated Optimization Saves 86% More Money
Huge time and money savings are not a myth, as Shogun's example shows. Shogun is a platform offering landing page-building services for ecommerce brands. Images come from different sources to Shogun and go to different destinations afterwards, so this presented a huge opportunity for improvement by optimizing their image delivery pipeline.
"It's very annoying to implement file uploading. Uploads fail. Uploads stall. There are network issues. Slow connections are very difficult to manage. It was pretty painful. We would get weird files and have to manage all different blobs of stuff people were uploading. It was just annoying," says Finbarr Taylor, Shogun's CTO.
And here's what Shogun got as a result of cloud media pipeline implementation. No words. Just cold hard math.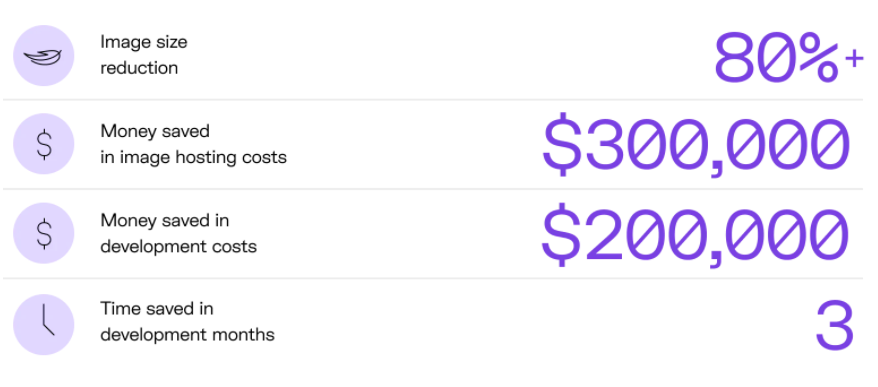 Conclusion: Handling Loads of Images Is Easy and Cheap
Image optimization seems to be a perfect way to save you money and boost your website performance. Applying the latest technologies helps to keep your website attractive and increase your profits. With them, you save on manual content handling and get more time to work on the very heart of your projects, and thus make your clients happier.