A website can be a powerful marketing tool for a startup or a small business.  But only if it is easy to work with and well designed. It should also incorporate functionality specific to the needs of the business. WordPress business themes make building a website for a business very easy. During the past years, the process was slow, tedious, and expensive, however.
WordPress offers themes that go well with startups too. Is your startup working on a new app or presenting a new service? Or is it involved in some other not-yet-commonplace venture? Either way, there are likely multiple themes that are a good match. Especially so in the following collection.
The following WP themes are the best at what they do. You can rely on them to help you create websites that will stand out from the crowd.
1. Be Theme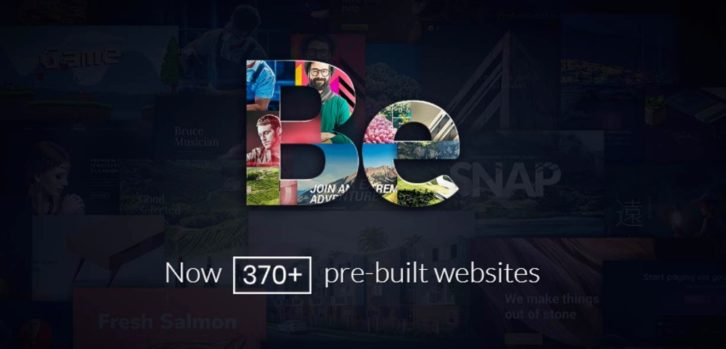 Be Theme is an excellent theme to start with. It is in all likelihood the largest of the WordPress themes for business websites with its collection of more than 370 expertly-designed pre-built websites and its 40 core website-building features.
What makes Be Theme such a suitable choice for small businesses and startups goes beyond the sheer number of pre-built websites and the variety of business types and niches they address. The fact that they are customizable and feature the functionality a business needs and expects in its online presence makes finding a perfect match a relatively easy proposition.
Since more pre-built websites are added to the collection every month, finding the best match is only going to get easier. Add the fact that Be Theme is easy to work with, its SEO-friendly and responsive, and features an extensive array of design elements, layout options, and special effects, it's understandable why this WP theme has consistently placed among ThemeForest's top 5 best sellers.
2. Astra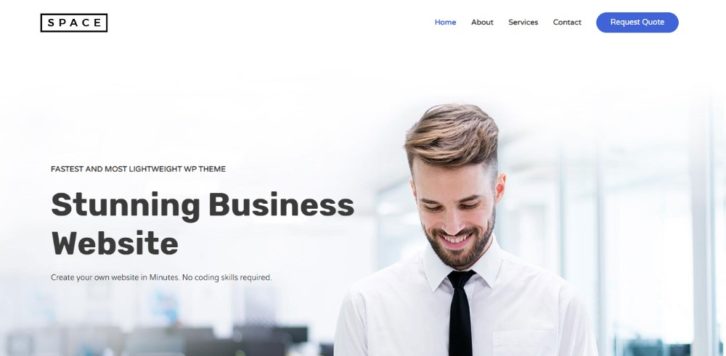 Astra is another of the best WordPress business themes on the market. It provides an ideal set of tools for creating websites for blogs, portfolios, startups and small businesses. Astra offers a variety of templates and a comprehensive collection of design features.
You can use this theme with any of the popular page builders, plus it's WooCommerce ready and its capabilities are easily expandable with addons.
3. The100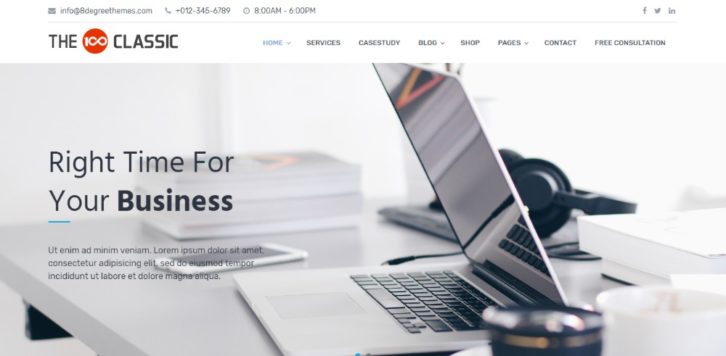 One reason The100 finds a spot in our list of the best WordPress business themes is the tender loving care that obviously went into its development; TLC that's  reflected in the small business websites it helps to create.
You can see it in The100's elegant design, attractive demos that can be imported with a single click, and its flexibility and ease of use. 
4. Houzez – Highly Customizable Real Estate WordPress Theme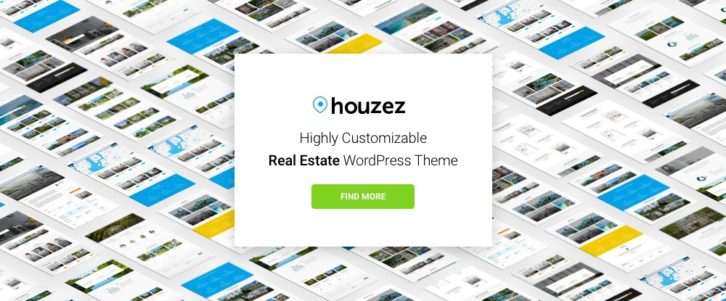 The best WordPress themes for small business or startups are often those that specialize in a particular business sector or niche. Houzez focus is on the real estate sector.
While Houzez is an easy to work, highly flexible theme, its real strength lies in the embedded functionality realtors and real estate agencies will be looking for, including property listings, property management, and advanced property search.
5. TheGem – Creative Multi-Purpose High-Performance WordPress Theme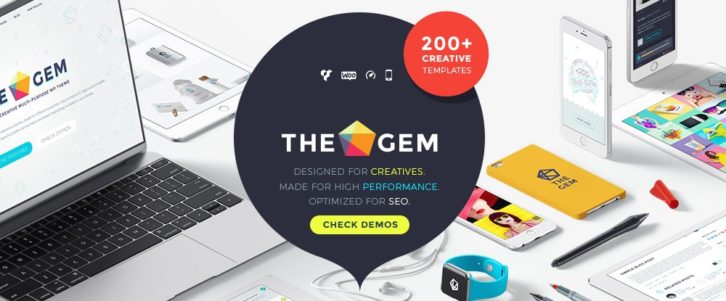 Creative individuals, teams, and agencies will be best served when small business WordPress themes are the tools of choice for providing them with an online presence. TheGem is one such theme. It was created with small businesses in mind, while still providing the web designer with a comprehensive toolkit to work with.
In addition to an array of trendy design concepts and useful plugins, TheGem's package includes a ready-to-go fashion store.
6. Uncode – Creative Multiuse WordPress Theme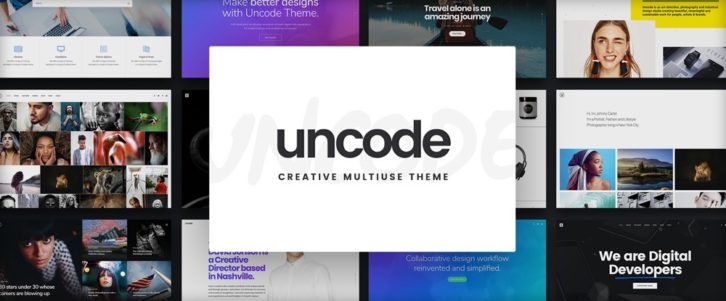 While Uncode is advertised as a multipurpose theme, it's ideal for using with WordPress for small business websites. The reason for this is its author's attention to detail as they were creating it. This attention to detail, and the TLC that tends to go with it helps make Uncode well suited to address small businesses and startups website requirements.
Of particular note are this theme's smartly designed homepage concepts and its Advanced Grid and Adaptive Images systems.
7. Cesis | Responsive Multi-Purpose WordPress Theme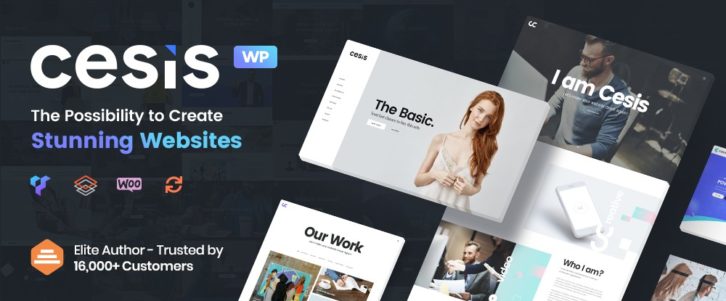 Trying is believing. Cesis' claims to be the "smartest" WordPress theme on the market. You'll need to decide the truth of that statement for yourself. Since it allows all the website-building work to be done at the front end, importing templates and demos takes but a single click, and its building process is simple and straightforward – you're likely to agree that Cesis is indeed a very sophisticated and a smart WordPress theme.
8. Pofo – Creative Portfolio and Blog WordPress Theme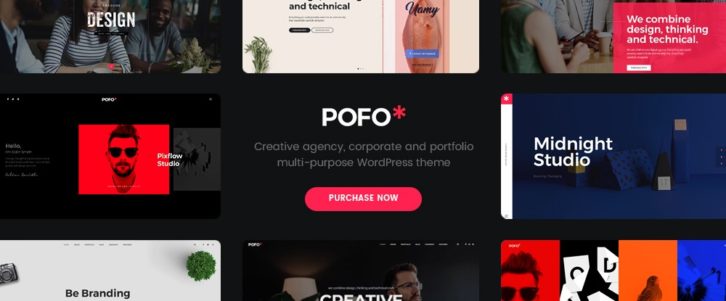 Small businesses and startups often earn their bread and butter by relying on attention-getting and engaging portfolios to market their goods or services. Not all WordPress themes have the tools needed to create an impressive portfolio although many of the best WordPress business themes do.
What you really need is a theme that specializes in building outstanding portfolios, and Pofo is just such a theme with portfolio, blog and eCommerce features.
Conclusion
It should be easy to choose the best WordPress theme for small businesses. Here are only eight themes to choose from. The themes presented here are the best of the bunch. This can, however, make the decision process a little more difficult.
You really can't make a bad decision. You should take extra time to find one or two the suits your needs to a T. Doing so will save you time and money in the long run.

0 Comments