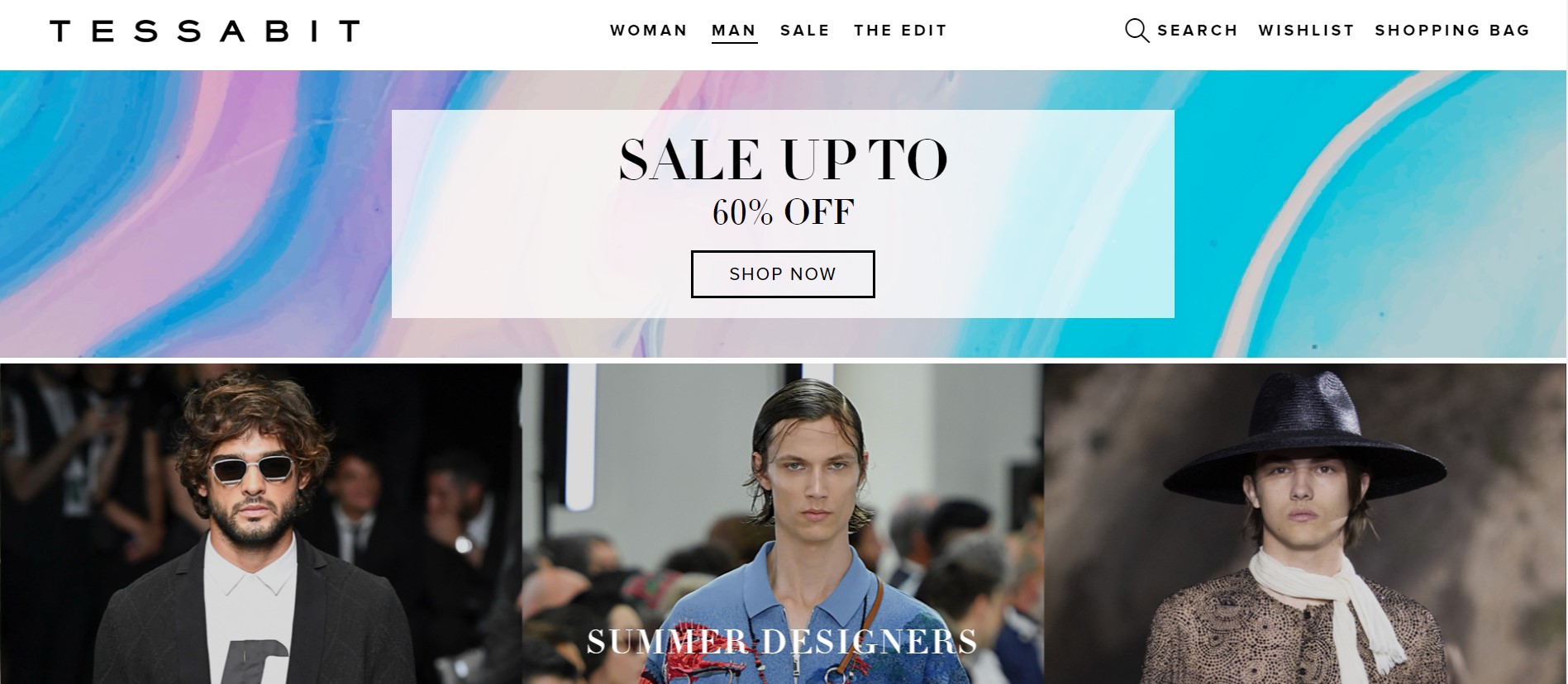 [UPDATED June 2020]
Father's day is the best time to show appreciation for our dads and what better way to do that than to shop? Web design has revolutionized catalog shopping through the decades all thanks to incredible layouts, witty color schemes, and bold sliders.
Here are some of the best daddy-friendly sites whose web designs are sure to catch your eye:
#1 ASOS
For the young-and-hip Dads out there, ASOS is a go-to site for the latest trends. Their website design is colorful, youthful, and playful. Although it is a catalog of men's apparel, going through the site has a high-fashion, the editorial magazine feels. The ASOS website even has an 'inspiration' tab, where they give fashion advice, tips, the latest fashion news, quizzes, and more.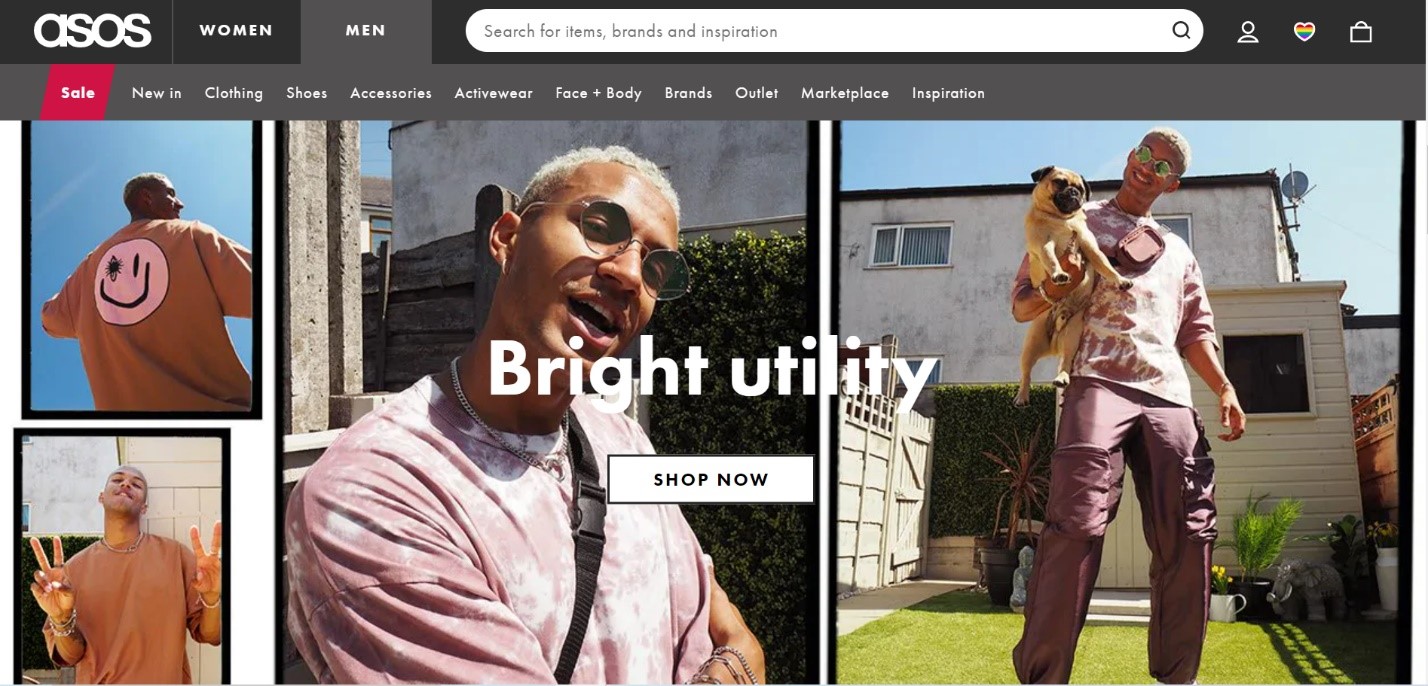 Shop @ Asos
#2 NORDSTROM
The web design is humble and clean. The text used on the website is as simple as the text used for the brand logo. The layout is straightforward, and the product navigators are user-friendly – it's all about effortlessness. This is a bold, yet impressive, approach to reduce distraction and give more focus on the products. Great for all go-getter Dads out there.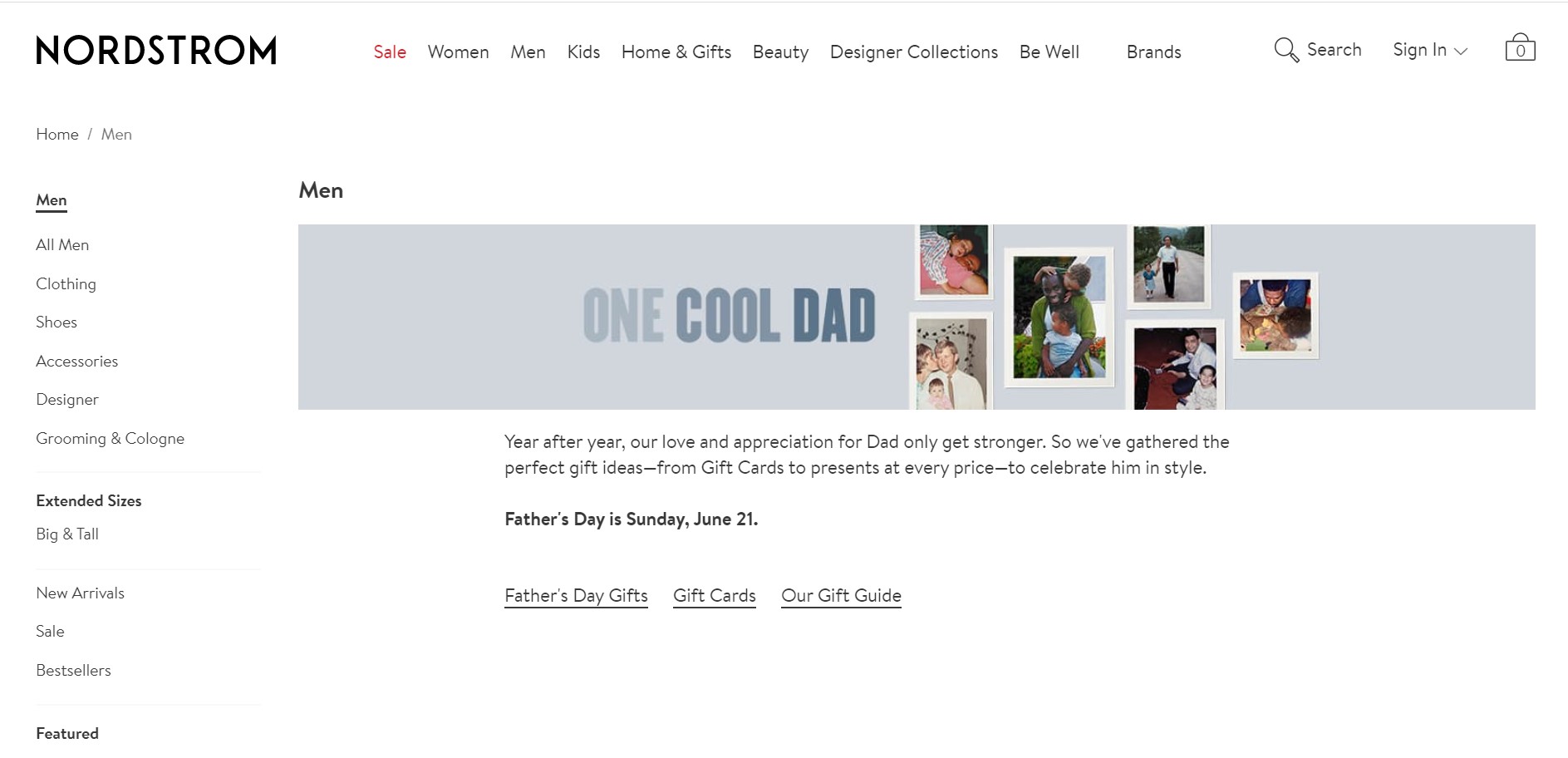 Shop @ Nordstrom
#3 River Island
The deals on the website, located just above the slider, provide great exposure for the brand's promotions, and attract the visitors' attention. The website follows a grid layout that displays all product categories in neat carousels.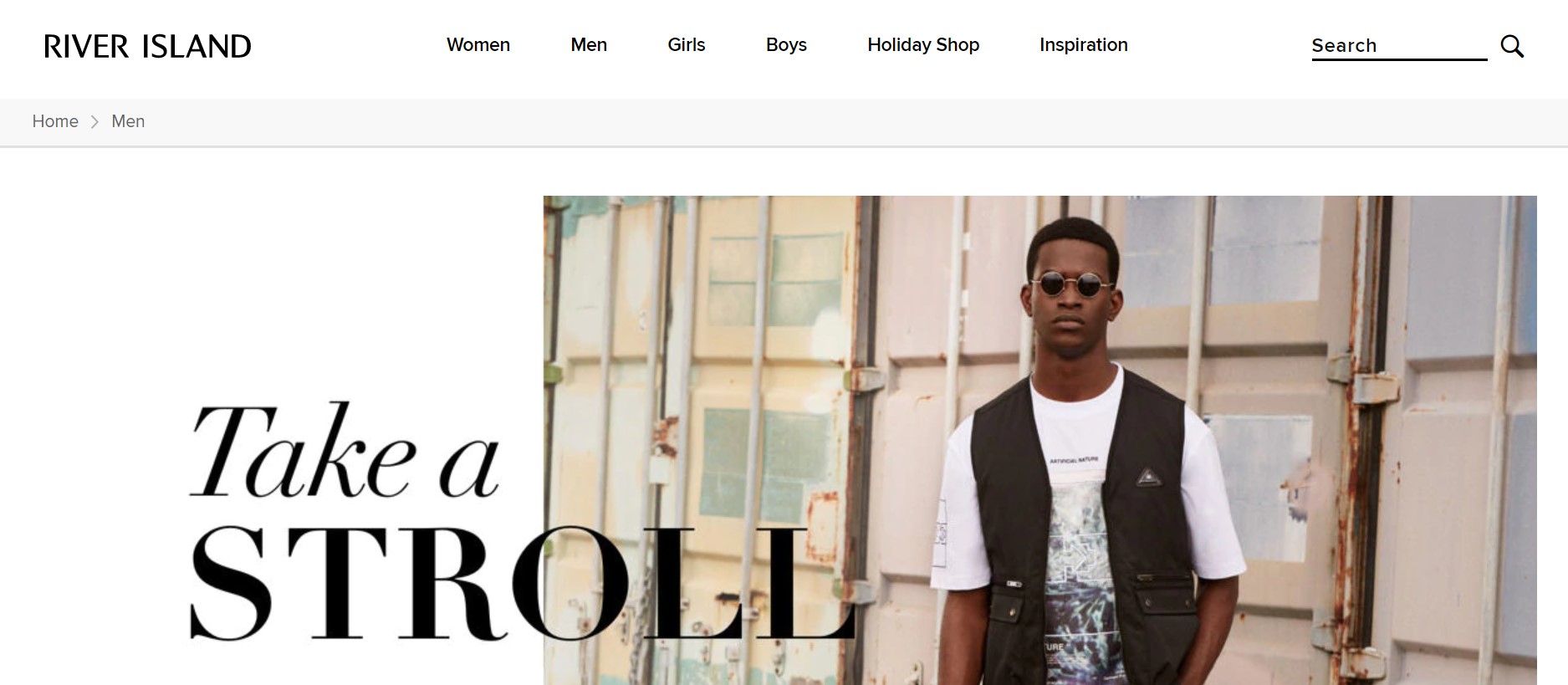 Shop @ River Island
#4 Union
The Union web design is visually appealing. The banners are a good, not in-your-face, size. The homepage features their in vogue designers of the season, detailing their most popular releases. The website also has a tab for content covering the latest trends in music, arts, and events. This website has a product for fathers young and old.
Shop @ Union
#5 Lost & Found
We all seem to forget that dads (when they are not out there saving our sorry selves) are just ordinary dudes. This site shows just that, it features casual and comfortable clothing for everyday wear. The website features clothing that is garden friendly, work-friendly, house chore friendly, and more – very witty indeed.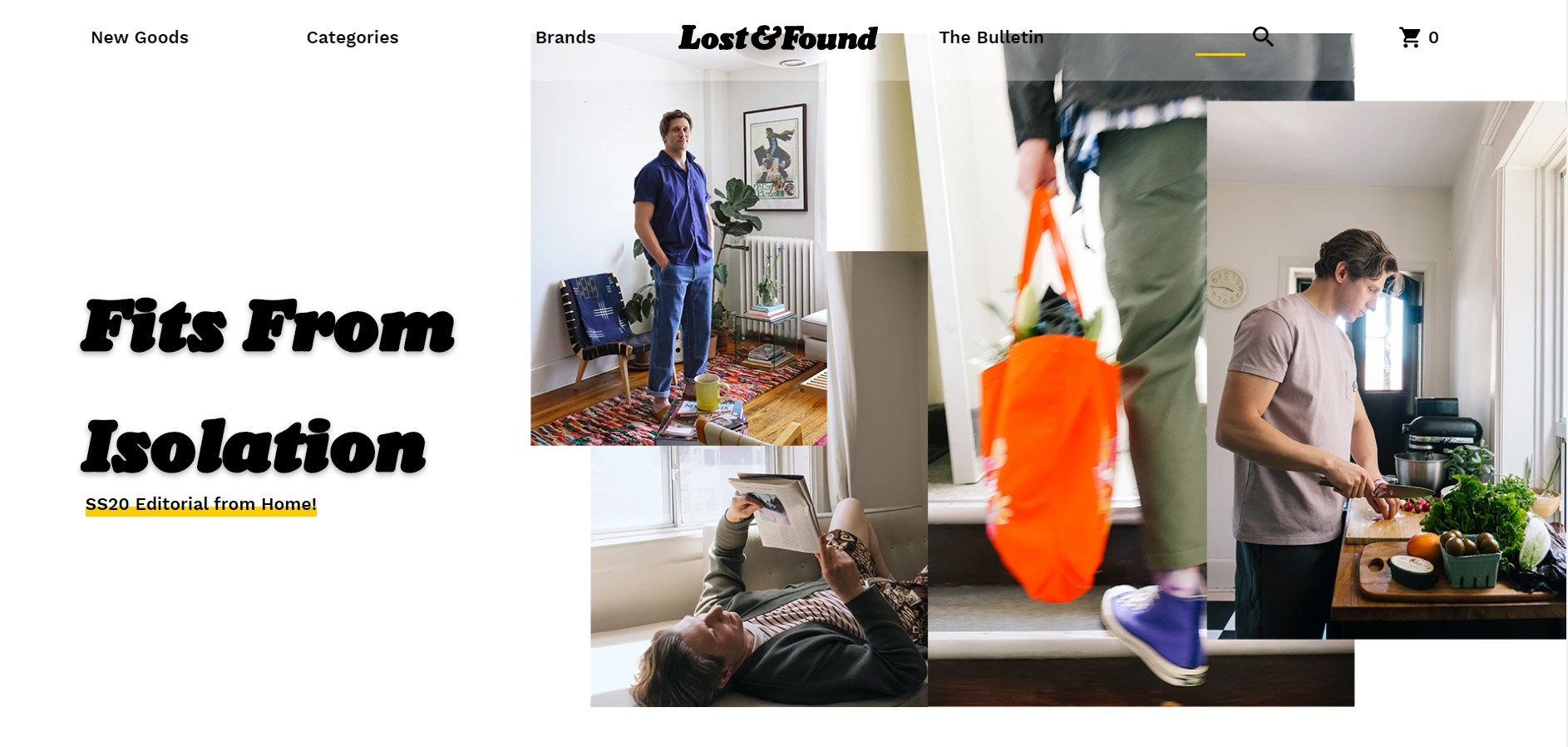 Shop @ Lost and Found
#6 No Man Walks Alone
The interaction between the brand and the patrons is one of the best features of this website. The webpage has an entire gallery showing #OOTDs from their patrons, turning ordinary dads to fashion models. This is a great way to show both appreciation and credibility to the shoppers. To top it all off, what better way to claim credence than to feature brand awards, right?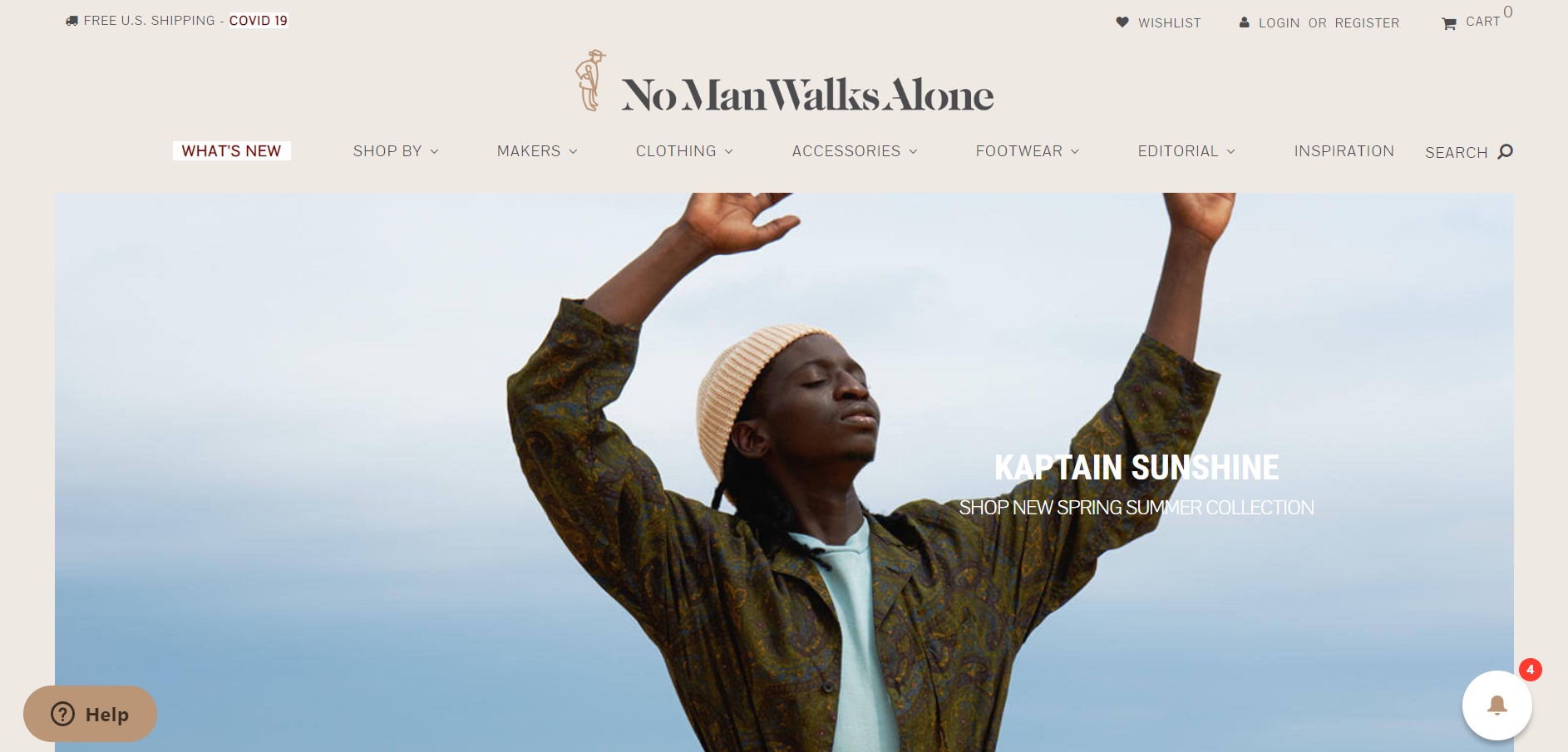 Shop @ No Man Walks Alone
#7 Cladwell
For busy dads out there, this incredible online store features an organized apparel generator to produce what they advertise as "capsule wardrobe". It is a set of clothing expertly put together to match. Dads can wear these to any formal and casual events.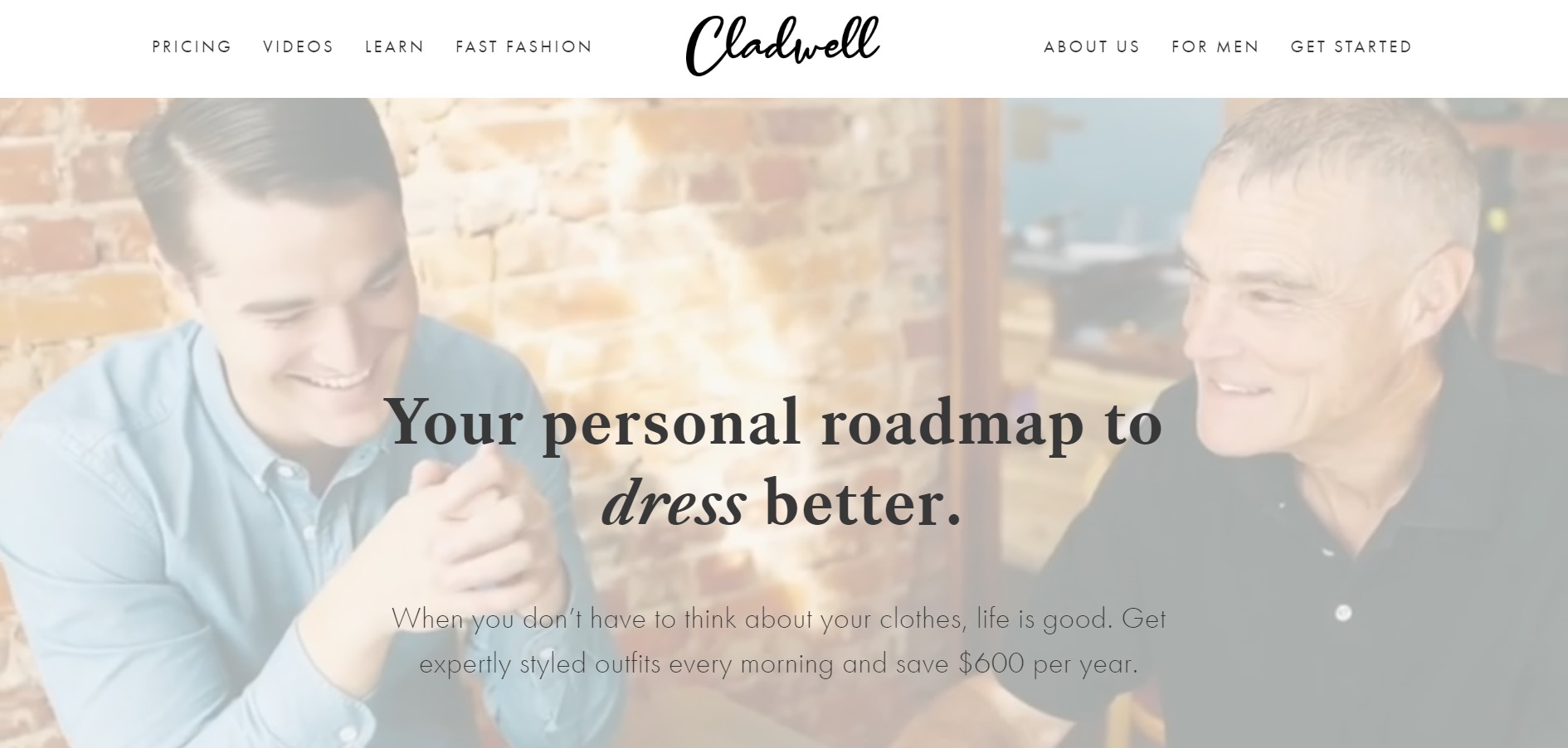 Shop @ Cladwell
#8 Urbane and Gallant
Going for the classic look is always a good idea both in apparel and web design. Urbane and Gallant uses a grayscale color palette and a minimal choice of typography to promote their menswear. This is great for dads who like looking all timeless.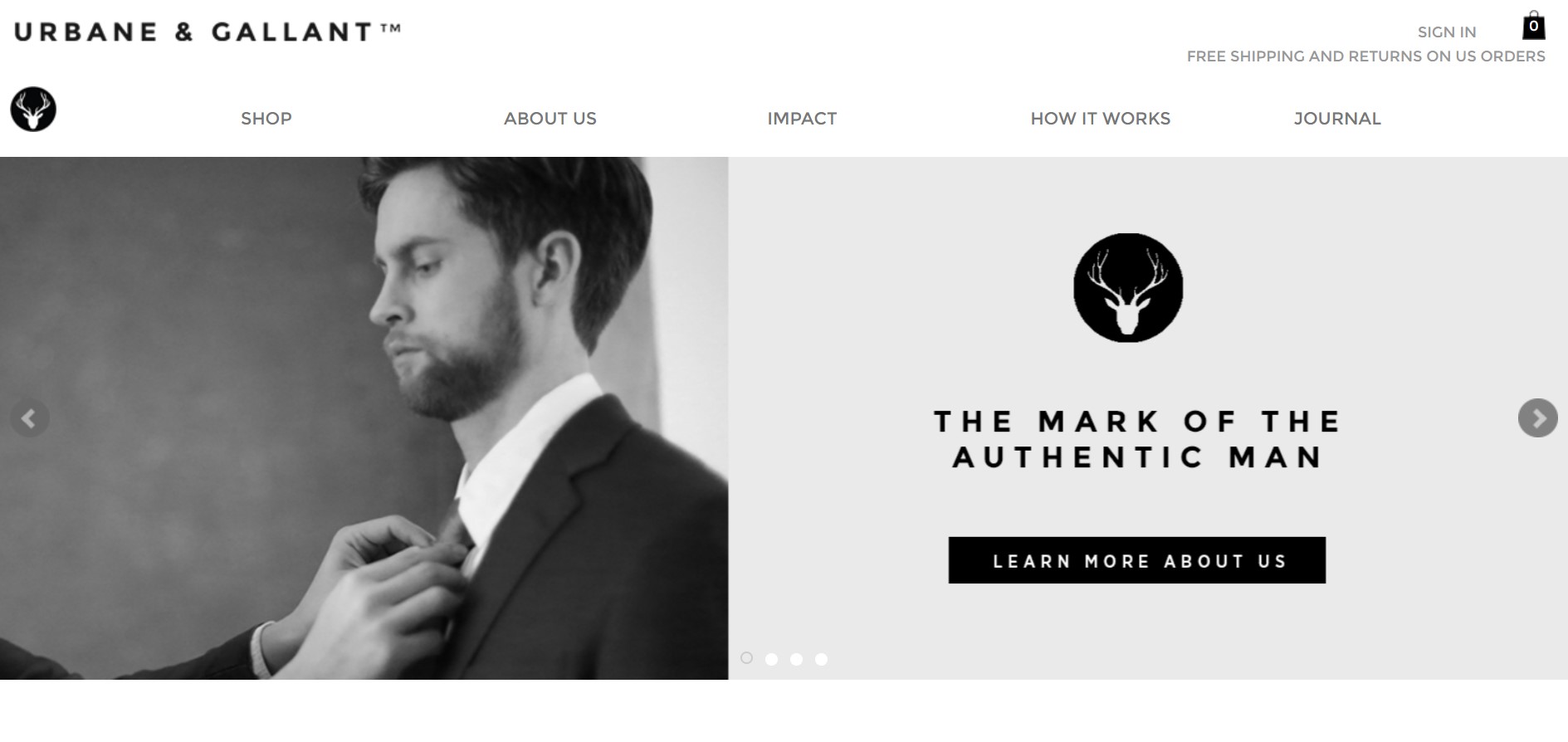 Shop @ Urbane and Gallant
#9 Mr Porter
This is a website that offers a variety for all types of dads no matter the age, shape, or style. Mr. Porter features more than 300 international brands that vary from luxury to sports apparel.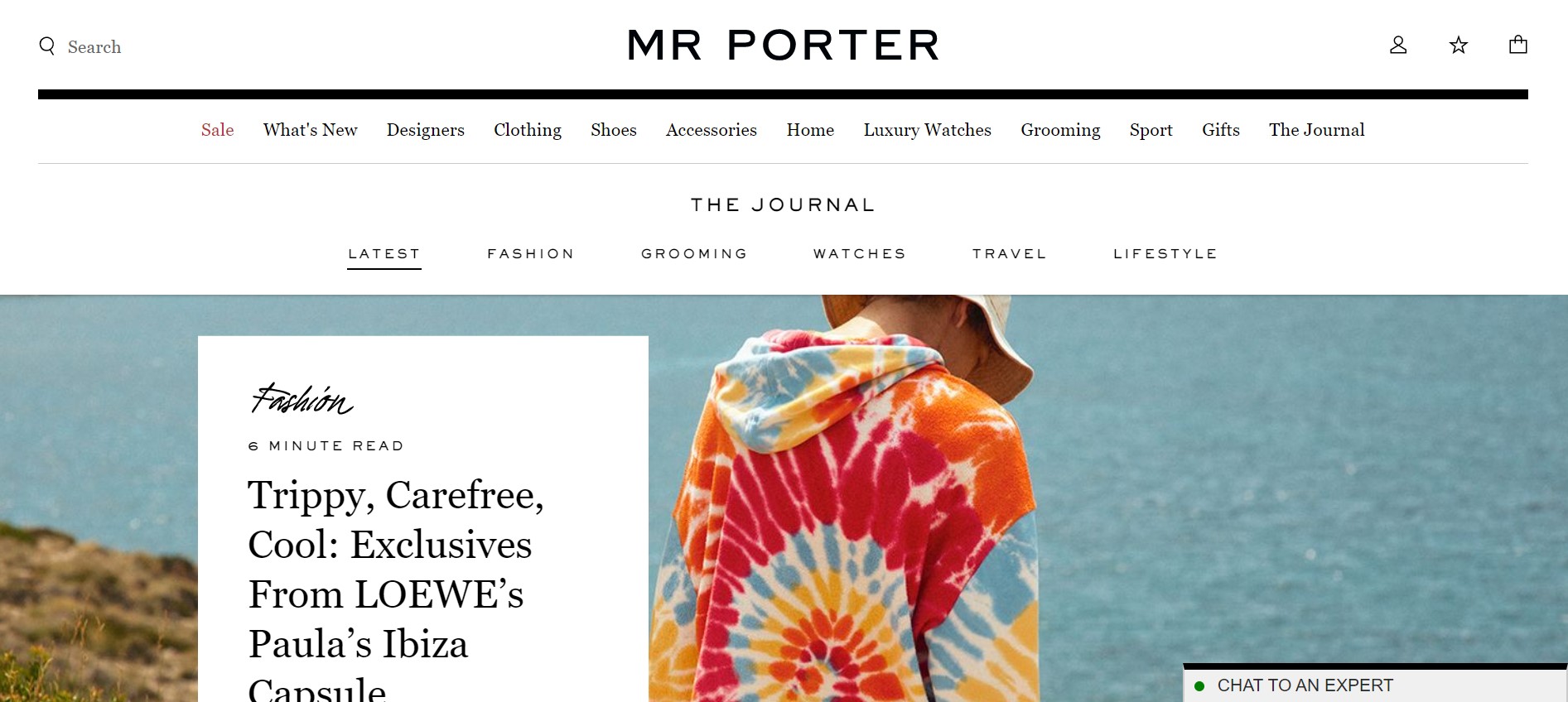 Shop @ Mr Porter
#10 Bonobos
What is great about the Bonobos website is that the web design changes depending on the season. Product tabs are strategically updated to feature season-friendly apparel. What is interesting is that this is a subsidiary of Walmart. Affordable clothing for the best-looking dads.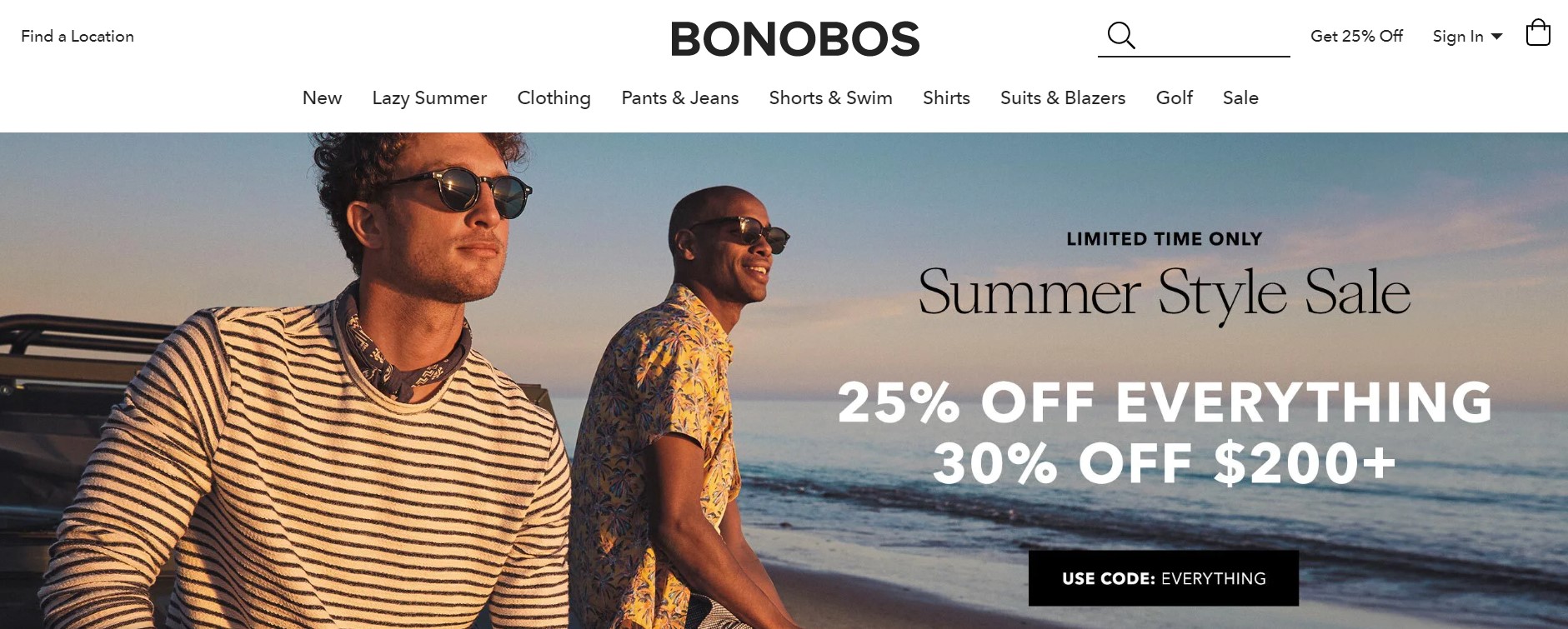 Shop @ Bonobos
#11 Proper Cloth
Proper Cloth is a menswear website that provides custom-made shirts to male style rants who wish to look perfect on any formal occasion. The site uses a metro layout and high-quality imagery to emphasize the quality of its product.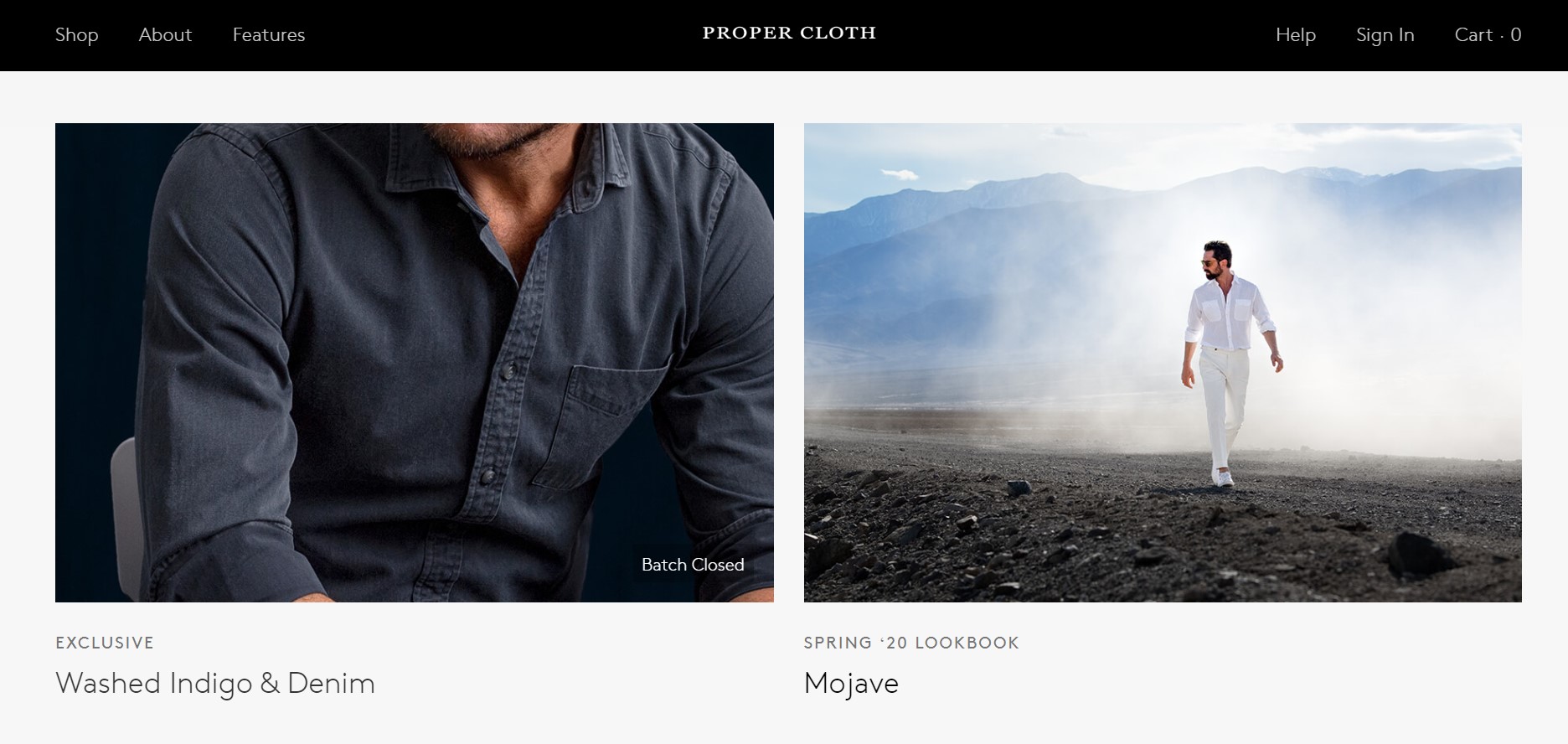 Shop @ Proper Cloth
#12 Uniqlo
This brand originally focuses on casual ergonomics and maximized comfort. Improved and reinvented through the years, Uniqlo is the go-to brand for relaxed, minimalist, and casual clothing. The Uniqlo web design is also as ergonomic and minimalist as the brand.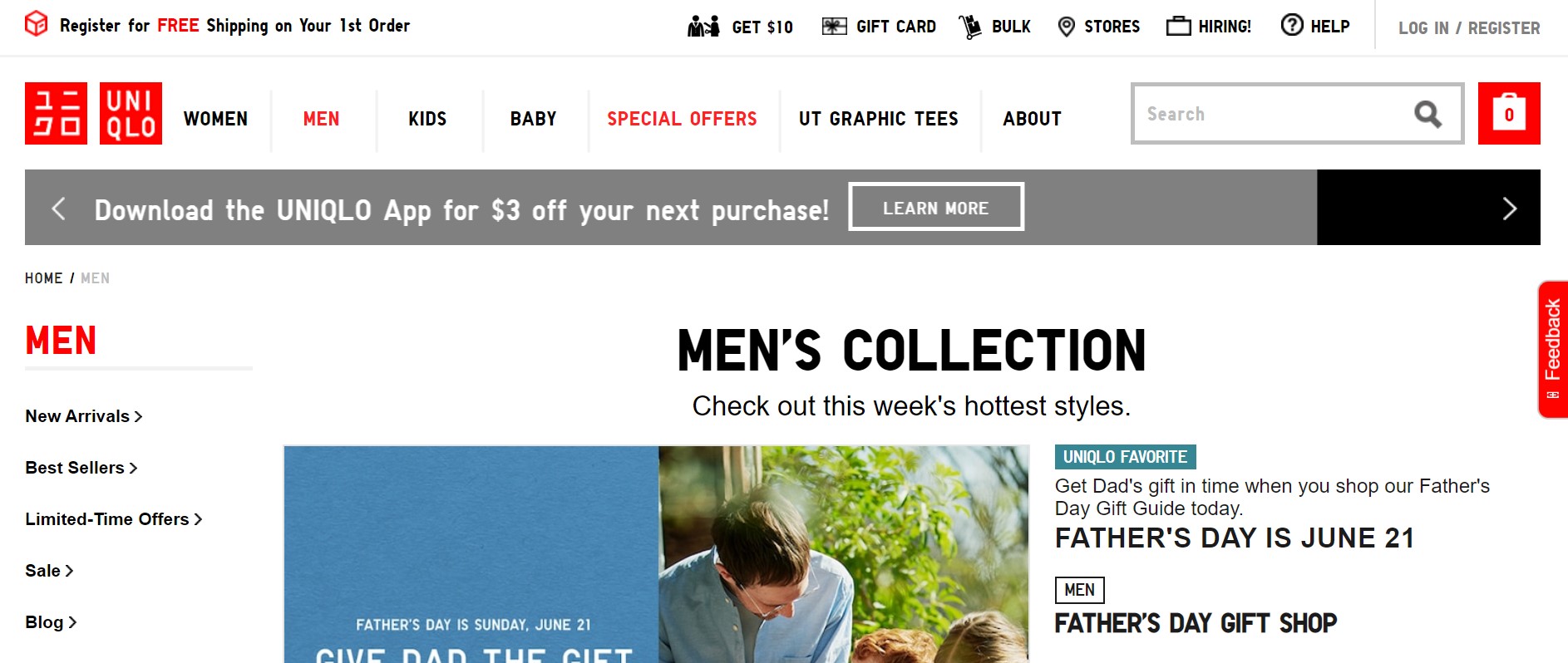 Shop @ Uniqlo
#13 Brooks Brothers
The original website for Brooks Brothers was developed more than two decades ago! Still, its web design improves effortlessly and timelessly. Brooks Brothers are one of the oldest clothing brands in the US and may have catered to dads through the years.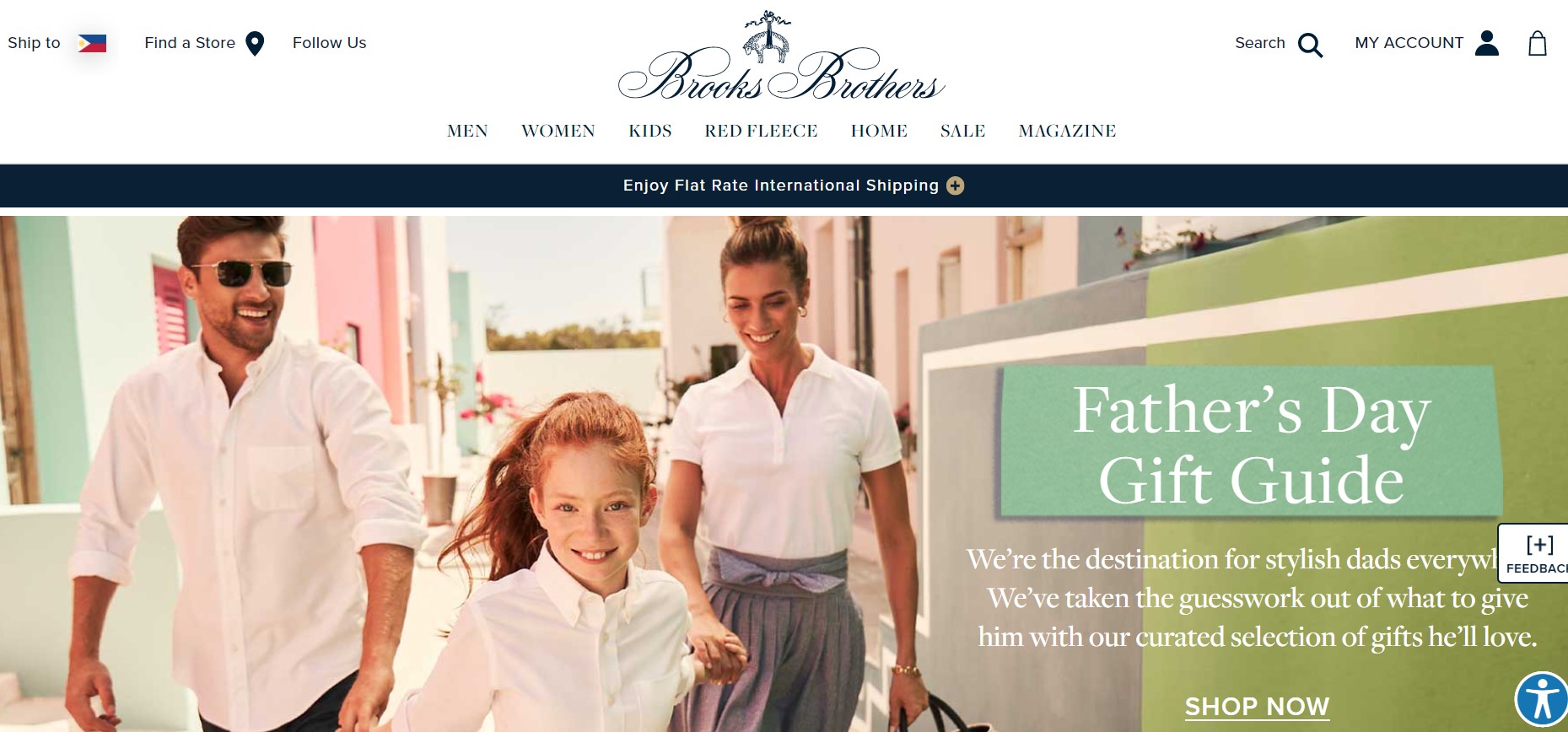 Shop @ Brooks Brothers
#14 House of Fraser
A popular UK e-commerce website, House of Fraser can cater not just to dads but the entire family. Web design is a high-fashion editorial but despite that, the brand has very affordable pieces.

Shop @ House of Fraser
#15 Harrods
The web design of Harrods is just as luxurious as the brands that they sell. The website has a metro-style design that features editorial photos in bold filters. The layout looks like an impressive magazine, colorful yet edgy.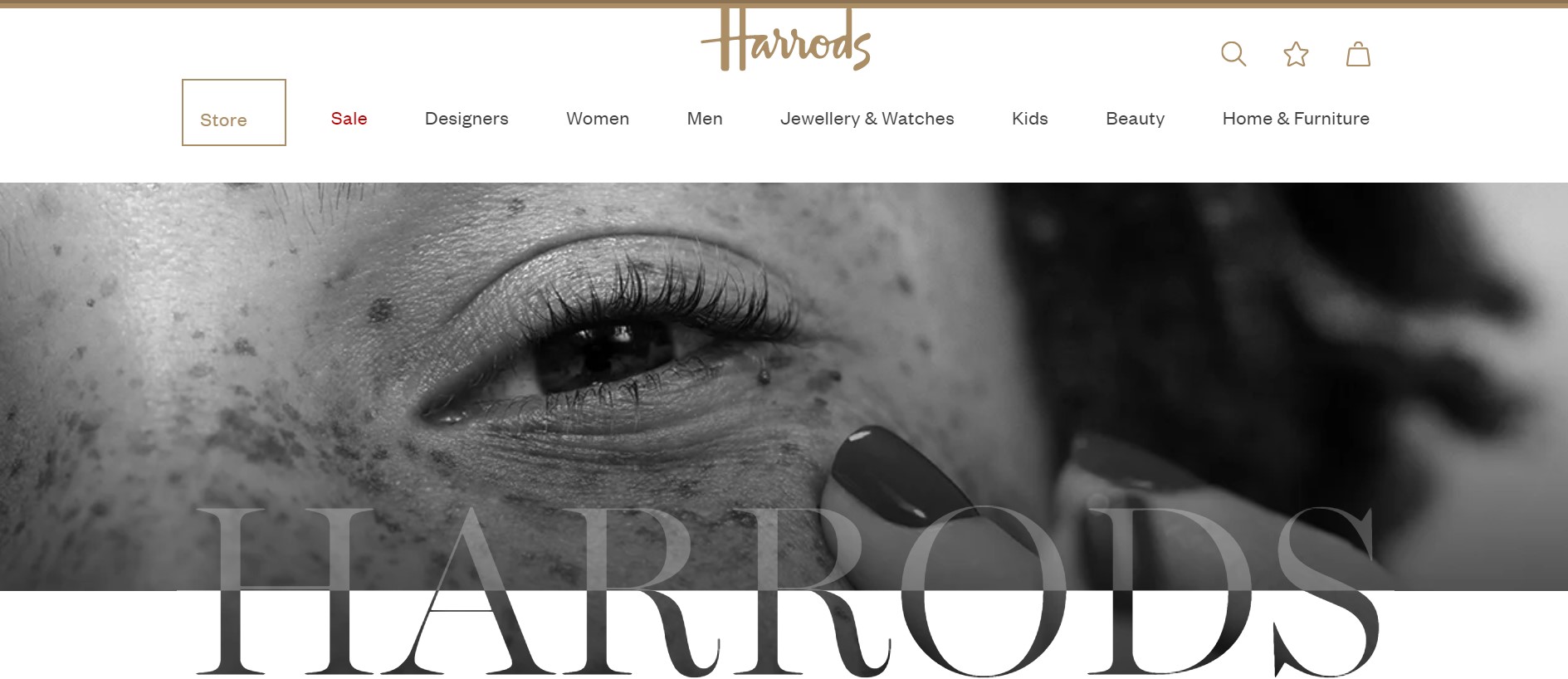 Shop @ Harrods
#16 Marks and Spencer
The Marks and Spencer website has improved its look into a more minimalist but metro-style layout. The yellow-green palette gives it a lively and hip look. Marks and Spencer products are not only for the fashionable dads but they also sell home and food products for the entire family.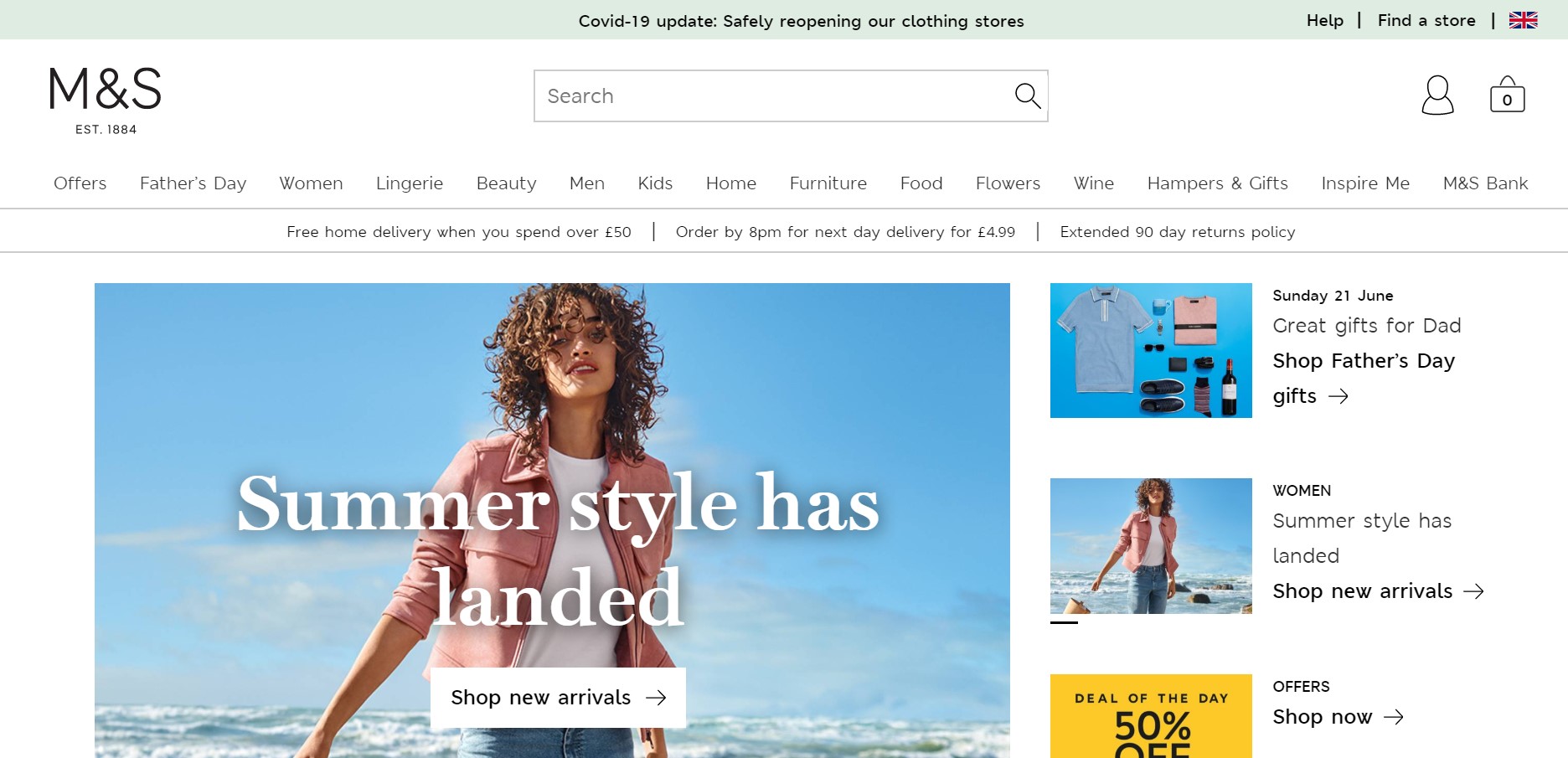 Shop @ Marks and Spencer
#17 Debenhams
Debenhams is one of the largest retail stores in the UK that has been around since the eighteenth century! Just like their web design, the products they sell are always up to date with the latest fashion trends. This is great for dads who enjoy posting OOTDs on social media.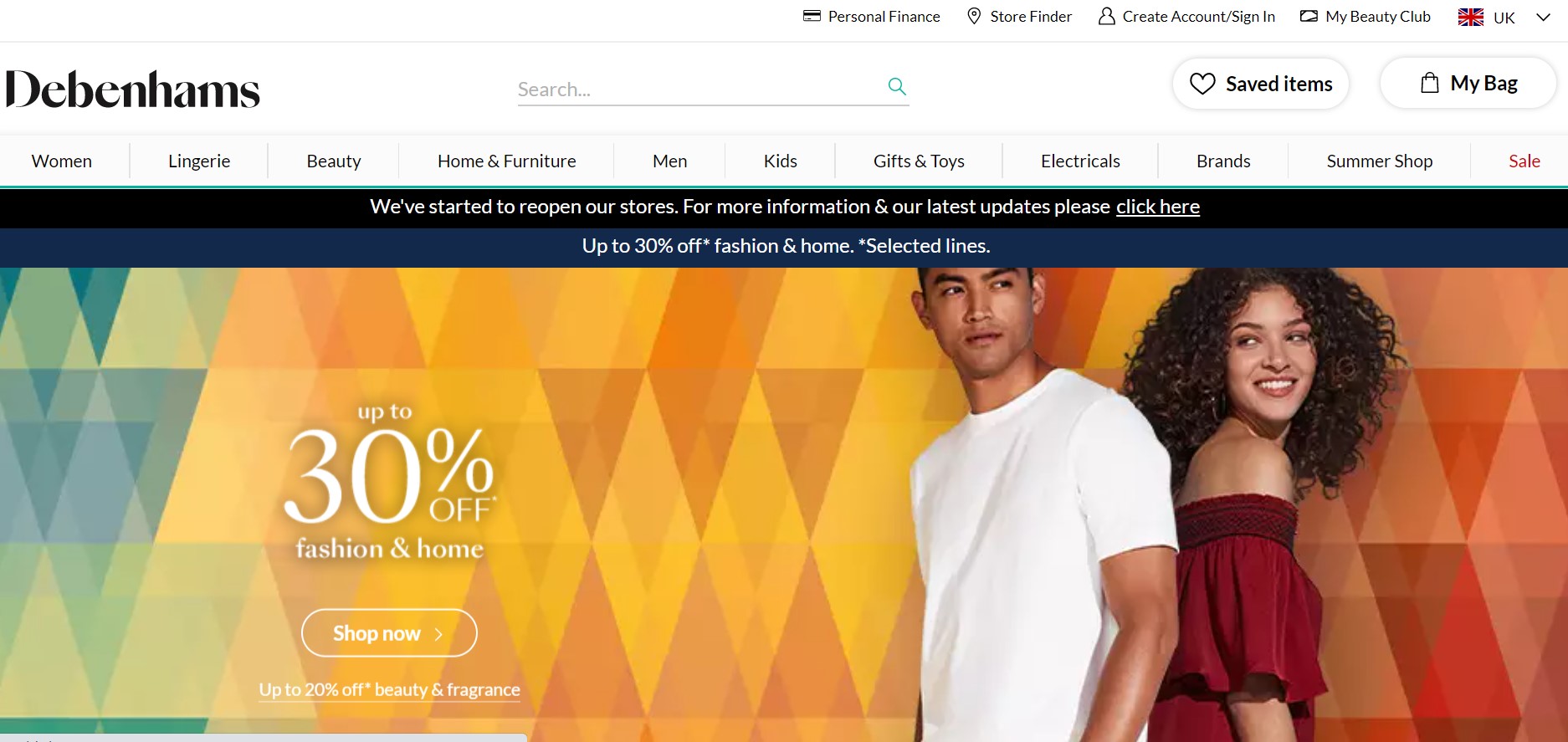 Shop @ Debenhams
#18 Joseph
Yet another minimalist apparel collection that does web design right. The thin sans serif typography and sleek ghost buttons perfectly match the style of the clothing collection.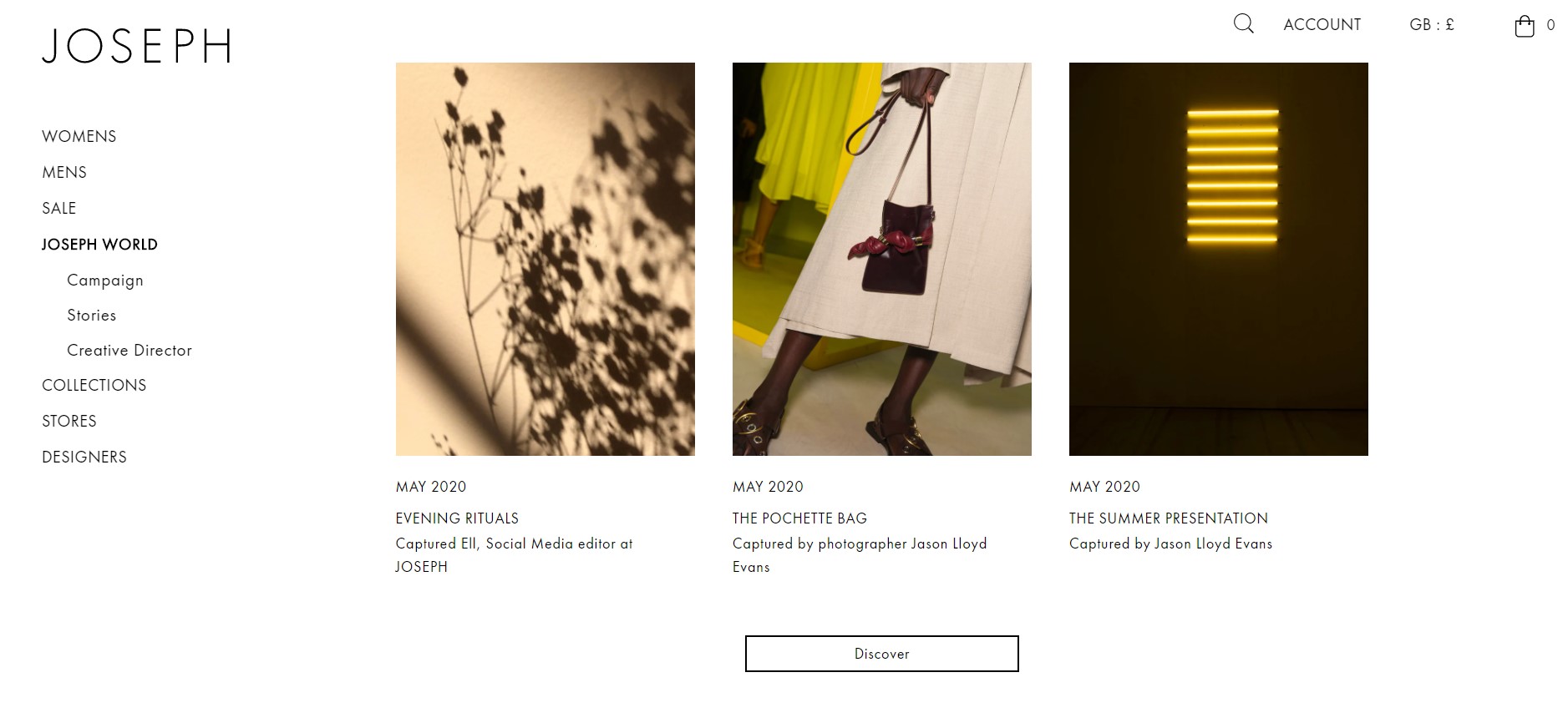 Shop @ Joseph
#19 Best Menswear
If the dreamy tropical header image isn't enough to make visitors stay on the website, they'll be attracted by the great deals displayed on the product carousels.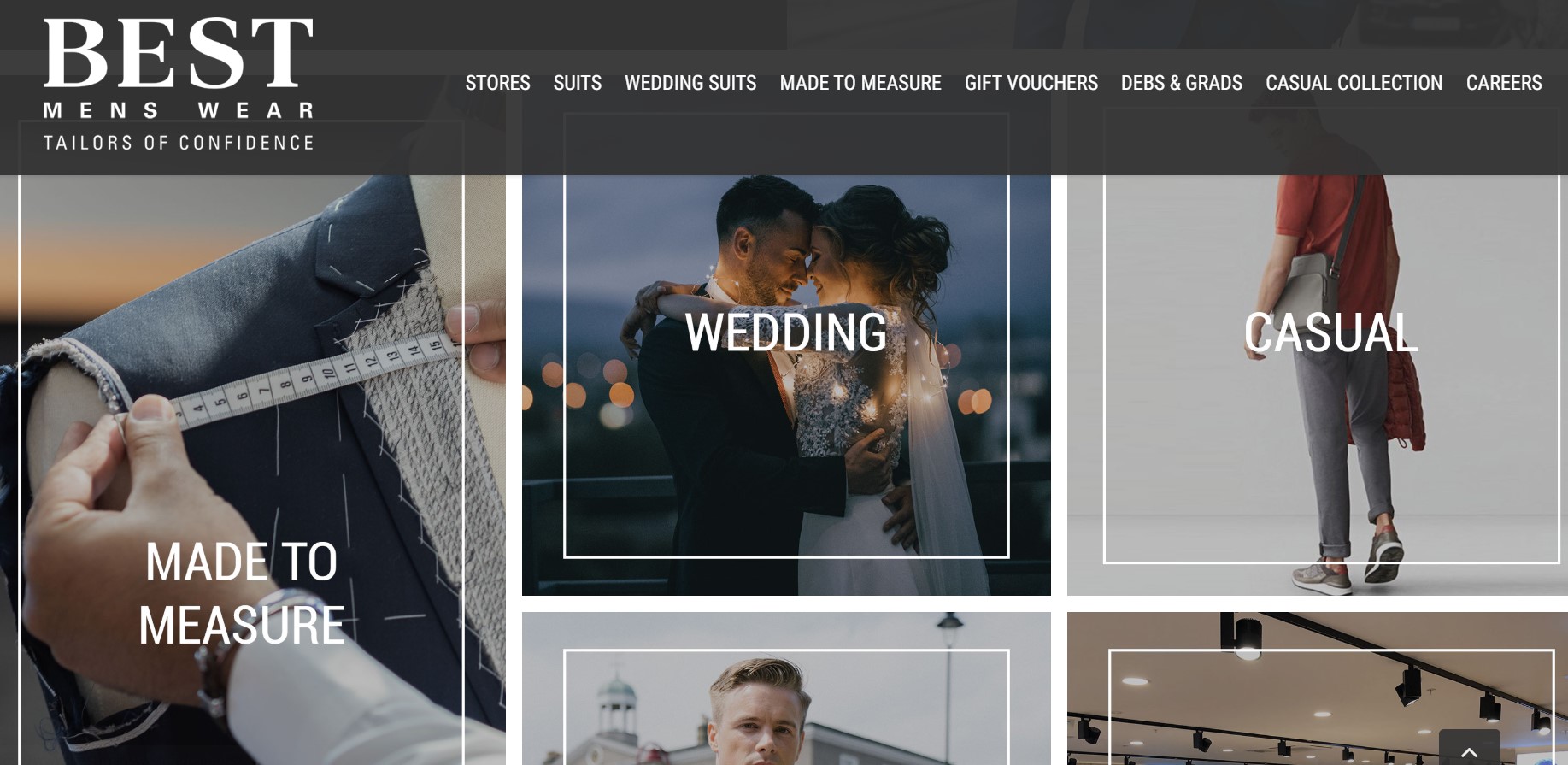 #20 Tessabit
Originating from Italy, this brand is best known for its cutting edge, high fashion ensembles. The website has a collection from named brands like Balenciaga, Gucci, Dolce and Gabbana, and many more.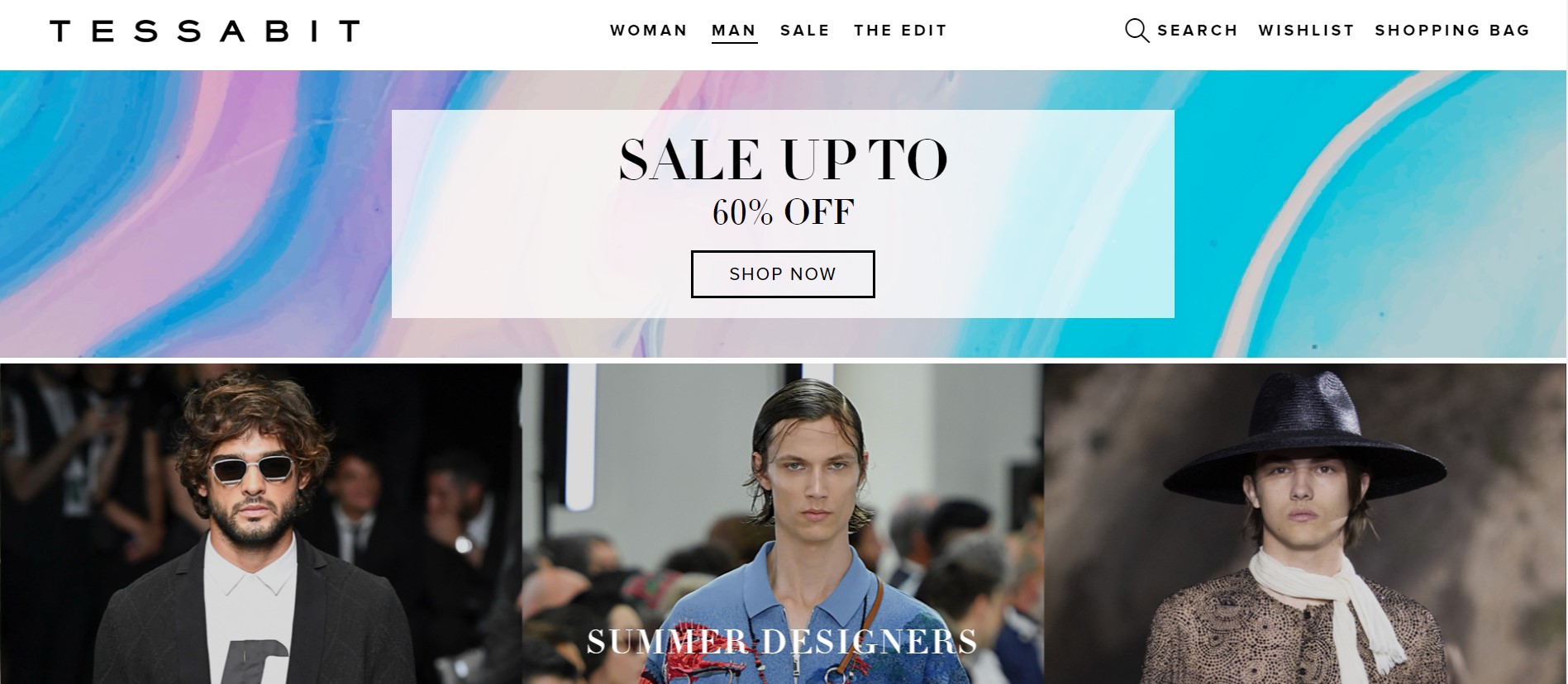 Shop @ Tessabit
More website design inspirations: 20 Best Gay Pride Wallpaper Designs to Show Your Support
Author:
Veronika