In the current climate of WordPress themes which are trending towards larger multi-purpose themes jam-packed with features and add-ons you may never use, it can be refreshing to come across a nicely styled, clean theme which is the focus of today's post.
If you are looking for something simple to use on a personal blog or portfolio site then the following themes could be for you, I have hand-picked a selection of themes released in 2016 which focus on minimalism and simplicity.
In today's roundup we are looking at 25 of the Best Free Clean and Minimal WordPress Themes for 2015 which are completely free to download from the WordPress directory, all these themes are guaranteed to be coded to strict standards, have been released this year and have attractive modern layouts.
Maker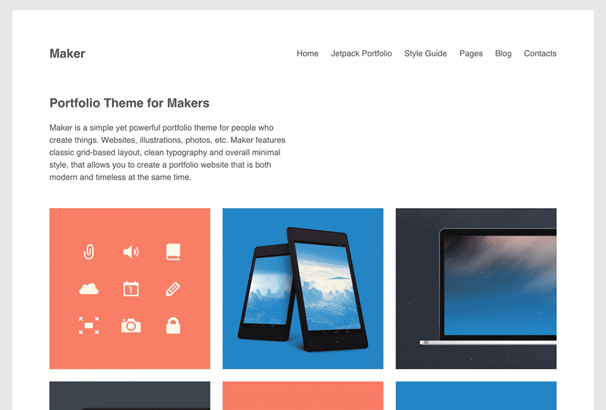 Maker is a simple yet powerful portfolio theme for people who create things. Websites, illustrations, photos, etc. Maker features classic grid-based layout, clean typography and overall minimal style, that allows you to create a portfolio website that is both modern and timeless at the same time.
Unit
Unit is a child theme for the Founder theme. It features a simple and clean blog layout designed to focus visitors on your content.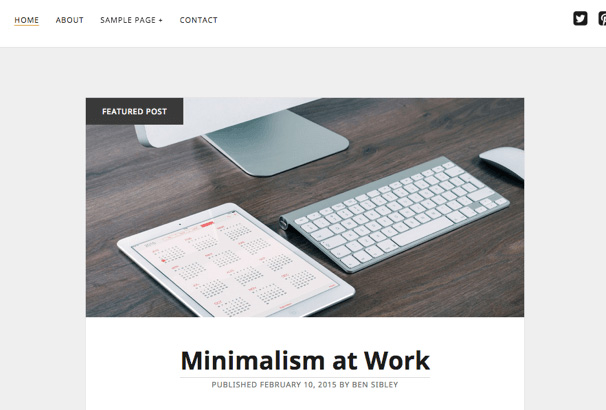 Morning
Morning is a child theme for the Apex theme. Switch to Morning today and bring modern, minimalist style to your content.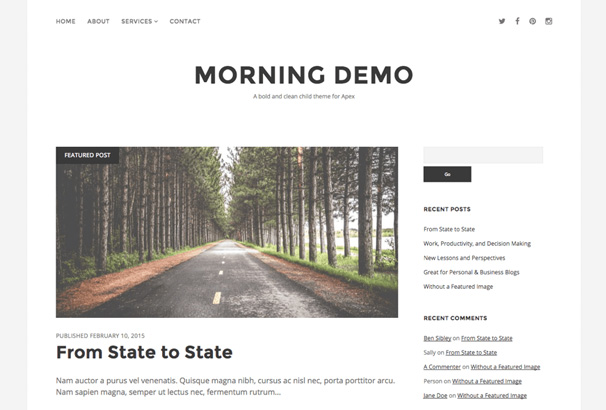 Stacker Lite
Stacker is a Grid-Based theme for showing off your photos and images. Includes a social media links menu to display icons linking to your favourite social media sites. Customize the colors and amount of columns via the Cutomizer.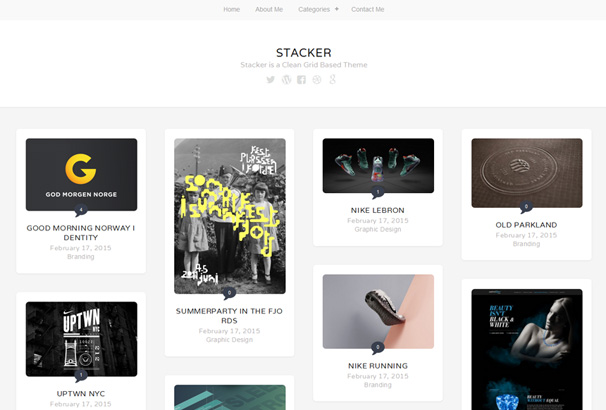 Popper
Designed and built around three basic principles – acccessibility, mobile- and touch friendly design, and content in focus – Popper is a great option whether you are building a site, a portfolio, or a blog.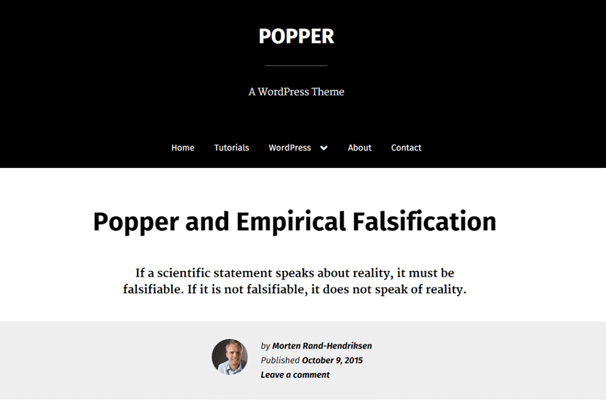 Colinear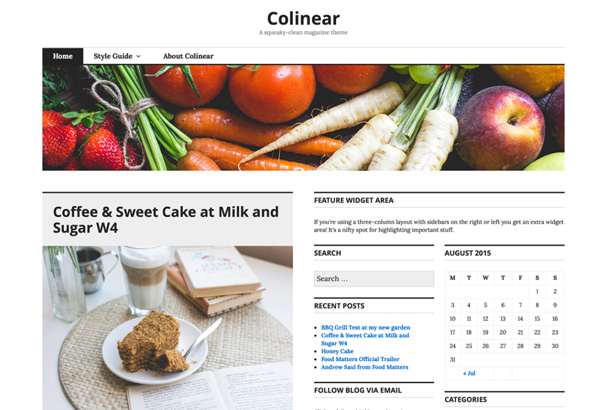 Colinear — our update to the older Coraline — is a squeaky-clean theme featuring a custom menu, header, background, and layout options.
Shamrock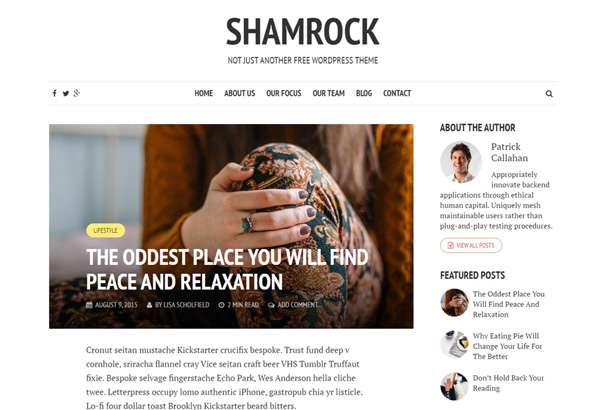 Shamrock is a clean and beautifully designed WordPress theme which will make your articles shine. Modern typography will make your visitors very easy to read while its responsive design will ensure it looks good an all devices.
HennyJ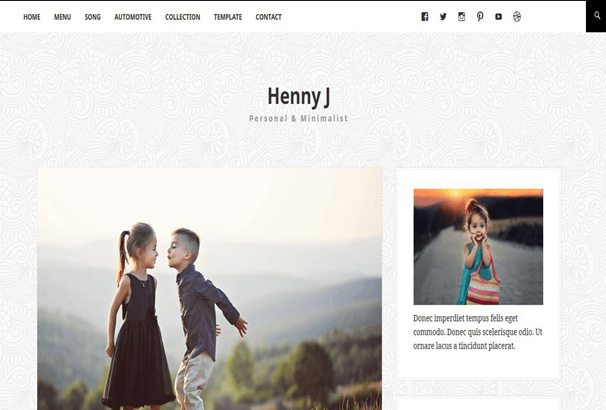 Henny J is a theme for blogger that need unique theme.
Libretto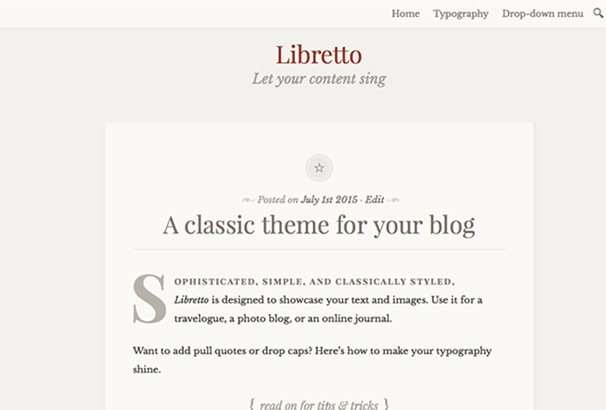 A highly responsive WordPress theme for blogging, posting images, videos and text content. Minimalistic design and mobile device optimization ensure maximum readability.
Plain Blog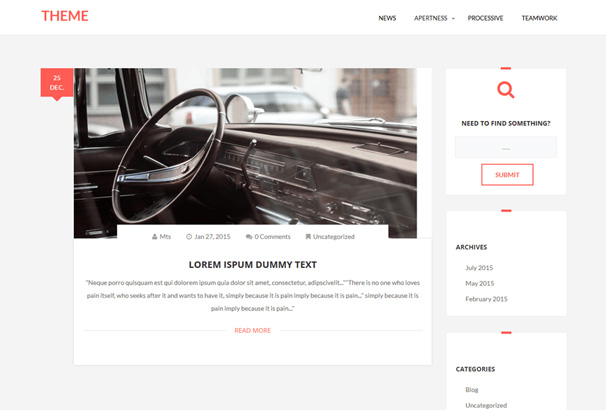 Plain Blog Theme is a minimal Blog theme From NavThemes.com. It can be used for any blog, simple yet elegant. Comes with and without sidebar page templates, it has inbuilt social sharing.
Azeria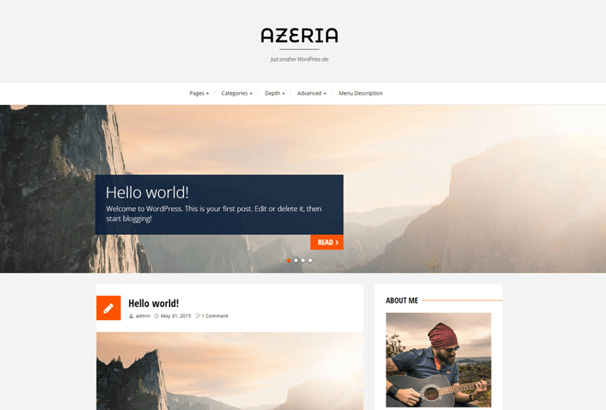 Azeria responsive WordPress theme is here for your reference. Clean minimalistic design is free to change up to your business needs and personal wishes.
BadJohnny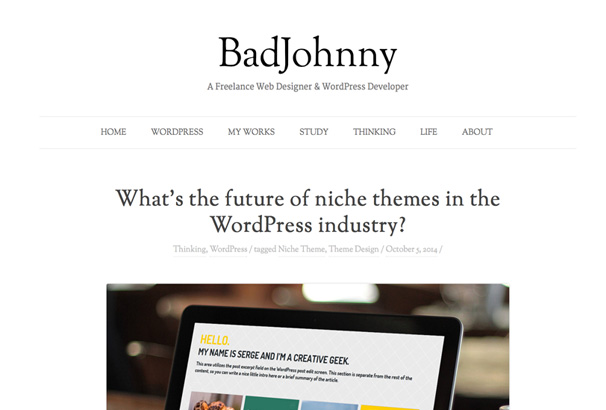 This theme is a redesigned version of Twenty Twelve theme which is created by the WordPress team.
SoSimple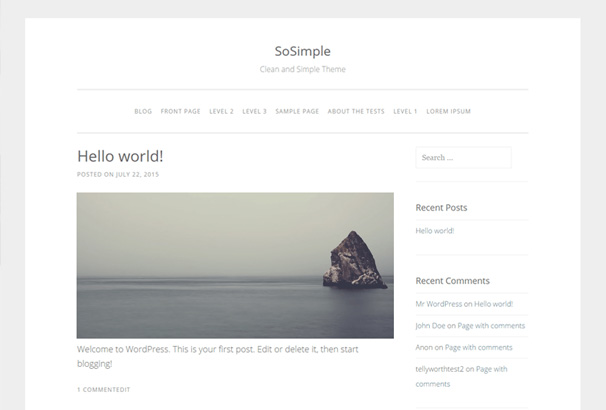 A clean, responsive simple theme for simple websites.
Lifestyle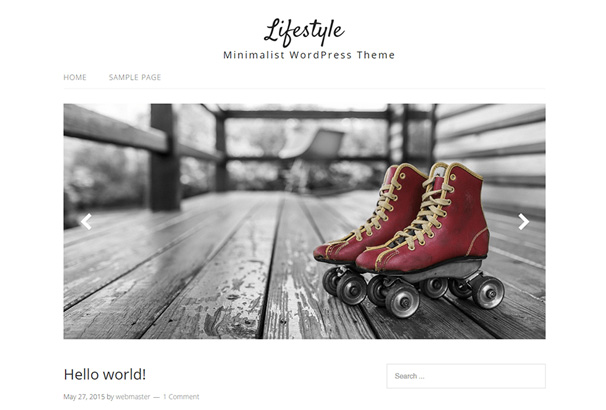 Lifestyle theme is a minimalist responsive HTML5 Omega child theme for WordPress, created with simplicity in mind.
Twenty Sixteen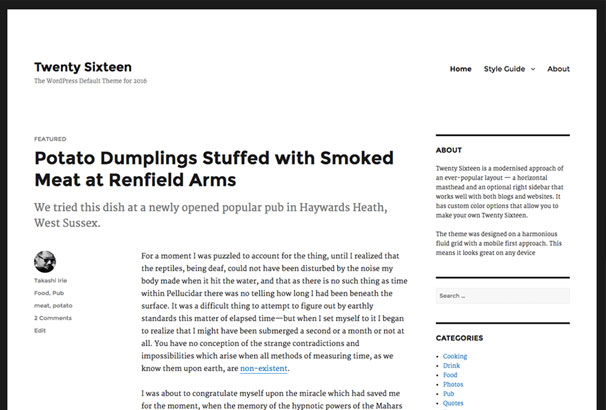 Twenty Sixteen is a modernized take on an ever-popular WordPress layout — the horizontal masthead with an optional right sidebar that works perfectly for blogs and websites.
Photoline Lite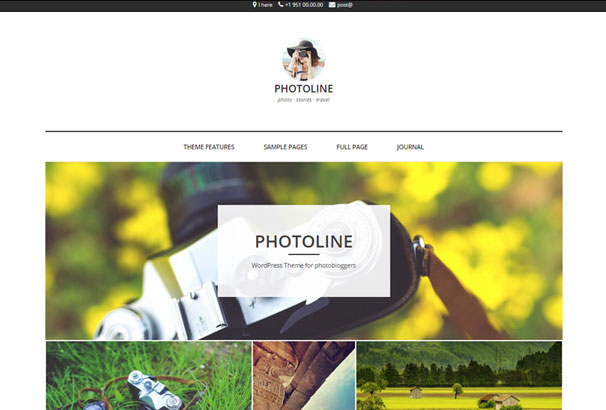 Minimalistic theme for photobloggers. Jetpack Ready. Support Post Formats. Customization preview in real time using WordPress Customizer. Built-in Context Help.
Zoomify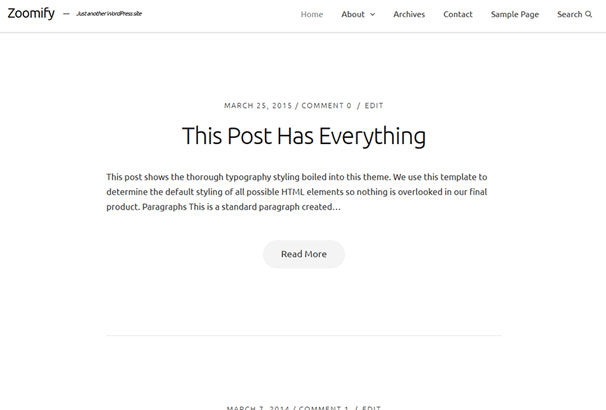 Zoomify is a clean & sophisticated personal blog theme to inspire and impress. Its strength is its simplicity and flexibility, a modern WordPress personal blog theme that presents your work and content with absolute clarity and impact.
Material for Coders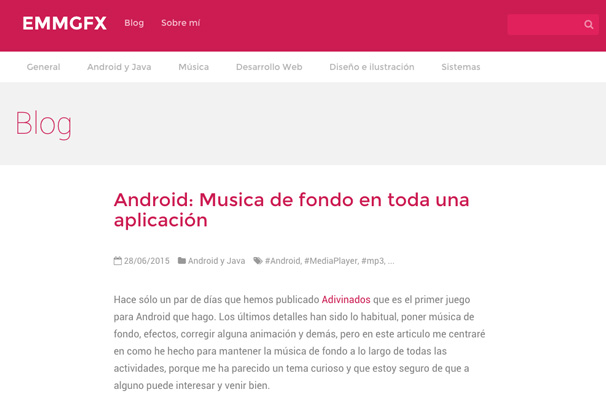 Material for Coders is a free WordPress Theme developed by Josep Viciana (@emmgfx). The theme was designed by me, doing my own adaptation of the material design principles.
KeepWriting
A free WordPress theme suitable for writers and authors from Blog Oh! Blog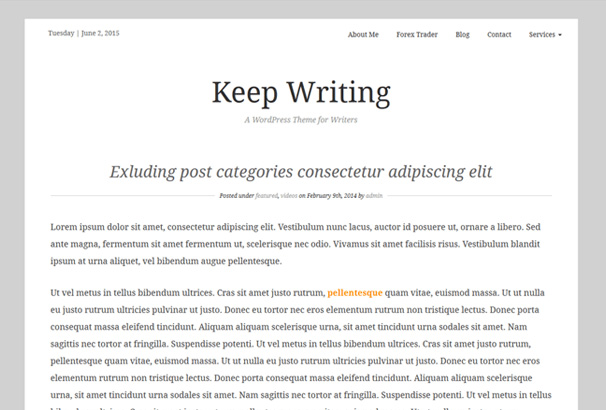 So Simple 75
For beautiful text and absolutely nothing more. It's so simple.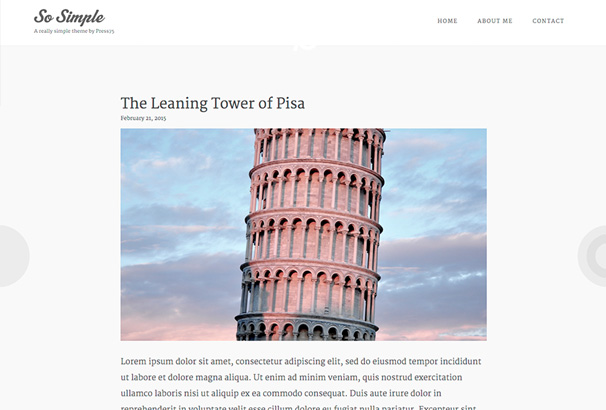 Apex Theme
Apex is a sophisticated, minimalist theme. It looks great and performs wonderfully on phones, tablets, laptops, and everything in between. As a fast, responsive, accessibility-ready, and translation-ready theme, Apex is a theme you can trust to present your content to the world.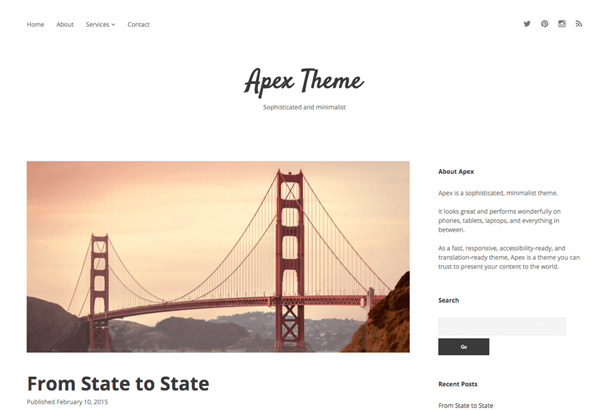 Daniela
Daniela is a clean, mobile-first theme with a touch of elegance. With features including a front page template and Jetpack Testimonial and Portfolio post types, Daniela is ideal for freelancers and small businesses in the creative industries.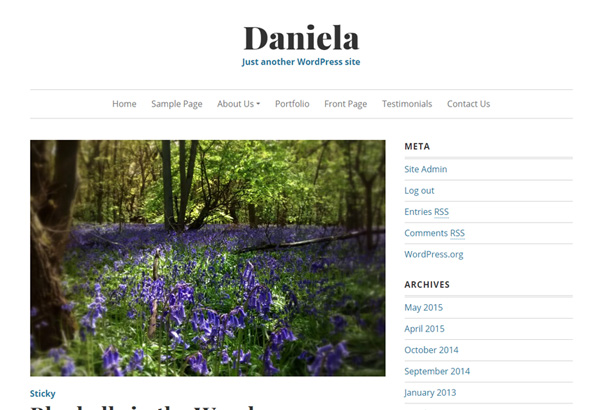 Vito
A free good looking theme for blogging.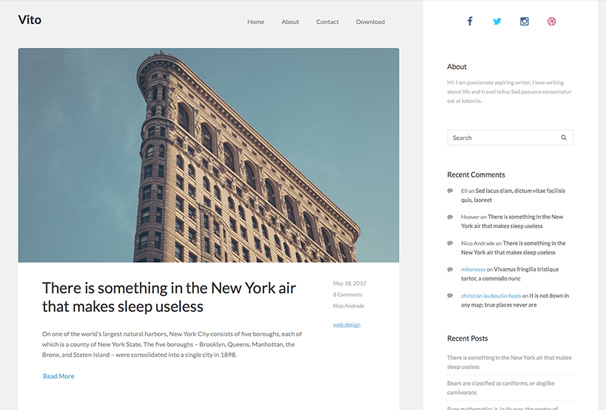 Patio
Beautiful theme for showcasing your photo and stories. Patio makes your homepage stands out using featured images you use for your posts.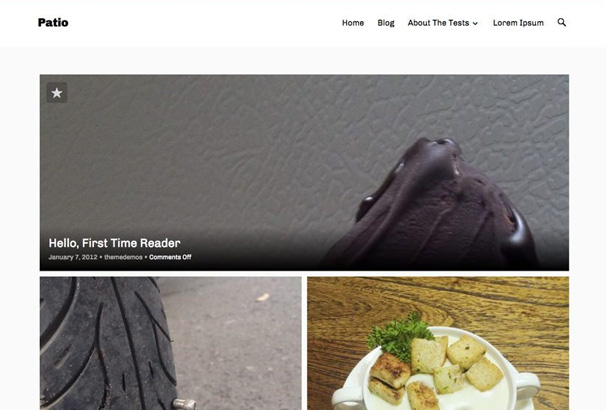 Founder
Founder's minimalist style presents your content in a way that is both bold and professional. As a responsive theme, Founder is beautiful on phones, tablets, and laptops, and is optimized to load quickly on each. Built with Google's multilingual font, Noto Sans, it is compatible with hundreds of languages.