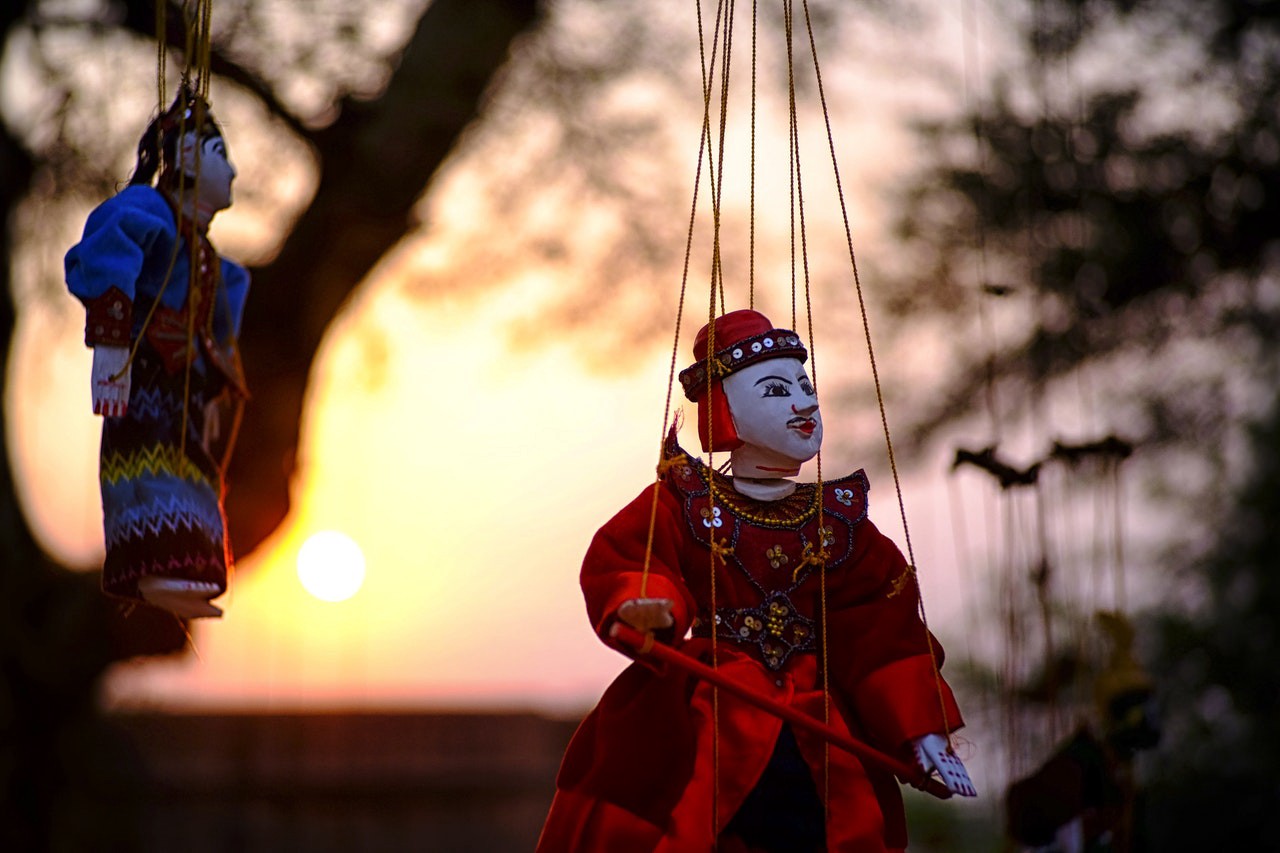 I recently visited the Center For Puppetry Arts in Atlanta, Georgia for a backstage tour. Going into it, I knew very little about puppetry arts. I had seen the muppets, and I could imagine someone making a sock puppet to entertain children with, but I didn't know much else. What I didn't realize was how many connections I would make to my own field of user experience design.
The puppetry center in Atlanta opened ceremoniously in 1978 when the Muppets creator himself, Jim Henson, cut the ribbon. What's unique about this center is that it's not solely dedicated to putting on puppet shows. Since it's opening it has excelled at preserving the history of puppetry, maintaining a commitment to education and outreach in the community, as well as continuing to practice the art of puppetry.
Upon arrival, I enter the historic building that was once an elementary school and visit the museum first. A large portion of the museum is dedicated to Jim Henson, creator of the Muppets. On display are dozens of sketches and storyboards of Henson's creative process. Additionally, there are mockups of his workspaces, videos of him creating and refining puppets and clips of finished shows being put on. All at once I feel embedded in this creative process, and I am thinking about how it compares to my own.
Looking at one of the sketches I see this note:
"Adding the eyes is the last step. Review with JH."
From these documents, a clear iterative process begins to emerge to me. A method of sketching, getting feedback, refining, then building prototypes, getting feedback and refining again. All the way to the last step; the windows to the soul require careful attention and feedback to ensure they look, well, real.
After the Jim Henson exhibit, I enter 'Puppetry Around the World.' Walking through this part of the museum I am immediately confronted with how long puppetry arts has been around and in how many different cultures it has existed. Each of these puppets and the stories they tell exemplify the cultures and time periods they come from, and they all have different styles and techniques. It's common to walk through museums and look at paintings or sculptures and picture the lone artist agonizing over his masterpiece.
Puppetry, on the other hand, is collaborative. It requires a breadth of skills from the story, to the design of the puppets and sets, to putting on the show. In fact, many puppets need more than one person to operate, signaling to me an excellent space to explore teamwork.
I step back into the rounded atrium next to the War Horse display where we are gathering for the backstage tour. Now I will get to see the art of puppetry as it is done today. The guide takes us outside to a workshop that is detached from the main building. In the back of the shop is a large stage set with several puppeteers practicing for 'The Ghastly Dreadfuls.' I can see them standing on a platform above the puppet stage speaking lines and maneuvering the puppets. In the space all around me is tools and materials like wood, paint, foam, paper, and more. It's a messy space that exudes a sense of creation.
The guide begins to explain the process of creating sets for shows. She invites us to look at this small square thing on the table. It's a model of what a set could look like built, but it's crafted with immense detail. There are several layers to the model that indicates how the backdrops would transition and where the space for puppeteers would be. She explains how the team starts with tape, paper, and cardboard to make several different models of what the set could be. The only guide they have to start with is the script for the show. I find the ingenuity of these prototypes incredible. The team builds this prototype accounting for the context it will be used in. Considerations for where the puppeteers should operate, to how the audience will see the sets. It's all with the goal to tell a story, to create an experience.
We move along back into the main building to another room filled with crafting supplies and drawings all over the walls. This is where the team makes puppets. The guide walks us through the process of creating a puppet. The team starts with the script, like with the sets, and then begin sketching and brainstorming what the puppet needs to look like, what actions it needs to be able to perform and what props it may require.
As with most creative exercises, there are also constraints and this team seems to work well within them. A puppet has to be able to be operated from some place in their set, that they have already prototyped, as well as being operated by more than one person. It would have to be light enough to be held for an extended period of time. It also needs to be simple enough that it can be repaired or re-made relatively quickly if something happens to it in one of the shows, as often happens. Every movement the puppet must make is like a single micro-interaction that serves the larger purpose of guiding people through a story, and each of those interactions is carefully designed.
The team then begins building prototypes with the most basic materials such as tape, paper, and cardboard. They iterate on these prototypes until they are ready to create the puppets with foam, fabric, or whichever material is appropriate. Each puppet requires teamwork and a variety of skills to complete. Much like UX, the teams are made up of interdisciplinary people.
With the sets and puppets completed, the team is ready to start rehearsing for the show. I can't help but think of rehearsal as a kind of pilot test and each play as a user research session where the team can collect feedback and continue to improve their work. I have a feeling this well-established process is part of what makes this puppetry arts center so successful.
I wouldn't have expected to find a process so similar to my own when I visited the Center for Puppetry Arts. Perhaps what is even more striking is that I come away with this notion that design thinking is somehow innately part of the human experience. The art of puppetry has been around for thousands of years and in most cultures as a way to communicate ideas. This ability to come together and create a story that humans experience and perhaps even help them improve their own experience in life is not so different from what I do as an experience designer. Humans have been designing experiences for their fellow humans far longer than the existence of HCI as a field.
With design thinking becoming more recognized as a creative process rather than solely a problem solving one, I think we can draw from disciplines of art that have been perfecting their processes for far longer. Leonardo Da Vinci was already thinking this way in 1490 when he was building mechanical birds to be used in theatrical performances with the intention to try and understand how flight worked. If one of the greatest thinkers in history can use art to inform design why can't we?
Puppetry feels even more relevant to UX because of the connection with storytelling about human experiences. Storyboarding is becoming more popular within our community, and after my experience today I can now envision using puppetry as a form of improv design for building empathy and telling the stories of our users.
I truly enjoyed my visit to the Center for Puppetry Arts, and I recommend visiting one if you get the chance.