You've taken the time to choose, commission or build a theme, you've thought about your audiences, written some great content, added some nice pictures and you're ready for the world to see your new WordPress site: exciting times! WordPress is optimised for search engines – using some basic WordPress settings and free plugins, you can make it all but impossible for Google to miss your new site.
So what are the most common SEO mistakes for WordPress sites? I've used data from wp.io to help draw up a list of the most common mistakes found on WordPress sites:
1. 15% of WP sites have no page title on the homepage
This is perhaps the most important setting on the whole site – it tells search engines what the whole site is about. This title (seen as <title>Your Title</title> in the source of a web page) also shows on browser windows/tabs to help your site's visitors find the tab with your site in again.

2. 63% of WP sites have no meta description on the homepage
Whilst Google has made it clear that a meta description won't necessarily have any direct impact on your SEO ranking, it's your best chance of giving search engines some teaser text to use on the search engine results page. This is vital – there's no point in ranking number 1 in Google if the listing isn't attractive to your potential visitors.

3. robots.txt and search engine privacy – 32% of WP sites have no robots.txt file
A robots.txt file is your website's way of communicating instructions to search engines – "Index this, don't index that, here's my sitemap". Whilst it's not essential to have a robots.txt file in place in order to make sure your site is indexable by search engines, it's definitely best practice and lets you instruct search engines easily not to index certain folders (like your uploads folder) and to ensure that your XML sitemap is clearly signposted. A good plugin to manage your robots.txt file is WP Robots Txt. Robots.txt files are always found at www.yoursite.com/robots.txtYou should also DEFINITELY check that search engine privacy is set to allow indexing (for WP3.5+ this is found under 'Settings>Reading', older versions have a dedicated page at 'Settings>Privacy'). If you have set the site not to be indexed then this will override even your robots.txt instructions!

4. 63% of WP sites have no XML Sitemap or sitemap index
An XML sitemap is a computer-language file that tells search engines what pages and posts are available on your site, where to find them and how often to index them. It's a great way to make sure that your site's content is easily indexed by search engines and is especially helpful in getting new content picked up quickly. If you've got lots of content then a sitemap index can be used to list a number of XML sitemaps – often split up by content type and paginated to comply with Google's XML sitemap rules. It's good practice to add a link to your XML sitemap within the robots.txt file to make sure that search engines find the sitemap. Sitemaps are usually found at www.yoursite.com/sitemap.xml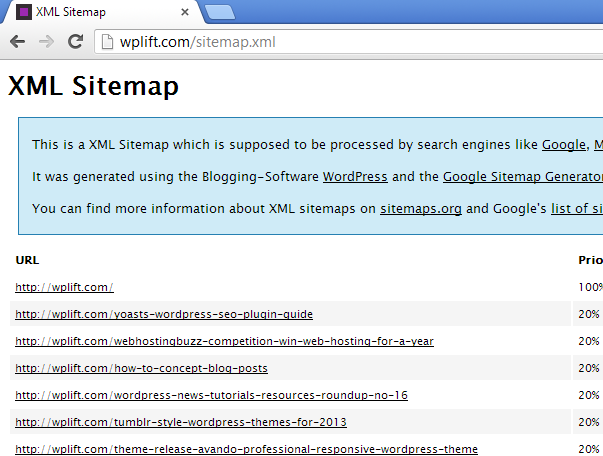 5. Ugly permalinks
By default, WordPress sites have ugly permalinks – so the sample page of your new site might live at www.yoursite.com/?p=1 – but simply by visiting 'Settings>Permalinks' in the WordPress CMS. you can change this to www.yoursite.com/your-page-title. Search engines look at URLs to help them index web pages, so this gives you a great opportunity to include relevant keywords, as well as being a lot easier for visitors to understand, especially if they see a link shared on social media or on another website or document.
6. Page speed – average WP page speed is 73.8 / 100
Back in 2012, Google confirmed that the speed of a website is a factor in how it's ranked. The faster your website, the better for your SEO. Fortunately, Google also run a free page speed tool to analyse your site's speed and give you recommendations on how to improve it. Generally, this involves uploading optimised images and enabling caching and server-side compression. W3 Total Cache is a powerful, free plugin to help improve your site speed. Often though, the best bet is simply to use specialist WordPress hosting like WP Engine who will take care of these settings (and much more besides).
With WP sites averaging 73.8 / 100 according to Google, it shouldn't be difficult to get your site performing significantly better than average.
Conclusion
There's a lot to think about with SEO, and this list is just designed to highlight the most important and most common mistakes. I've found that SEO for WordPress by Yoast is by far the best plugin to manage your site's SEO settings – covering most of these basics and an awful lot more besides.
What do you think? Have you come across any other common SEO mistakes?
wp.io stats calculated from 1,092,614 site scans up until 16th Jan 2013.
David Lockie has been building WordPress themes and plugins since version 2.8. He runs Pragmatic Web Limited, a WordPress agency and wp.io – a new network for WordPress that connects WordPress sites, themes, users, professionals and industry benchmarks to create a unique database that maps the real, live world of WordPress. wp.io's crawlers scan hundreds of thousands of WordPress sites, analyse and report on each one and then use the data connections between them to provide brand new insights into the WordPress ecosystem.