Many website owners, especially freelancers, need a slideshow to display their skills in the most appealing way possible. The best way to achieve this is with a 
content slider psd
especially if they want to sell written pieces or pieces that need descriptions. This type of slider is perfectly used by online shops as well for when they want to display as many product pictures as possible. In this case, the jQuery slider will look much better and might be faster loading for those accessing the site, than an old fashion way of presenting the images.
When choosing a jQuery content slider one should keep in mind the target audience of their product and the business' image they want to convey. Many authors of free PSD files do allow some changes to be done to their work, so that the sliders will better fit the needs of those who download them. To be noted, that some of the files below used other people's work as a jQuery slider example.
If you want to create your own slider design you can find many jQuery slider tutorials out there, but you probably need to be familiar with the jQuery language first. Once you get the hang of it, you probably will need a different HTML5 slideshow to showcase the sliders you created.
You may also like: 35+ Free Login Form PSD File Download
iPhone mini UI PSD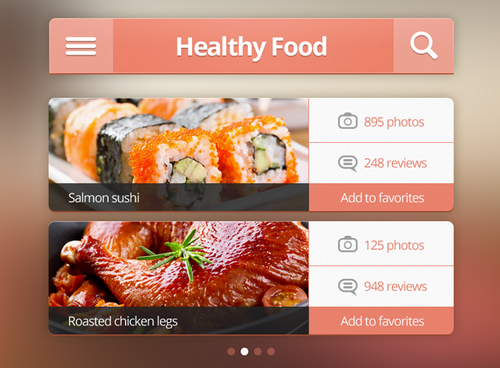 This slider seems to be made for the iPhone fans. Having your content being displayed with this eye candy slider will look more interesting and more unique.
DOWNLOAD FILE
Slider with pagination PSD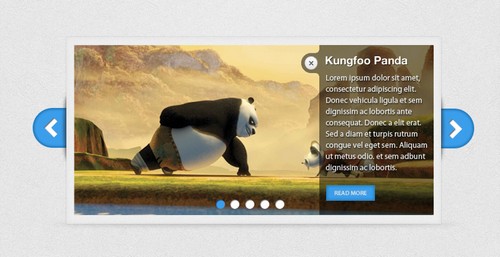 This slider is perfect for those who need to showcase their work and feel the need to give some details about the shown items, such as size, tools and materials used. the details appear to the side of the image.
DOWNLOAD FILE
Free Image Slider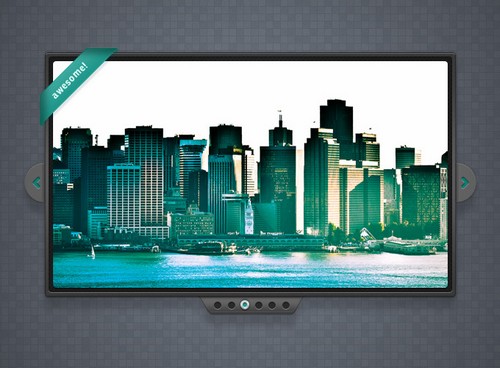 Here you have a slider with a dark background that uses a tiled texture, so the slideshow will look as if it was displayed in some subway station's walls.
DOWNLOAD FILE
Content Slider Free PSD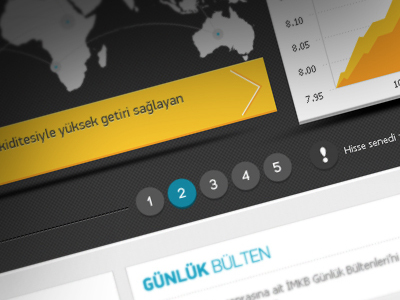 Numbered pagination is the main feature of this slider. The dark colors used here are spiced up with a little bit of orange, so go check it out!
DOWNLOAD FILE
Modern Web Slider Download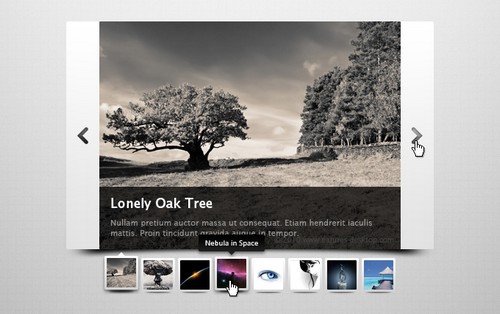 Thumbnail images, image description and a light colored tile background is the way one can describe this slider. It is crystal clear that navigating between images is a piece of cake.
DOWNLOAD FILE
Photo slider PSD Design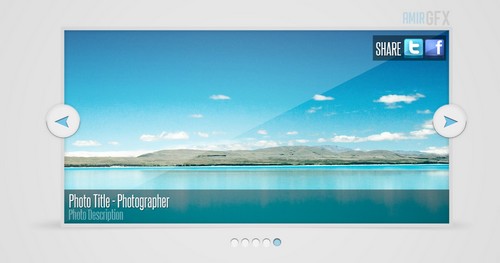 With a clean and simple look, this slider might meet the requirements of many website owners out there. In addition, you can use for any purpose according to its owner.
DOWNLOAD FILE
Simple slider for Design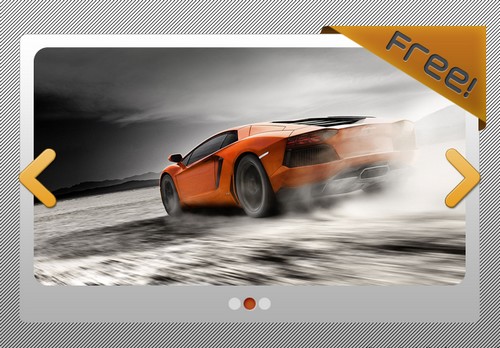 For those who are searching to a simple looking slider this slider might be just what they want. The overall appearance of this slider is a sporty one so it will not fit all types of content.
DOWNLOAD FILE
Image Carousel PSD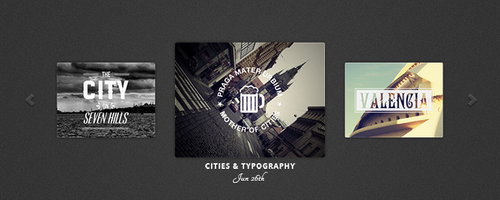 The background of this slider is dark colored for those who are troubled by light colors. This slider displays 3 images on the screen and the one in the middle is highlighted.
DOWNLOAD FILE
Universfolio Slider PSD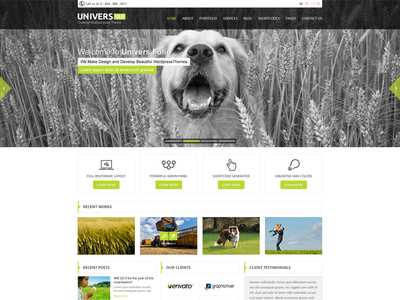 This is a website template that can be used for any type of content. There is a slider atop of all the content of the site, where you can showcase your work.
DOWNLOAD FILE
Slider Free PSD Download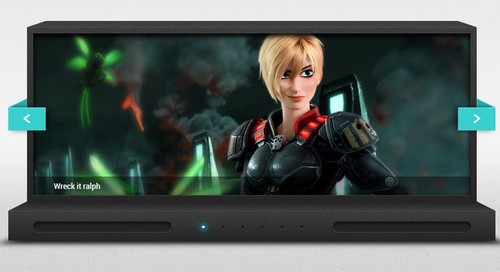 This slider looks like a really big TV screen on a TV stand. The slider has a little blue light indicating at which position you're at, in the slideshow.
DOWNLOAD FILE
Kaiser Content Slider Free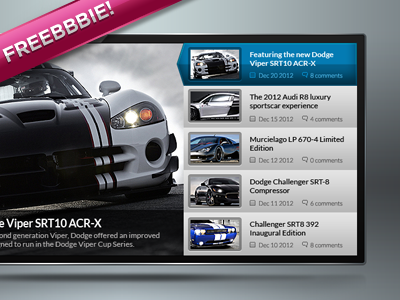 This content slider supports images with a little description. the images are thumbnail sized, they scroll vertically on the right side and on the left they're shown big.
DOWNLOAD FILE
Banafsh Free PSD File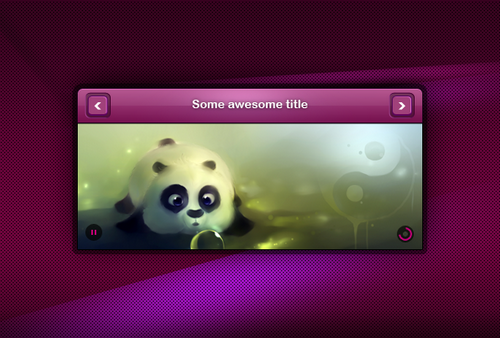 This slider has a pause button, a timer showing you how fast will the next image appear, though one can browse faster with the next and previous buttons, as well.
DOWNLOAD FILE
Tabbed slider PSD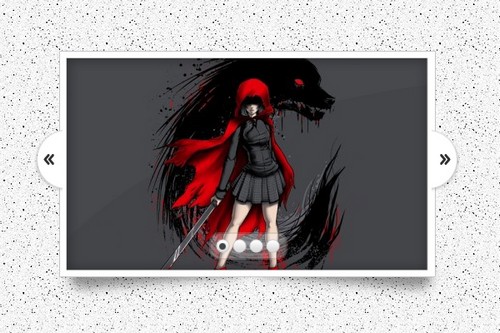 Here you have a slider with a grainy background which is its only fancy feature as the overall appearance is minimalistic.
DOWNLOAD FILE
Featured slider PSD File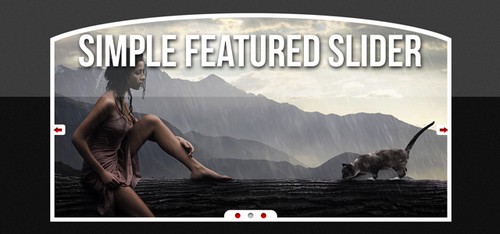 This slider is 960 pixels wide, it uses the "highlight image" feature many users are looking for. It uses arrows for the next and the previous image.
DOWNLOAD FILE
Widgets set Slider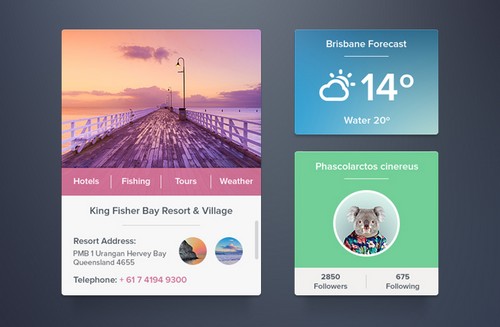 Here you have a little free set of 3 widgets and one of them is an image slider that can be used to highlight the attractions of a location, for instance.
DOWNLOAD FILE
Clean slider PSD Design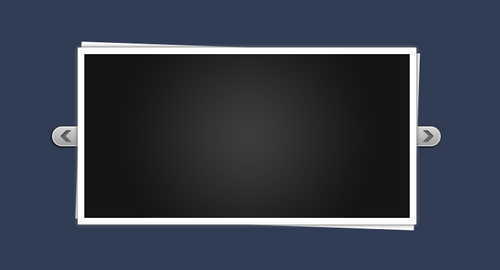 If you're interested in a slider with a clean, minimalist look, then this is the one for you. It looks as if you're holding pictures that got out of order.
DOWNLOAD FILE
Mini video player for PSD file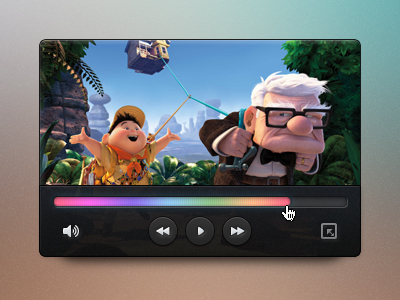 Some people showcase their work as a video. A mini video player like this one is perfect for them. The controls are for the sound, play/pause, full screen back and fast forward.
DOWNLOAD FILE
Image slider for free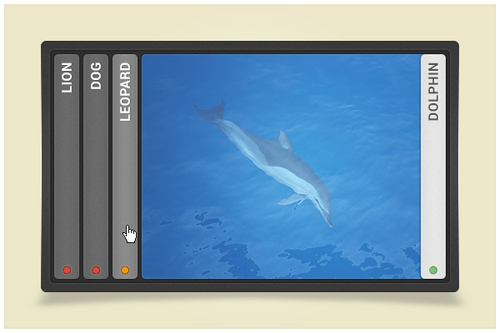 Here is an accordion type of slider. Each panel is labeled and the active one has a green dot at the bottom. The other panels have a red one, unless you hover, turning it orange.
DOWNLOAD FILE
Mini image slider PSD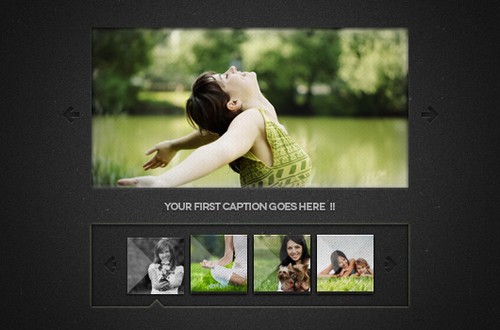 This slider will show the images before and after the one displayed, right underneath, as thumbnails. The slider accepts captions and makes use of use of "previous" and "next" buttons.
DOWNLOAD FILE
Thumbnails Content Slider PSD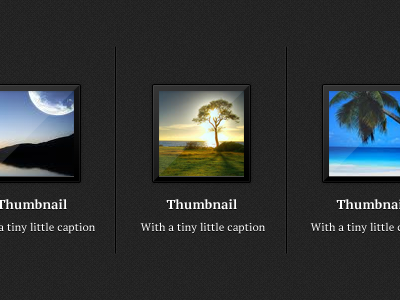 This slider will turn your images into little square painting like images hung on a dark colored wall. One can have some captions written under each thumbnail.
DOWNLOAD FILE
Dark slider PSD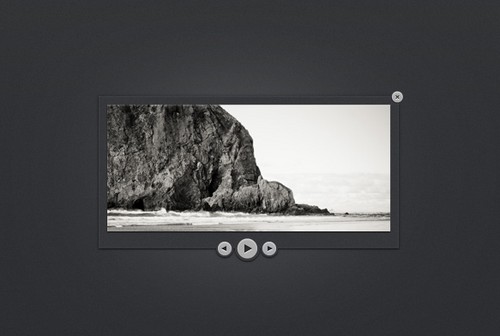 This dark colored slider is best used for a white and black image gallery. It features a paly button as as well as a "back", "next" and "exit" buttons.
DOWNLOAD FILE
Golden slider Idea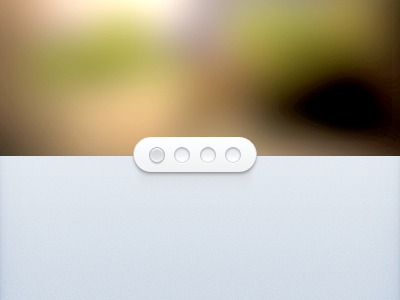 If golden or shades of gold are your favorite colors you might like this slider. It looks elegant and luxurious at the same time. Most likely it is fit for art and jewels slideshows.
DOWNLOAD FILE
Summer flowers PSD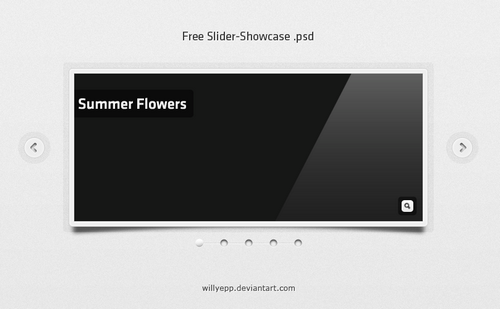 The background of this slider is monochrome, it features left and right arrows to help you go to the next image faster. The controls underneath are probably more helpful in this regard.
DOWNLOAD FILE
Slider controls PSD Download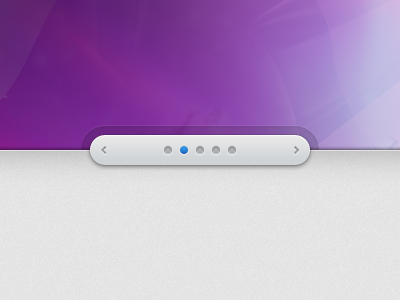 This slider control is a rebound of an older release. This new version used beautiful shades of purple combined with silver.
DOWNLOAD FILE
365PSD Free Slider PSD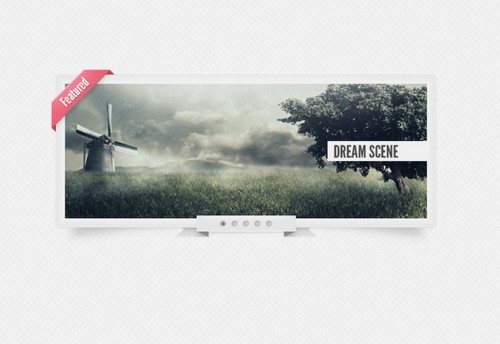 This slider will start off with a featured image. Some bullets under the image indicate how many images there are in the gallery, and which image you're seeing.
DOWNLOAD FILE
Accordion File for Photoshop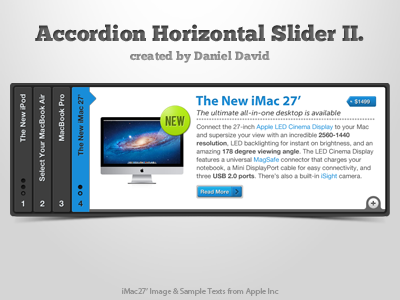 This slider allows you to add descriptions or names to the images in the gallery. A click on the image name will open the image it represents.
DOWNLOAD FILE
Image slider for Idea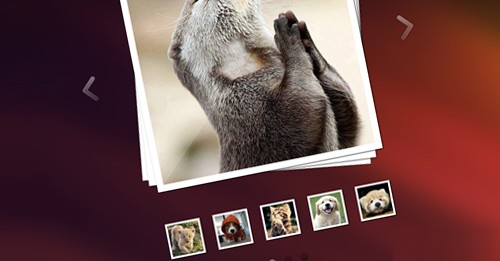 This slider will show the images in the gallery under the image shown so the visitors will be able to jump to the image they are interested in.
DOWNLOAD FILE
Simple slider Inspiration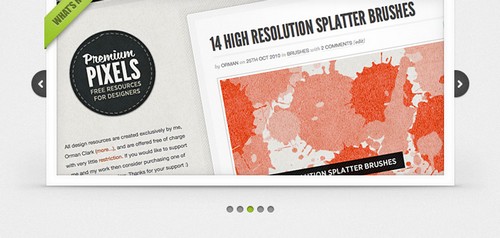 There are many websites and blogs that are in need of a portfolio. A modern portfolio is presented in a slider version. This slider comes as a PSD file that can be personalized.
DOWNLOAD FILE