Do you have any cool ideas that you want to implement in your business to spread its presence through the internet? The first essential step towards this will be a website-designs compelling and powerful startup website, but it is not an easy task to make a new website that is impressive enough to attract visitors. It might sound awkward to you but it is true because getting your website recognized by Google is very tough and most importantly, building or developing a good customer line-up is one of the toughest things in this highly competitive internet driven market.
The slogan "first impression is the last impression" stands very true in the internet world because it is a very challenging task to develop and dominate your presence in Google's top pages amidst your well-established rivals. According to the latest research conducted on several start-up websites, it has shown that a new website takes only two tenths of a second to mark its impression on visitors. However, for acting as a consistent performer in the middle of your competitors, you need to give your best shots to bring your game back into play.
Building a Powerful Startup Website
Summarizing some important tips will definitely help you in exploring the best ways to build a persuasive and successful startup website. Therefore, you can just start your mission of taking your brand value to the next level of success over the internet by keeping those tips in your mind.
Before explaining the tips in detail, they are listed as follows:
Build something with better creativity
Identify and simplify your mission
Recognize your target audience
Concentrate on your website functionalities
Generate interest and urge users to choose you
Hire an experienced team
Develop a responsive website
Remain agile
Encourage some curiosity
Avoid using too many graphics
Incorporate the WOW factor
Build something with better creativity
Your website is a reflection of your dedication and commitment towards your customers and hence, it lays the foundation stone for the success of your business. Never give up the key objectives of your business since nothing is impossible, and with consistent hard work you can easily embrace victory. The perfect blend of creativity and imaginative thoughts explore the easiest way to triumph and if you hold the ability of implementing this mixture flawlessly while developing your website, you will unquestionably achieve a better customer lineup ahead of your well-established competitors. If you have the ability of becoming the best performer in this cutthroat marketplace, you can start your mission of building your startup website with enhanced creativity to take it to the new milestones of success.
I am citing here a perfect example of creative startup website design:
Votifi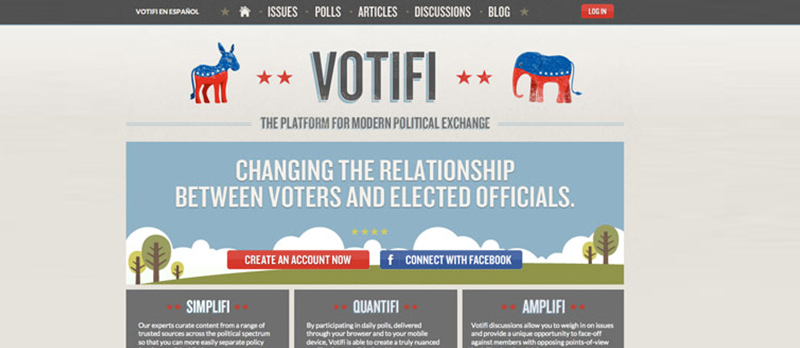 Votifi is a mobile polling and analytics organization, which assists in exploring political issues and developing networks via different platforms and related technology. You can see, the landing page of this startup website has all the necessary elements, which are required for procuring better user engagement.
A tagline: Representing the goal of this website
Social Network Links: For enabling users to connect with the current updates of Votifi through social networking mediums.
A clean and intuitive layout: Offering better visibility to the audience.
Identify and simplify your mission
Identifying and defining your goals and missions is the best way of summarizing what you have to do while building your new website. A straightforward and simple approach is very helpful for clearly expressing your views and ideas. Your visitors always want to explore what you can do for them and communicating with them through your ideas is the best way of generating interest among visitors.
Express your brand with logos and taglines
A logo with a tagline must be included in the mockup of your website because they are essential for establishing your identity in this challenging marketplace. Always make sure that your brand is being communicated constantly all through your online presence. Integrating your website with your brand in every aspect of it will help in increasing its effectiveness appreciably.
An example of a startup website with an impressive logo and a communicating tagline:
Mobile Commons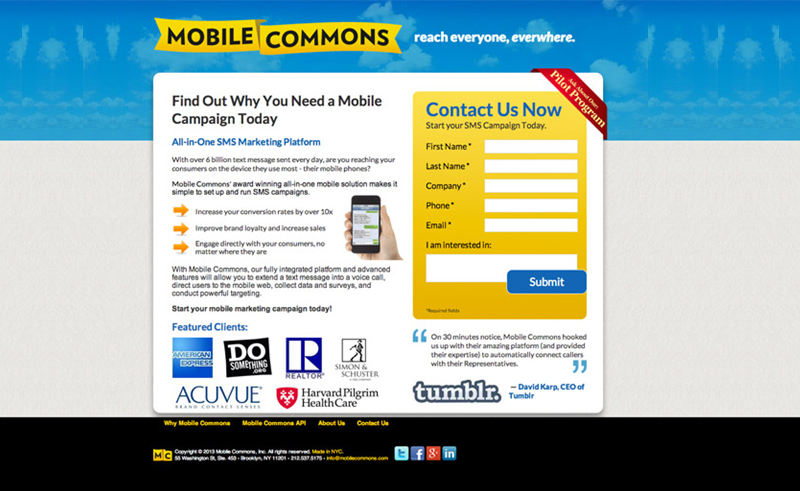 What I like in this website is: Clear and impressive logo and with a communicative tagline: Logo is the first thing which people see when they visit your website. An impressive logo along with a communicative tagline motivates visitors to know about your services and product. Here Mobile Commons do a great job of using an impressive logo with a clear tagline to describe what you will get through their services.
Recognize your target audience
Recognizing your audience is the most crucial way of building a new and successful website for your business. Understand the requirements of your customers and explore what they can demand before putting anything on your website. No matter if you are offering a service, product or any other business, knowing your audience and their demands helps you in designing a website with improved traffic because establishing your website presence online requires thorough research of visitors so that you can compel them to visit your website. Taken as a whole, your website will be impressive only if you are able to know who your audience are and what will be the strategy to keep them sticking to your website.
Concentrate on your website's functionalities
Similar to exploring the customer types and their necessities, it is equally important to specify and define your offered range of services and products as they also play a considerable role in driving better traffic to your website. If your website has detailed information about your products or services, there are greater chances that your visitors will stick to your website, however if the website lacks information, the visitor will probably press the backspace key to visit another website of his or her interest. Hence, it is very necessary to define the purpose of your website and what it offers viewers. This could be achieved by concentrating on the design and functionalities of your website because the functionalities act as the bridge between your website and its visitors.
Zooz is a perfect example of a successful startup website with impressive functionalities stated over the landing page:
Zooz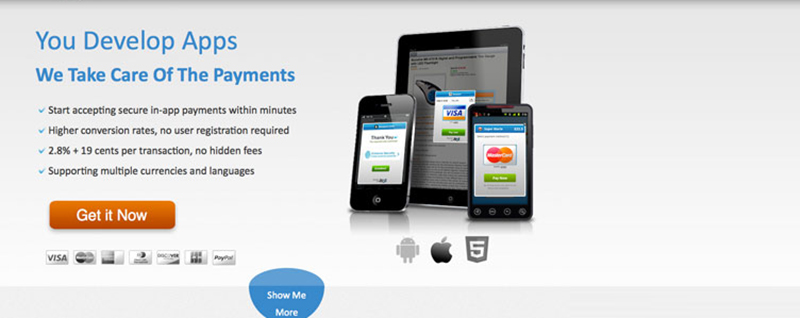 Zooz is a complete and secure solution that helps in accepting payments in mobile apps with greater ease. The landing page displays everything, including the checkpoints of key attributes that should attract a visitor and motivate him or her to sign up for its services.
Generate interest and urge users to choose you
Your website must have the ability to generate interest among its visitors by filling their minds with the question "why you?" You can easily adapt a unique approach to tackle this question by briefly explaining how your product varies from your competitor's product and why the customer would prefer to choose it. Concentrate on the strategies, which can be implemented to make the viewers feel that choosing your offered products or services will be much more beneficial for them.
Here also you can take the example of the landing page of Zooz, which motivates visitors to sign up for its services without having any confusion at all.
Hire an experienced team
For developing a creative and informative website, you need an experienced team of website developers because ideas from various perspectives are always considered better than ideas from a single mind. It is not possible to work out and create something unique just by putting in one's single efforts, but team work always results in superior outcomes. You can easily climb the ladder of success if you work in cooperation with a team of geeks and a blend of perfect ideas for future trends always proves productive to take a business to a new echelon of victory.
Develop a responsive website
In today's world of Smartphones, most internet users prefer to access the internet through their mobile devices and there lies the importance of responsive web design. You cannot get visitors solely through desktops or laptops, you will also get significant traffic from the mobile savvy generation and hence, your website must be responsive, so that more visitors can take a look at your products or services. With the increasing trend of mobile phones and tablets, the importance of responsive websites has also enhanced. Therefore, the success of any website depends on Responsive Web Design (RWD) to make it mobile friendly.
Here is an example of a responsive website:
Tesco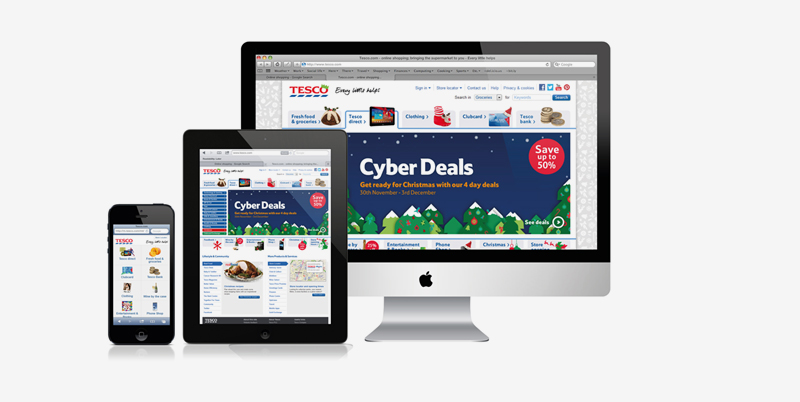 In the above example, you can see that the website of Tesco can adjust according to the varying screen sizes of the desktop, tablets and mobile phones making it easier for audiences to catch the information of the website as per their screen's compatibility.
Remain agile
Agile means responsive, and remaining responsive in this highly competitive internet world always proves beneficial for online businesses. If you are not responsive enough to take the decision on immediate basis, you take the decision wisely, which might affect the traffic on your newly built web site. Gluing with older methods will never let you move forward since web trends keep on changing every moment. If you are aware of the latest technological developments in the field of website design, you will be able to carve a niche for your brand by making your website creative and informative enough to attract mass visitors towards it.
Encourage some curiosity
Curiosity is the mother of attention and if you are able to generate curiosity among your visitors, you will be able to keep a hold over them. The homepage, the headers and the tagline are considered as attention grabbing tools because if you are able to incorporate these elements effectively on your website, then you will definitely be able to urge users to search for more information from your website. You can take the example of a book where if it has a beautiful and compelling cover page and preface, then the readers will definitely find interest in reading the entire content of the book. Similarly, if the headers and tagline of a website are creatively designed, then visitors will definitely love to stick around for some minutes.
Avoid too many graphics
It is true that using graphics enhances and personifies the look of a website, but using too many graphics can both do wonders or hamper its design. Avoid cluttering the look of a website with unnecessary graphics because to make your website rank higher on popular search engines like Google, it is significant to enrich it with meaningful and unique text. Graphics are used for supporting the text and contents, but it cannot be used for mere decoration purposes.
Incorporate the WOW factor
Have you ever visited a website and said just WOW by seeing its look and design? If so, then you can think over the factors that force you say wow by visiting there. Your website design is the key to gain fame and name in the middle of this challenging market. So, you can make good use of the design factor to build your startup website with the WOW factor if you hold a good knowledge of your work and know how to master your efficiency to create a unique and eye-catching website, and then your visitors will surely love to stick around for some more time on your website.
Conclusion
You might have millions of sparkling ideas, but if you cannot implement those ideas proficiently on your website or connect with the right audience, your online presence will fade eventually.
Developing a powerful and successful startup website requires adequate planning, good efforts and the arrangement of all necessary elements, which can only be achieved if you know what you desire and research what you want. On the whole, if you are able to build what you love, then strive to be different so that you can easily stand out from the crowd.